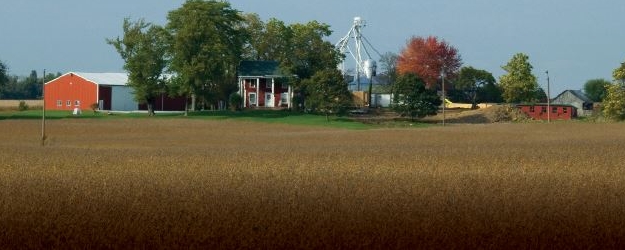 Vilsack presents his top take-aways from the new farm census.
Agriculture Secretary Tom Vilsack used his podium time at USDA's Agriculture Outlook Forum to address the preliminary findings of his department's new farm census that shows a decline in farmers and land used for agricultural purposes.
Between 2007 and 2012, the amount of land in farms in the United States continued a slow downward trend, declining from 922 million acres in 2007 to 915 million in 2012. The good news, Vilsack said, is that "there's a slowdown in the rate of loss" compared to previous surveys.
Of more concern to the secretary, who is intent on helping to bring more young people into farming, is that the average age of principal farm operators, 58.3, continues to grow. The average age has grown by slightly more than a year since the 2007 USDA census.
The most recent survey shows slight increases in farmers under the age of 35 and 25. "But we need to accelerate those increases," Vilsack said, noting the large number of operators that are older than 65 and even 75.
Vilsack wasn't surprised by a reduction in the number of farms in this country--2.1 million in 2012, down 4.3% from the previous census--especially given that the survey was conducted during the drought year of 2012, which wreaked havoc on the livestock business. But he noted that most of the reduction is coming at the expense of mid-sized farms. The number of large and small operations held steady.
"It's the medium-sized operations that feel the greatest stress," said Vilsack, noting that the new farm bill could create new opportunities for these local and regional farms, especially in the area of creating new products from agricultural waste.
Comparing mid-sized farmers to middle-class America, Vilsack said, "We need to continue to be vigilant in terms of rebuilding the middle." He added that livestock disaster assistance provisions in the farm bill, which USDA is trying to expedite, should help mid-sized farmers.
The survey also shows an increase in minority-owned farm operations. Vilsack said that farmers need to embrace diversity, not just within their ranks, but within the crops they grow. Multi-cropping, he said, reduces risk. "Agriculture embracing diversity in all forms is extremely important," he added.
Meanwhile, average sales on farms increased from $137,807 in 2007 to $187,093 in 2012, a dramatic rise tied to higher grain prices. The increase, though it continued a 30-year upward trend, was the largest in the history of the census.
In 2012, crop sales of $212.4 billion exceeded livestock sales of $182.2 billion. Crop sales exceeded livestock sales only once before, in 1974.