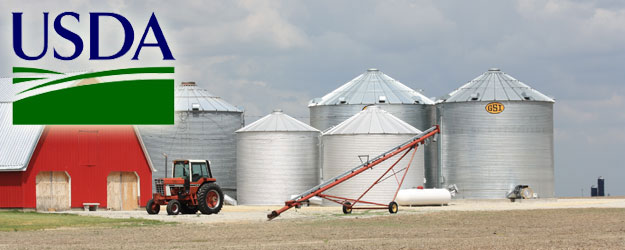 Analysts expect USDA to raise both corn and wheat ending stocks but lower the soybean carryout when monthly World Agricultural Supply and Demand Estimates (WASDE) are released Monday, March 10.
"What I'm watching for in this report is overall demand for corn and soybeans and production out of South America," says Chad Hart, agricultural economist with Iowa State University. "I'll be watching to see whether feed use on old-crop corn holds."
Hart thinks USDA's old-crop feed-use numbers for corn are overstated but that the new-crop feed-use estimates look realistic.
The average trade estimate for the 2013-14 U.S. corn carryout is 1.488 billion bushels, up slightly from USDA's February estimate of 1.481 billion bushels. The range of estimates is wide, though, from 1.431 billion to 1.656 billion bushels.
"For this report, we only see an increase in (corn) exports. We suggest when USDA revisits feed-use numbers in April that ending stocks will be increased," says Allendale in a pre-report press release.
Soybean Numbers Could Be More Bullish
"Bean exports are close to record high," says Hart. "Will the bean export number continue to bubble up given the problems in South America with getting the crop out of the field?"
Analysts expect soybean ending stocks to dwindle to 141 million bushels, a 9-million-bushel drop from February's estimate of 150 million bushels. Trade estimates for soybean carryout range from 130 million bushels to 150 million.
Ending stocks of wheat are also projected to increase from 558 million bushels in February to this month's average estimate of 570 million bushels.
World Stocks Expected to Drop
World 2013-14 ending stocks of corn, soybeans, and wheat are all expected to drop. The average trade estimate for world corn stocks is 156.27 million metric tons, down from February's 157.3 million. Soybean stocks are forecast to drop to 71.46 million metric tons from February's 73.01 million, and wheat stocks are anticipated to fall to 183.65 million metric tons from 183.73 million in February.
Analysts also expect USDA to lower corn and soybean production in both Brazil and Argentina. The average estimate for corn production is 23.35 million metric tons in Argentina, a drop from 24 million, and 69.03 million metric tons in Brazil, a drop from 70 million.
Soybean production could also fall. Analysts anticipate a decline to 53.5 million metric tons of soybeans in Argentina from February's estimate of 54 million tons, and a decline to 88.14 million tons in Brazil from 90 million tons in February.
U.S. production is estimated at 89.5 million metric tons, so a drop in Brazil's output would mean the United States would retain its standing as the world's largest producer of soybeans.
USDA will release both its quarterly Grain Stocks report and its annual Prospective Plantings report March 31. Analysts will be watching the Grain Stocks report in particular to see just how fast world demand for soybeans and soybean meal is growing, notes Hart.