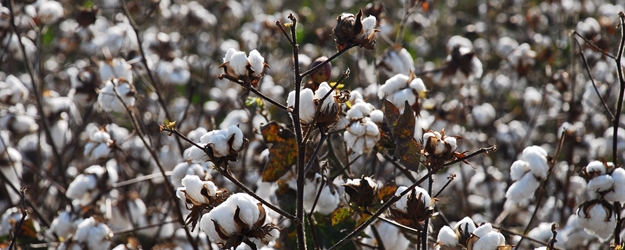 Cotton output in U.S., the world's biggest exporter, may rise 12 percent this year as farmers boost plantings, the Department of Agriculture said.
Production for the marketing year that starts Aug. 1 will be 14.5 million bales, up from 12.91 million a year earlier, the agency said today. On average, analysts and traders expected an increase to 15.05 million, a Bloomberg survey showed. A bale weighs 480 pounds, or 218 kilograms.
Planted acreage will advance in the 2014-15 crop year to 11.1 million from 10.41 million a year earlier. Farmers are increasing sowing after prices rose 13 percent in 2013. The harvested area may be 8.45 million acres compared with 7.54 million a year earlier, the agency said.
About 65 percent of Texas was in severe-to-exceptional drought by May 6 compared with 53 percent a week earlier, the U.S. Drought Monitor said yesterday. The state is the biggest grower.
Domestic stockpiles will rise to 3.9 million bales from 2.8 million a year earlier, the government said.
World production will be 115.5 million bales in the season starting in 2014, compared with 117.1 million a year earlier, the agency said. Analysts anticipated 116.3 million. Ending stockpiles may climb to 101.7 million from 97.9 million.