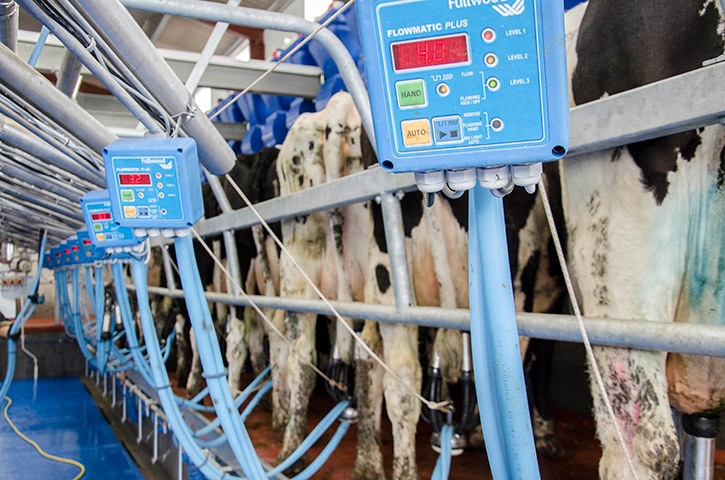 "If history repeats itself, we are likely looking at between nine and 12 months of higher-than-trend year-over-year milk production increases."
U.S. milk production is making a roaring comeback. July output posted a 3.9% year-over-year increase—the biggest jump since March 2012.
"If history repeats itself, we are likely looking at between nine and 12 months of higher-than-trend year-over-year milk production increases," says Mary Ledman, dairy economist with the Daily Dairy Report and president of Keough Ledman and Associates, Libertyville, Ill.
---
To subscribe to the Daily Dairy Report, go here and click "register."
---
July's sharp production increase has long been expected, given high world milk prices, falling feed prices, and improving dairy farm margins. In fact, other large exporters of dairy products have been showing strong output gains for months.
Gains upon gains
In defense of the United States' recent lackluster year-over-year gains in milk production, Ledman notes that this year's first-half gain of 1.3% was posted on top of a 0.4% increase in milk production during the first six months of 2013, and the nation's largest producer of milk, California, has been wrestling with drought.
"New Zealand and Europe's strong first-half gains, on the other hand, were made on top of production declines in 2013," Ledman says. The combined increase in first-half milk production in New Zealand, Europe, and the United States was nearly 11 billion pounds, a 4.3% increase from first-half 2013.
July's gain in U.S. milk production was due to both a modest 0.4%, or 37,000-head, year-over-year gain in milk cows and a 3.5%, or 64 lb., gain in year-over-year milk per cow. That means the nation's milk cows produced on average more than two additional pounds of milk a day this year.
"July's spike in milk per cow was mainly driven by cooler temperatures and lower humidity across most of the United States in tandem with favorable on-farm economics driven in part by rapidly declining feed prices," says Ledman.
Too late for butter
July's very large year-over-year gain in milk production is coming a little too late for the butter market. The CME spot butter price reached $2.70 this week due a 3.1% decrease in production during the first half of the year and a more than 40% reduction in stocks due to strong exports through June 2014.
With world milk production climbing, it's no surprise that the average weighted price at this week's Global Dairy Trade (GDT) auction fell 0.6% from the previous event. While butter, anhydrous milkfat, and whole milk powder all posted increases from the prior event, average prices on all of the other products continued to slide, with skim milk powder (SMP) down 12%.
Looking ahead, Ledman expects monthly year-over-year milk production gains between 2.5% and 4% through the end of the year. For the first half of next year, she thinks the gains could narrow to between 1.5% and 2.5%.