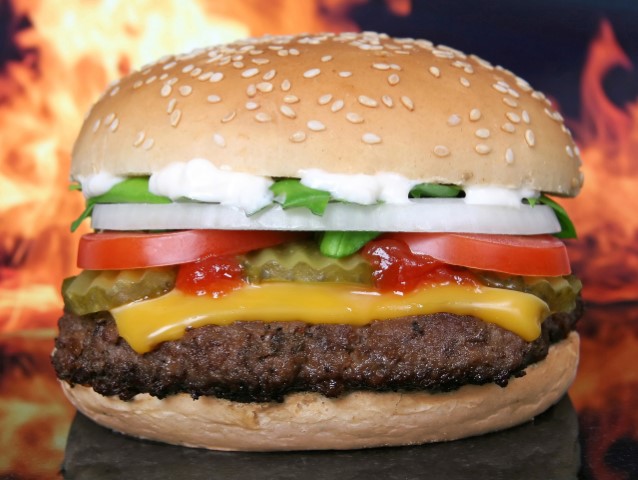 U.S. schools cut their use of lean, finely textured beef by 94 percent in the most recent fiscal year, resisting meat-industry efforts to win acceptance of the product that food activists have dubbed "pink slime."
Schools bought 392,000 pounds of ground beef containing the substance through the National School Lunch Program in the year through September, U.S. Department of Agriculture data show. That's down from 7 million pounds the previous year.
Consumer backlash against lean, finely textured beef, which is made with beef trimmings and treated with ammonium hydroxide or citric acid to kill pathogens, forced producer Beef Products Inc. to cut more than 700 jobs and close three of its four plants in 2012. The resistance also prompted restaurants and grocery stores, such as Kroger Co., to stop buying ground beef containing the substance.
Lately, however, Americans are paying the most ever for beef amid shrinking cattle herds, and that may set the stage for lean, finely textured beef to make a comeback. Average prices for ground beef climbed to a record $3.808 a pound in April, the highest since at least 1984, according to the Bureau of Labor Statistics. The U.S. cattle herd started the year at the smallest since 1951 as ranchers struggled to recover from years of drought.
"As the overall pricing in the beef industry has increased significantly this year, you're looking at ways to keep the cost down and make the best use of every part of that beef," said John Nalivka, president of Sterling Marketing Inc. in Vale, Oregon. Beef with the component can be cheaper than meat without it, which may appeal to buyers seeking less pricey options, he said.
Schools' Resistance
Signs of a rebound have yet to emerge among schools, which in March 2012 were given the choice to order beef in patties, crumbles or ground form, with or without lean, finely textured beef. School purchases of meat with the substance are running at 0.35 percent of total beef purchases in the current fiscal year, little changed from last year.
While the USDA has said it's safe to eat, lean, finely textured beef won't make a quick comeback in the food-service industry, said Bill Lapp, president of Advanced Economic Solutions in Omaha.
"The cost of beef and the value point for the consumer takes a distant backseat to food safety," he said. "Its return is going to be slow and cautious."