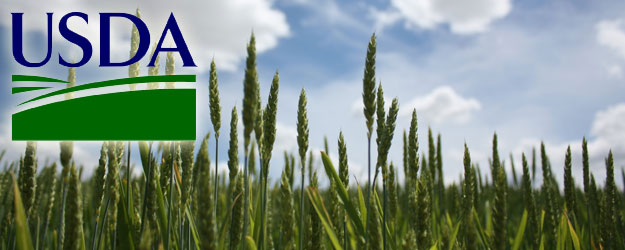 USDA projects U.S. wheat supplies for 2014-15 will fall 10% below 2013-14 levels due to lower carry-in stocks, production and imports. New-crop supplies will also be the lowest since 2007-08, but supplies are more than adequate, according to USDA's World Agricultural Supply and Demand Estimates (WASDE), released May 9.
New-crop wheat production is projected at 1.963 million bushels, 8% smaller than last year. USDA projects the average all-wheat yield at 42.7 bu. per acre, 4.5 bu. shy of the 2013-14 record.
"They are implying that we are going to have about a 550-million-bushel spring wheat crop. I think that's going to end up being too high. We aren't going to get the acres in," says Peter Georgantones, analyst with Roy E. Abbott Futures in Minneapolis. He was the commentator on a post-report MGEX press call.
"Planting is going really slow. You are going to see some acreage move into soybeans up in the Dakotas," Georgantones says.
USDA puts total new-crop U.S. wheat use 11% below this year due to a 50-million reduction in feed and residual disappearance. Lower feed grain prices will limit summer wheat feeding, says USDA in the May WASDE report.
Exports are also expected to fall due to tighter supplies and higher prices. Wheat exports for 2014-15 are projected at 950 million bushels, down 235 million from the current 2013-14 projection. Large supplies in other major exporting countries and tight U.S. supplies of hard red winter wheat will limit U.S. exports.
"We have the most expensive wheat in the world right now, so we are going to lose out export wise," says Georgantones.
U.S. ending stocks are projected to decline for the fifth straight year. At 540 million bushels, 2014-15 ending stocks would be 43 million lower than a year ago. USDA now projects the all-wheat season-average farm price at $6.65 to $7.95 per bu.
"Nothing is really tight," he says.
Global 2014-15 wheat supplies are expected drop less than 1% below this year's levels. Projected world wheat production of 697 million tons is expected to drop 12.4 million tons, or 2% below the 2013-14 record.
USDA estimates the new-crop world wheat carryout at 187.4 million metric tons.
"That's a large number," says Georgantones. "There are about 2 billion bushels more wheat around the world than in the years that were tight, 2006 and '07. We don't have a lot of wheat in this country, but the world has a heck of a lot of wheat. I feel we are at the higher end of the range in the price of wheat, but prices could drift a little lower coming into harvest."
Argentina, the European Union, China, Brazil, Kazakhstan, Mexico and India are all expected to increase production. However, reductions in Canada, Turkey, Morocco, Ukraine, Australia, Iran and Syria will more than offset those increases.
Global wheat consumption is expected to drop 1% below 2013-14 with a reduction in world wheat feeding only partly offset by higher expected food use. Demand reductions are expected in China, Iran, Brazil, Mexico and Algeria, which will more than offset increases in the European Union and Turkey.