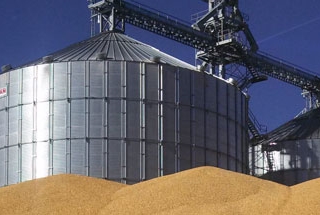 The recent bumper crops in the U.S. and South America are proving to have a lingering downside for farmers, as shown by USDA's commodity outlooks released Friday.
"I would describe the 16/17 forecasts as bearish," said Brian Basting of Advance Trading, highlighting the big  numbers: Nearly a 2.0 billion carry-out for corn, soybeans near unchanged from this year at a burdensome 440 million bushels and wheat approaching 1.0 billion bushels."
Are those reasonable estimates by USDA?
Analysts seem to think so. "Usage projections seem realistic given what we know today," said Basting. "The U.S. production estimates all seem achievable.
While it's boring it's also good. It helps make it more clear where your opportunities are, while allowing input costs to continue to weaken

— Angie Setzer (@GoddessofGrain) February 26, 2016
That environment will require farmers to pay close attention to their marketing opportunities and their costs of production if they want to capture a profit, no matter how slender, this year.
"The carry-out for corn could be painful for farmers," Basting warned. "One possible strategy to consider for 2015 corn if still un-priced is to sell if basis is favorable and buy a call option.  If basis is not favorable, could consider purchasing a put option.  Either way, it establishes a price floor, but leaves the upside open. The same thing applies for 2016 crop—consider establishing a price floor with a put option purchase or forward sale/call option purchase.  This early, it seems prudent to keep the upside open on price."
Such high levels of stocks could have consequences beyond grain prices. "It looks pretty hopeless on paper without weather problems," Andy Shissler of S&W Trading. "It is going to create the shakeup in rent that eventually breaks the land market.  Everything else has died, land is next."
USDA Data Shows More Down Prices in 2016, with Lasting Effects
Corn
According to USDA, U.S. corn ending stocks are projected to reach 1.977 billion bushels in the 2016/17 marketing year. That represents a 12-year high and, not surprisingly, is expected to push corn prices down again, to a season-average farm price of $3.45 per bushel.
USDA also released its corn production forecasts in conjunction with its annual Agricultural Outlook Forum in Arlington, Va. This year, farmers are expected to:
Plant 90 million acres of corn
Harvest 82.3 million acres of corn
Produce 13.825 billion bushels of corn.
Achieve an average yield of 168 bu. per acre.
Not all analysts are convinced that farmers will plant that much corn this spring. The forecast of "corn acreage increasing 2.0 million acres to 90 million is a little aggressive given the lack of profitability of raising corn at current prices," Basting said. "Spring weather will be the final determinant."
For those growers who do choose corn, they are facing a situation where big supply numbers are up against softening demand in several directions.
Demand for corn for ethanol is appears to be leveling off at just over 5 billion bushels, thanks to more efficient engines and better fuel economy
The strong dollar is making U.S. corn less competitive on the world market. "U.S. exports face intense competition from Brazil, where the export of second-crop corn overlaps with the 2016/17 U.S. shipping season, and from Argentina, where the recent removal of export taxes and quotas and currency depreciation (are stimulating) production and exports," according to USDA's outlook.
One bright spot: Increased feed demand, thanks to increasing production of pork, the poultry industry's recovery from avian influenza, and cattle ranchers rebuilding their herd.
Soybeans
Soybeans are in a similar situation to corn, according to USDA's forecasts.
At 440 million bushels, U.S. soybean ending stocks remain high, with another big crop—the third-biggest in history—expected this year.
In terms of production, U.S. farmers are forecast to:
Plant 82.5 million acres of soybeans.
Harvest 81.6 million acres of soybeans.
Produce 3.810 billion bushels of soybeans.
Achieve an average yield of 46.7 bu. per acre.
Competition from other, cheaper markets like Argentina and Brazil remains tough for U.S. producers, but despite the vibrant dollar, American soybean exports are expected to increase, hitting 1.825 billion bushels in 2016/17.  
"Lower soybean prices will continue to spur growth in global demand, with U.S. exports sharing gains in trade with South American producers," according to USDA's forecast. "Global soybean trade will continue to be driven by China, which accounts for nearly two-thirds of world trade. Although the year-to-year increase for China soybean imports is expected to slow on a percentage basis after nearly two decades of double-digit growth, China's large soybean import market should support a strong absolute increase in 2016/17."
What will farmers get for their soybeans this year? Not as much as they'd like. USDA predicts a season-average farm price of $8.50 per bushel.
Wheat
U.S. farmers are slicing wheat acres left and right, but they still will likely face a tough year, thanks to overflowing supply.
In 2016/17, U.S. wheat stocks are expected to climb again, hitting 989 million bushels. That would be the highest level since 1987/88, and the price forecasts show it: USDA estimates a season-average farm price of $4.20 per bushel for wheat.
Against that landscape, here's what USDA expects wheat farmers to do:
Plant 51 million acres of wheat.
Harvest 43.4 million acres of wheat.
Produce 1.991 billion bushels of wheat.
Achieve a yield of 45.9 bu. per acre.
"Winter wheat conditions so far in the U.S. are mostly good," Basting added. " Major concern for hard red winter wheat in Kansas/Oklahoma is the possibility of yield loss due to a freeze as crop development is ahead of normal following warm winter and ample moisture."
Overall, USDA expects global wheat production to dip slightly (3%) in 2016/17 after three record crops, but growers around the world continue to plant more and more off the crop. "Canada's production is expected to be higher, and farmers in Argentina are likely to plant more wheat due to the Government's recent removal of export restrictions," according to USDA's outlook. "The European Union is well positioned to have another bumper crop."
Luckily, American wheat exports are predicted to increase, rising to 850 million bushels, but it won't be anywhere near enough to take care of the historically high stocks. "Competition from other wheat exporters will continue to limit gains in the U.S. share of world trade," USDA warned.