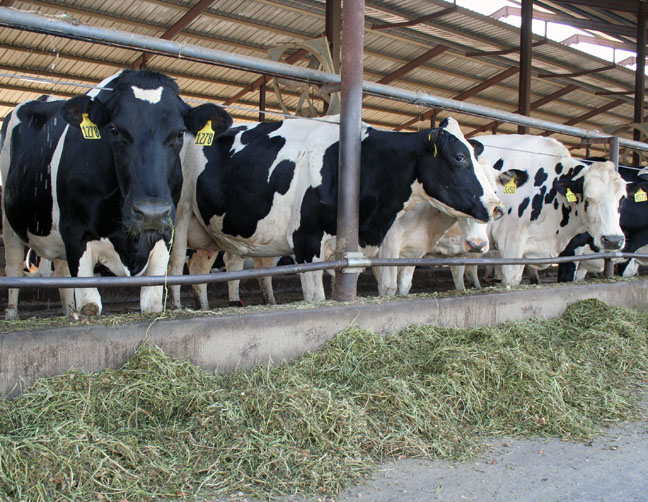 Meanwhile, the U.S. increases milk production 1.1% on record per-cow performance.
California's monthly milk production fell for the fourth consecutive month in March, while U.S. dairies in the 23 major states increased milk output 1.1% over March 2014 levels, USDA said today in its monthly milk production report. 
Lower milk prices, the drought and mastitis-related issues appear to be behind California's 2.9% drop from March 2014 levels. The nation's No 1 milk-producing state churned out 3.7 billion pounds last month.
The state's milk decline "starts with lower prices, which have led to higher culling to take advantage of higher beef prices," said California dairy producer Frank Mendonsa, who milks 800 cows in the Tulare-Tipton area. He is also a partner in a handful of other family dairies in the area.
Also causing California's milk output to drop has been the state's drought, which has resulted in lower quality forage.
In the 23 major states overall, milk production during March totaled 16.9 billion pounds, USDA reported. U.S. per-cow production averaged 1,959 pounds for March, 2 pounds above year-earlier levels. That's the highest production per cow for the month of March since the 23-state series began in 2003.
The number of milk cows on U.S. dairies reached 8.62 million head, 86,000 head more than March 2014 but 4,000 head fewer than February 2015. Today's report showed 2,000 fewer cows in California's herd, and per-cow output at 2,080 lb. vs. 2,140 lb. in March 2014, noted Jerry Dryer, a dairy marketing analyst.
Dairies in the heartland continued to make big production gains. South Dakota led with a 9.6% increase over March 2014 levels. Michigan's output rose 7%, while Kansas increased 6.9% and Colorado climbed 6.1%.
Like California, New Mexico saw a significant reduction in milk output, declining 3.9% in March. Milk output in Oregon and Texas also dipped.
The Golden State's milk output has been contracting since December 2014, when it slipped 0.1%. Significant declines began in January with 2.6% drop, followed by a 3.8% dip in February.
With "the highest feed costs in the nation and the lowest milk prices," California producers faced "the specter of reduced profitability well before other operators," said Joel Karlin, market analyst with California-based Western Milling Quality Feeds. "The desire to reduce costs has likely contributed to a less energy-dense ration, suppressing milk output to some extent."
Warmer weather has lowered the troublesome number of mastitis cases that plagued many California dairies earlier this year. That was compounded when some of the state's dairy cooperatives banned certain iodine treatments used to combat mastitis. The mastitis problems led to higher culling, which also depressed milk production, Mendonsa said. 
A "lack of optimism" is leading dairy producers to exit the state to find more dairy opportunity elsewhere, added Mendonsa, who is the new president of Western United Dairymen, an industry trade group. Bankers are also pulling the plug more quickly on troubled dairy loans, he said.
Today's milk prices, in the range of $15-$16 per cwt., are below the cost of production for many California dairy producers. California accounts for about 20% of the nation's milk production.