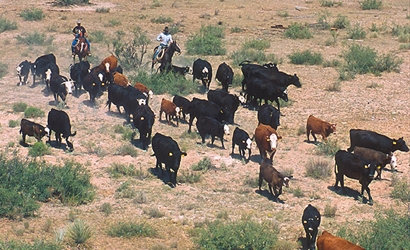 The United States Department of Agriculture's Animal and Plant Health Inspection Service (APHIS) announced the completion of three contingency livestock inspections facilities at border ports in New Mexico and Arizona. Several hundred thousand cattle cross through these border locations every year and USDA recognizes the critical role this trade plays in supporting the livelihood of local economies. These alternative sites will help keep trade flowing across the U.S./Mexico border and support the local communities and livestock industry if APHIS officials are unable to cross into Mexico to conduct inspections.
"Our hope is that we never have to use one of these facilities and our inspectors can continue to safely cross into Mexico to conduct inspections" said Undersecretary of Marketing and Regulatory Programs Edward Avalos. "But we are prepared to adjust and utilize these facilities, which have the same capacity as the inspection locations in Mexico, to maintain trade at the same level and minimize impact to the local economies."
APHIS and local stakeholders worked closely to plan and build these temporary sites in the United States to ensure the uninterrupted movement of livestock across the border. The facilities are located in Nogales, Arizona; Douglas, Arizona; and Columbus, New Mexico.
Source: United States Department of Agriculture