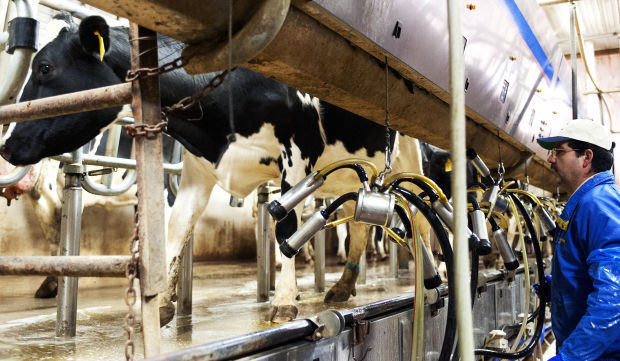 The United States Department of Agriculture's "Dairy Outlook," released this morning, is projecting an all-milk price range of $17.40 to $18.10 for 2015, the lowest price since 2010.
This comes on the heels of a 2014 all-milk price that averaged $23.98/cwt, a record, and 2013 prices that were the third highest ever.  Nevertheless, USDA dairy economists expect cow numbers to grow another 0.7% this year on top of the 99,300 head added in 2014.
Output per cow is also expected to increase just under 2% this year, slightly slower than 2014. "Feed prices are expected to remain moderate through the year, and alfalfa prices should reflect a return to normal pasture conditions in much of the country," says Shayle Shagam, a USDA livestock, dairy and poultry analyst.
"Milk production in California has been affected by drought and to the extent forage supplies are limited, production in that state may be constrained," says Shagam.
Total U.S. milk production is forecast to increase to 211.5 billion pounds, up 2.6% or so. Despite this increased milk production and weakened dairy exports, USDA expects domestic consumption to grow.
"Continued economic growth and diminishing unemployment is expected to underpin gains in demand for dairy products," says Shagam. "With lower exports forecast for the year, lower prices will balance the markets rather than high prices rationing supplies as occurred in much of 2014."
USDA foresees slower export sales, particularly in the first half of the year. It notes, however, that Russia's import ban of dairy products from the United States, the European Union and Australia is scheduled to end in August. "To the extent traditional exporters resume shipping to Russia, it is expected that U.S. exports will increase in the second half," says Shagam.
Even so, U.S. exports are expected to decline 11% on a fat basis, and 3% on a skim solids basis.
You can read the entire USDA Outlook report here.