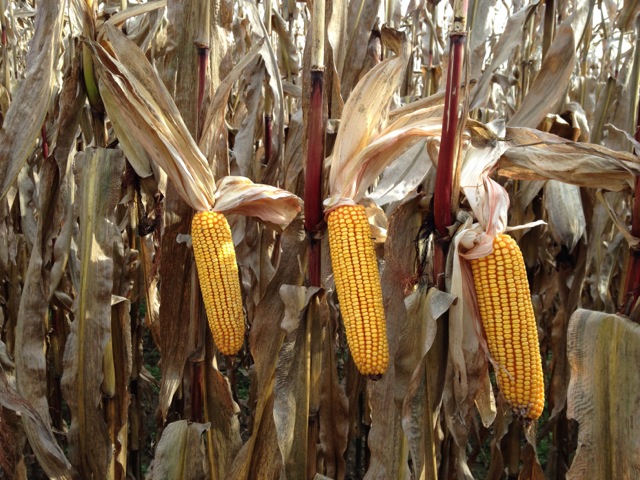 The USDA's Jan. 12 reports adjust numbers for corn demand and yield downward and reveals lower winter wheat seedings than expected.
"Mixed." That's how Rich Nelson, director of research at Allendale in McHenry, Ill., described the Jan. 12 USDA reports, which delivered a wellspring of agriculture data to traders and farmers on Monday.
Watch AgDay's USDA Report Recap:
Corn Gains
For corn, the news was generally good, with a few unexpected twists. The USDA lowered crop production to 14.2 billion bushels, a little lower than expected, thanks to a much-discussed adjustment in acreage to 90.6 acres. Yield dipped too, landing at a record 171 bua.
The quarterly grain stocks also showed solid demand for corn, with corn ending stocks of 1.877 billion bushels, which was also less than the trade expected. Ethanol usage also jumped by 25 million bushels.
But not all the news was good for corn prices.
Monday's numbers left exports unchanged, with a forecast of 44.45 million metric tons for the 2014/15 crop year. "Exports rose through the first quarter, but they have been a little disappointing in the last three to four weeks," noted Brian Roach of Roach Ag Marketing, which is based in Boca Raton, Fla.
The USDA also reduced demand for the grain by 100 million bushels in the feed and residual category, catching many in the trade by surprise. "It was quite surprising to see the USDA moves on demand," Nelson said.
Roach agreed. "That was unexpected if you look at livestock herds, the tonnage in meats, and the expansion in the hog sector," he said. "I think you could expect a correction in the feed number, but maybe not until April, May, or June. … I think it's a timing thing."
Overall, though, the report was generally bullish for corn, which opened at $3.99 for March futures and gained 3 cents to close at $4.02.
Soybeans Slip
Monday's report suggested a different situation for soybeans, which started the day at $10.494 for March futures and lost more than 36 cents to close at $10.16.  "I think my instincts to sell soybeans ahead of today's report were correct," said Roach, who advised just that on last weekend's U.S. Farm Report.
The USDA numbers offered many reasons for such a price slide. The annual crop production report boosted the already-record soybean crop to 3.97 billion bushels and a record yield of 47.8 bua. The government also raised the peg for the Brazilian soybean crop, increasing it by 1.5 million tons.
"The irrigated early beans in Mato Grosso that were planted on time are performing really well," Roach said. Still, these are soybeans, so there are plenty of unknowns. "Beans are very mysterious in in how their yields perform, so while we are in this pod-filling stage, it is hard to tell," he said. "But from the outside, the crop looks good."
Meanwhile, American soybean ending stocks remained the same, at 410 million bushels. "We found a home for those extra beans, which on the surface is a ho-hum thing," Jerry Gulke, president of the Gulke Group, told Farm Journal Radio. "But then they threw in the global situation where they raised the bean yields globally, and that took soybeans down 30 cents."
Those bean prices may continue to slip.  "We continue to expect a sharp drop in U.S. demand after the South American harvest and continue to see soybean prices to fall into the $9 range by the second half of 2015, if not sooner," wrote Christopher Narayanan, director and head of agricultural commodities research at Societe Generale in New York, in a research report released Monday.
Where's The Wheat?
Monday also brought the first news of the winter wheat crop, which contained a few surprises. According to Allendale's Nelson, traders had been expecting winter wheat seeding to hit roughly 42.5 million acres and exceed last year's numbers. But the USDA reported that just 40.5 million acres have been planted with winter wheat—a gap of roughly 2 million acres.
"We have quite a difference of opinion here on crop acres," Nelson observed. "That gives us an extra 2 million acres to distribute between corn and soybeans for spring planting."
While acreage might be a positive for the coming wheat crop, U.S. wheat ending stocks rose to 687 million bushes in the January report. "Bearish on wheat is the message for old crop," Nelson said.
Still, that bearishness might be muted. "Wheat raised the carryout 33 million bushels, which was probably the negative part" of the report, according to Gulke. "But not too negative—wheat's down a penny" to $5.61 for May futures.
"The good news is, if you're a wheat guy, is that they lowered the wheat acres significantly for 2014," Gulke said. "What are we going to plant?"
Assuming the choice is between corn and soybeans, Roach said he thinks the answer will depend on where those unplanted wheat fields are located. "In the I-states with highly productive soils, we'll see less slippage in corn acres," he predicted. "At today's prices, a lot of farmers are willing to roll the dice on corn. In other areas, where basis has been weak, those acres will move into beans. It's going to depend on the cash market, not the futures market, where acres will fill out when the time gets close."