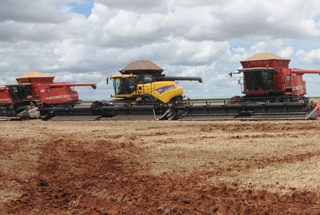 As the markets prepare for Tuesday's February USDA reports, many in the trade are most interested in what is happening to the south.
Currently, the USDA has forecast a Brazilian soybean crop of 95 million metric tons, but many in the trade think that number should move lower.
"I think the big thing [with February's numbers] is that we are going to get more clarification" on Brazil's soybean crop, said Jim Bower of Bower Trading in Lafayette, Ind. "I personally think we've lost 2 million to 3 million metric tons below the USDA estimates."
Bower expects Brazil to produce between 91.9 million and 92.9 million metric tons of beans, and he's not alone. According to Allendale Inc., AgRural predicts 92 million metric tons and IFC Stone forecasts 93 million metric tons for the South American producer.
But the bigger issue with beans is the ongoing strong demand, according to Bower. "Do we really have a solid handle on beans?" he asks. "The export numbers are always a little better than everyone thinks."
That activity could be reflected in the carryover numbers. "The way the market is going, I wouldn't be surprised if the ending carryover on beans goes down," says Gregg Hunt, a broker with ADM Financial Services.  
Currently traders are expecting an average soybean carryover of 398 million bushels in today's report.
But one never knows with the USDA. "Soybean traders are hoping to see a reduction in U.S. stocks on average of 12 million bushels," wrote Allendale's Paul Georgy. "However, one can't forget in January when trade was looking for a drop in soybean stocks and USDA kept it unchanged. Allendale has been saying for some time we should not get too excited about the aggressive soybean export sales rate."
As soon as today's numbers come out though, traders will already be looking ahead to spring planting decisions. "As the market moves forward, the big elephant in the room is that we are planting more acres," says Hunt, highlighting recent drops in wheat and cotton plantings. "That battle will go on until May."
It worries him. "We are going to go from ample stocks to burdensome stocks, and next year, the emphasis is going to be on the U.S. farmer to cut back on acres."