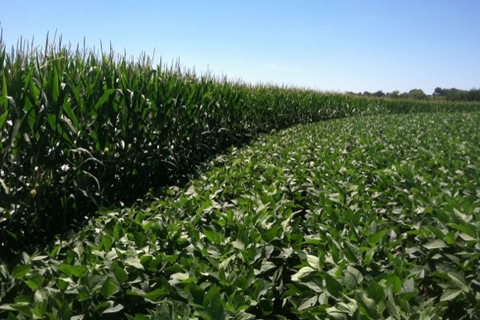 Breakeven years and tight margins might be here to stay, according to the recently released long-term price projections by USDA. Certainly no signs of record-breaking prices.
It looks like record corn prices are over for the next decade, according to the USDA's Agricultural Projections to 2024 report released Feb. 2015. That comes as no surprise as $4 corn has become the norm for 2014 and into 2015.
You might want to enjoy the $4 corn price, though. USDA projects corn to fluctuate below the $4 mark over the next 10 years, reaching as low as $3.40 for 2015/16 and steadily (but slowly) gaining traction into 2024/25, only reaching $3.75 per bushel by 2024/25.
As expected, USDA is predicting planted acres to drop as well, hovering around 88 million acres for the next 10 years. That is around a 7 million acre drop in planted corn acres from 2013/14, according to the report.   
Soybeans are also expected to see a dip in price. USDA shows $10 per bushel for 2014/15 but then a $1.50 drop for 2015/16 soybeans. According to USDA's projections, soybeans should then steadily climb back up to $9.55 by 2024/25.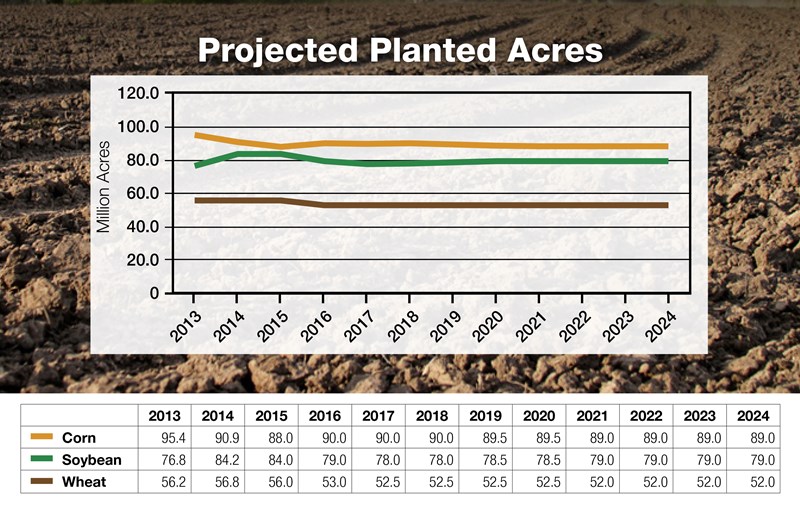 10-Year Projected Planted Acres
As stated, corn is expected see a drop in planted acres over the next decade. According to the report, 2013/14 planted corn acres were 95.4 million acres, which will dip to 90.9 million acres for 2014/15 and dip again to 88 million acres for 2015/16. USDA projects acres to level out after that and hover in the 89 million acre range.
Soybeans are projected to increase in planted acres, no doubt due to the drop in corn prices. While corn is anticipated to remain the top commodity, soybeans are catching up.
Beans are projected to jump from 76.8 million planted acres in 2013/14 to just over 84 million acres for 2014/15. That number remains for 2015/16 beans and is expected to level off, lingering around 78 to 79 million planted acres.
Wheat remains fairly steady, dipping to 53 million acres in 2016/17 and remaining around 52 million acres after, according to USDA's projections.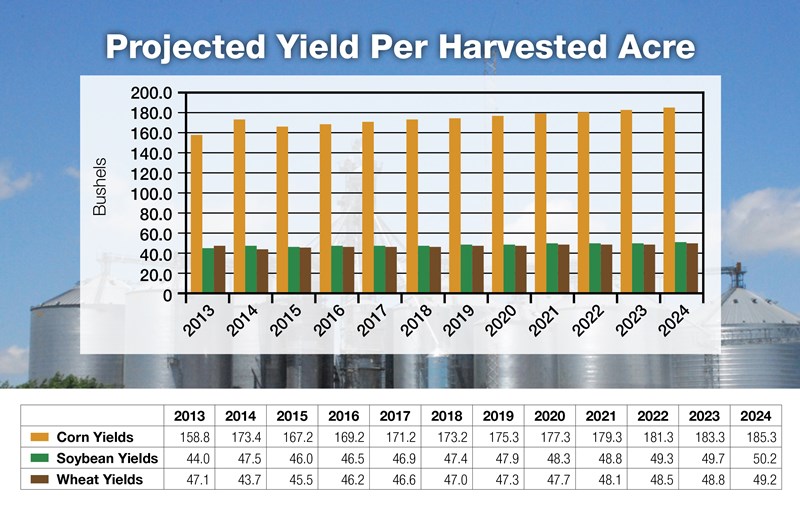 10-Year Projected Yields
According to USDA's long-term projections, corn yields will steadily increase with an anticipated 185.3 bushels per acre for the 2024/25 crop.
Soybeans are also expected to see steady increases in yields. USDA anticipates bean yields to go from 44 bushels per acre to more than 50 bushels per acre in the given 10 year span.
Wheat, while also expected to increase yields, hovers in the mid- to upper-40s.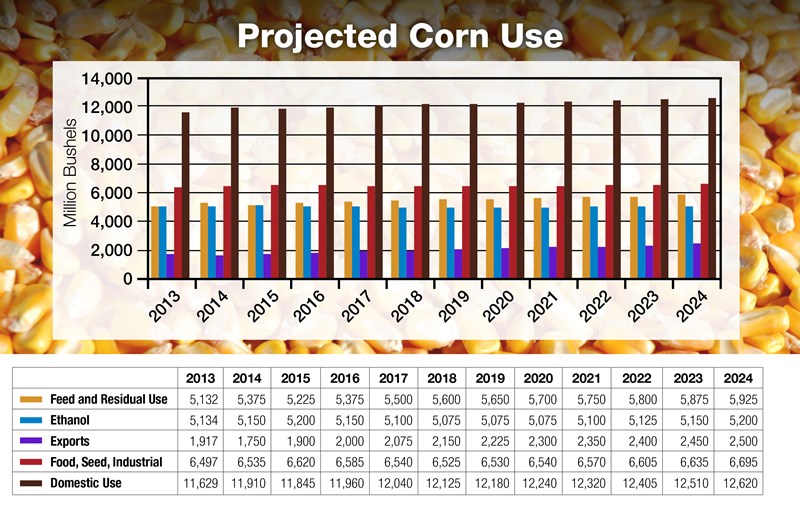 10-Year Projected Corn Use
Feed and residual use is projected to steadily increase, increasing by an estimated 793 million bushels over the course of a decade. Domestic use also steadily increases; however, ethanol and other by-products see little movement remaining just over 5,000 million bushels.
Exports are also on the rise. USDA anticipates approximately 583 million bushels more going toward exports over the next 10 years.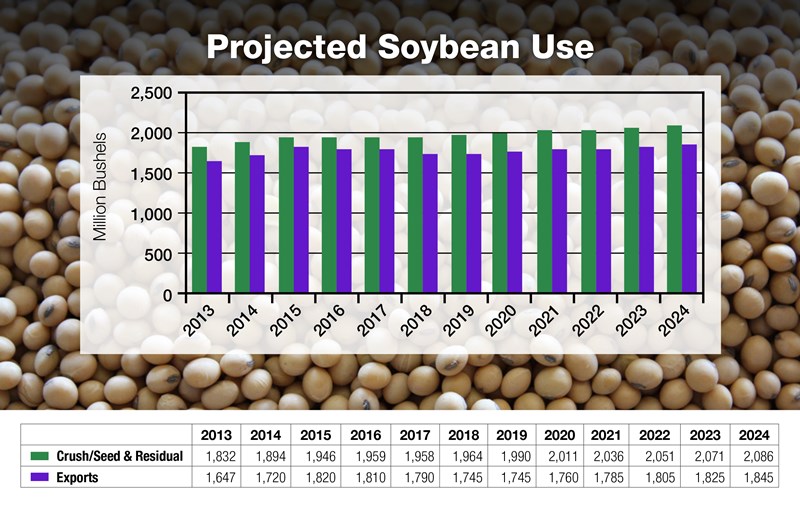 10-Year Projected Soybean Use
Soybeans could see an increase in exports, according to USDA's long-term projections, but overall it remains fairly steady. Domestic use could also see an increase in use, somewhat more significant that exports are expected to see.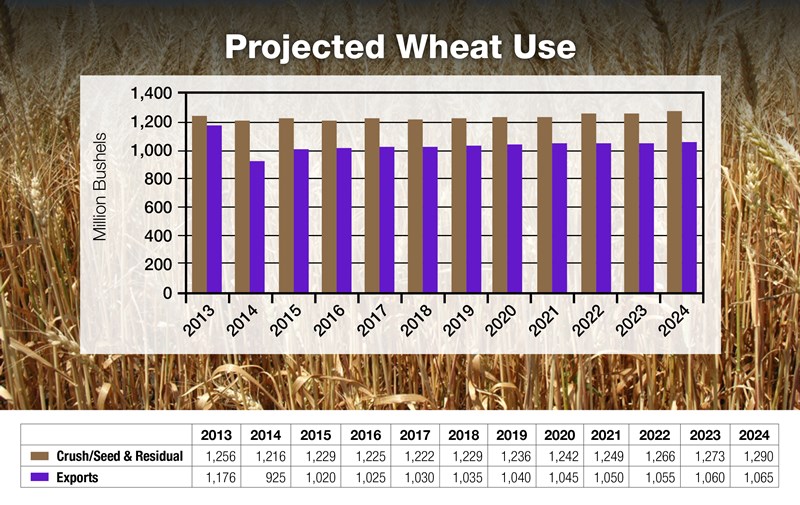 10-Year Projected Wheat Use
According to USDA's long-term projections, wheat doesn't see a significant change in use, both domestic use and exports. Exports fluctuate right around 1,000 million bushels while domestic use stays steady around 1,200 million bushels. 
Click here to view the U.S. Crops report.
Other reports:
USDA Agricultural Projections to 2024 full report