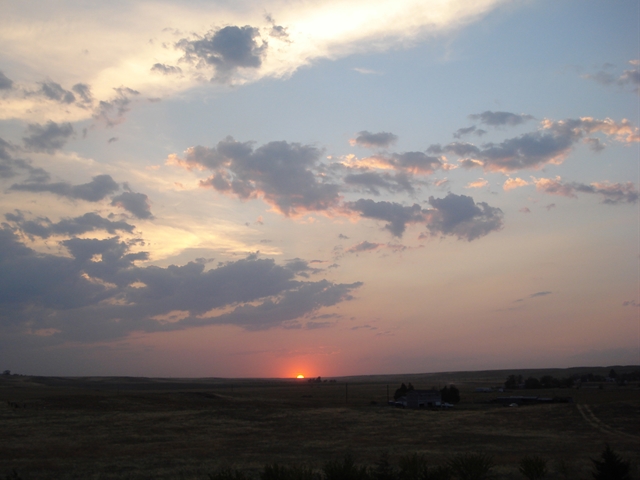 Britt Wilson, owner of the Wilson Ranch near Glendo, knows the effect of drought well.
In 2012, Wilson watched as he his neighbors sold nearly half of their cattle herds to ease the financial effects of drought on their ranches. The loss of cattle meant the loss of revenue and created a need for assistance. To assist in the recovery, Wilson and his neighbors often relied on Farm Service Agency disaster programs to protect their operation from catastrophic financial losses.
"We can take some big hits in some years due to natural disaster," Wilson said. "The 2012 drought is so close that it's easy to remember what a disaster it was around here. It can take several years to make a comeback. These programs offer a boost to get back up from that."
But farmers and ranchers are traditionally independent personalities.
When it comes to acquiring assistance from the U.S. Department of Agriculture and the National Resources Conservation Service, 76 percent of Wyoming farmers and ranchers are opting to do without payments from the government's various agricultural assistance programs, according to the USDA's 2012 Census of Agriculture.
Agricultural leaders in the Cowboy State blame programs tailored more for Midwestern, crop-related issues, and fewer programs for the livestock industry.
___
In 2012, USDA programs provided $28 million to 24 percent of the farms and ranches in the state. The programs cover agricultural issues ranging from the loss of cattle due to drought to the loss of commodity crops like wheat or corn.
For many ranchers, the role of USDA Farm Service Agency subsidy programs in assisting their operations isn't always obvious.
"In the past, the FSA did not have programs for livestock producers except for emergency conservation money to deal with natural disasters," Wyoming FSA Executive Director Gregor Goertz told the Casper Star-Tribune. "As far as participation in a yearly program, the FSA didn't have one for livestock producers."
Because livestock producers don't have to apply every year for disaster support, FSA programs aren't always at the top of ranchers to-do lists. Many producers to write off the application process as not worth the effort, Wyoming Farm Bureau Executive Vice President Ken Hamilton said.
Programs like the Livestock Forage Program and Livestock Indemnity programs are often subject to Congressional review resulting in changes to the policies, he said.
Livestock aid programs tend to focus on helping ranchers in times of disaster rather than the consistent annual assistance provided by those programs targeting commodity crops.
"It takes a greater effort on the part of Farm Services and organizations like ours to make livestock producers aware of what the programs do and motivate them to go in and complete an application because it's not a routine activity," said Jim Magagna, executive vice president at the Wyoming Stock Growers Association.
Federal legislators often shape policy based on the needs of the larger population of farmers and ranchers in the Midwest.
Wyoming agriculture leaders say focusing on their counterparts in states like Iowa and Kansas that use the programs at higher rates leads to policy that doesn't fit western farm and ranch needs.
"Our climate is more variable than the Midwest with the mountainous terrain," Hamilton said. "It's a fact of living out here in the West. Rain will hit one area and totally miss another. Developing a program to focus on our issues is a more complex thing than most policy makers want to craft."
In the West, livestock agriculture is dependent on public lands grazing. Western agricultural leaders say most support programs are focused on the needs of private land users.
"As we look forward, we need to recognize not only the climatic changes, but the focus on private lands," Magagna said. "In the West, with livestock programs, you are necessarily dealing with public lands."
___
Differing philosophies concerning of farm support programs in Wyoming is often tough for Farm Service Agency officials to overcome. The FSA's communication with producers is a key to the success of their programs in the region.
"If you go in and talk to the FSA or the NRCS, they can find a program for you most of the time," Wilson said. "There are quite a few programs that have been really helpful to Western farmers and ranchers. You just have to go in and communicate with them and they'll come up with something."
Natural Resource Conservation Service agents helped Wilson cut costs by developing a streamlined irrigation program on his 300-acre hay operation with funds from the Environmental Quality Incentives Program. By converting from flood irrigation to a sprinkler-based system, Wilson cut his water usage in half while boosting production by more than 40 percent.
He said the project wouldn't be possible without the help of EQIP the incentive program funds.
"They have the engineers there that design these systems and the resources to get it rolling," Wilson said. "It's helped quite a bit in our irrigation system."
Goertz, is focused on similar outreach efforts. The agency sends a monthly newsletter to farmers and ranchers in the state reminding them of their options, but ultimately producers must make the decision to participate in the programs on their own.
"Traditionally livestock producers are proud of the fact that they don't participate in government programs," Goertz said. "It's up to the individual producer to participate. Nobody is going to twist their arm."