Lower feed costs equals increased meat production, according to USDA 
According to USDA's Agricultural Projection to 2024 report, released Feb. 11, the livestock sector should see lower feed costs, stronger returns and incentives for increasing production. USDA also predicts the pork sector will rebound from 2014's reduced production, which was largely due to Porcine Epidemic Diarrhea virus (PEDv). Additionally, beef production is projected to steadily increase beginning in 2018. All reported sectors (beef, pork, broilers and milk) are expected to increase over the projected period.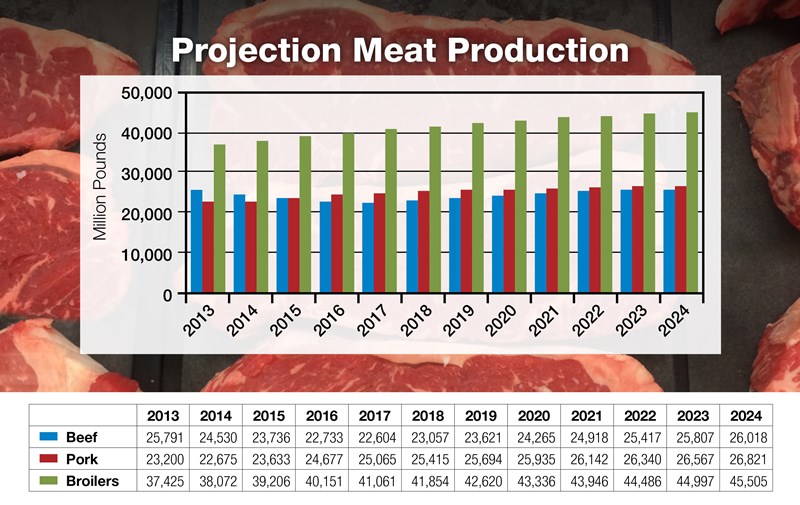 Red meat and poultry exports are also expected to rise over the next decade. This projected rise is attributed to steady global economic growth, continued weakness of the U.S. dollar and foreign demand for selected meat cuts, according to USDA's report.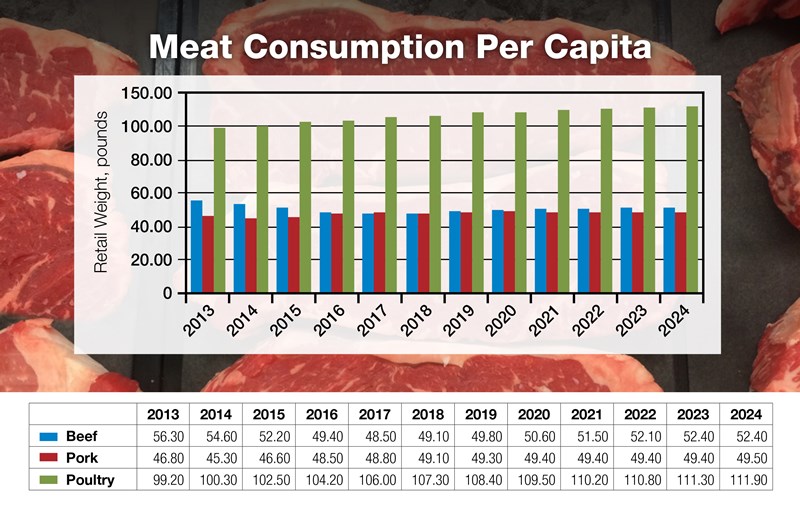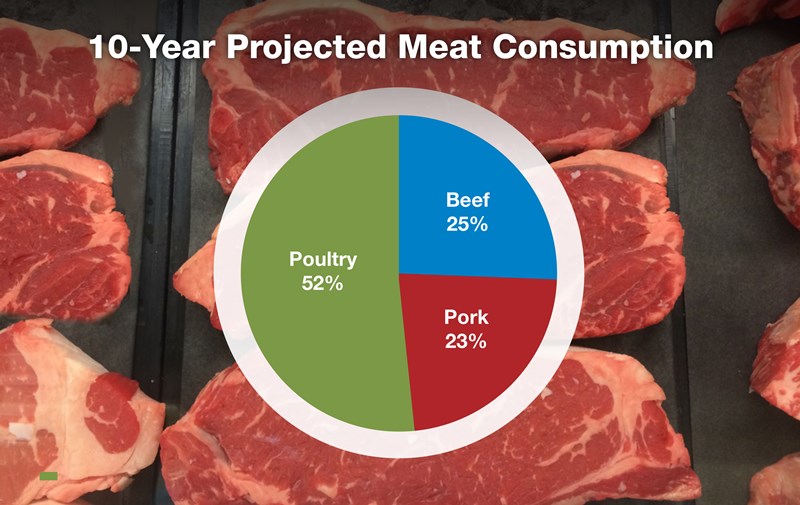 Beef Long-Term Projections
While beef shows a near-term decrease due to an increase in retained heifers to rebuild cow herds, an overall increase is projected over the next 10 years. Lower feed costs coupled with improved pastures will provide incentives for increased beef production.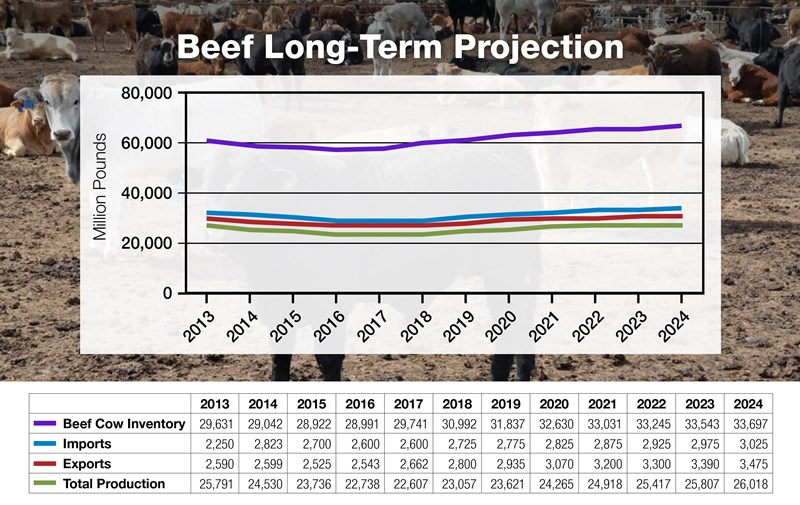 10-Year Beef Price Projections
The beef industry has seen record-breaking highs in the past year, but those highs are projected to level out. Beef cattle and steers are expected to fluctuate slightly but remain fairly steady over the projected period, while calves are anticipated to hit a peak in 2015 before they dip back down and level out.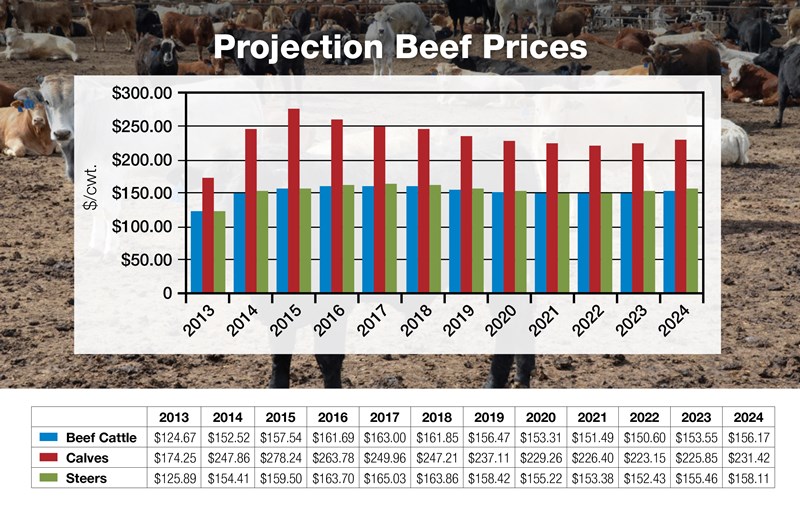 10-Year Dairy Outlook
According to the report, due to high milk prices and low feed costs, dairy numbers are expected to hit their peak in 2018/19 before hitting a downhill slide reaching a new low in 2024.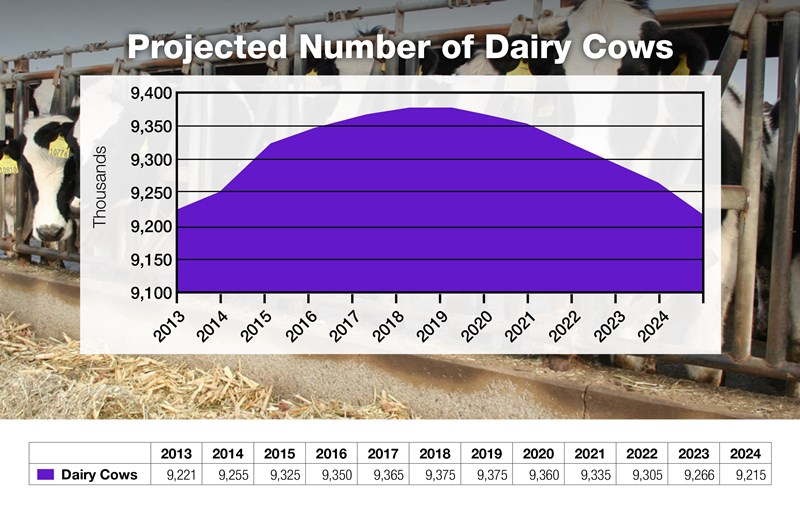 Despite the decrease in dairy cows, dairy milk production per cow is expected to steadily increase reaching an estimated 27,060 pounds of milk per cow by 2024. USDA attributes this increase in milk production to continued technological and genetic developments.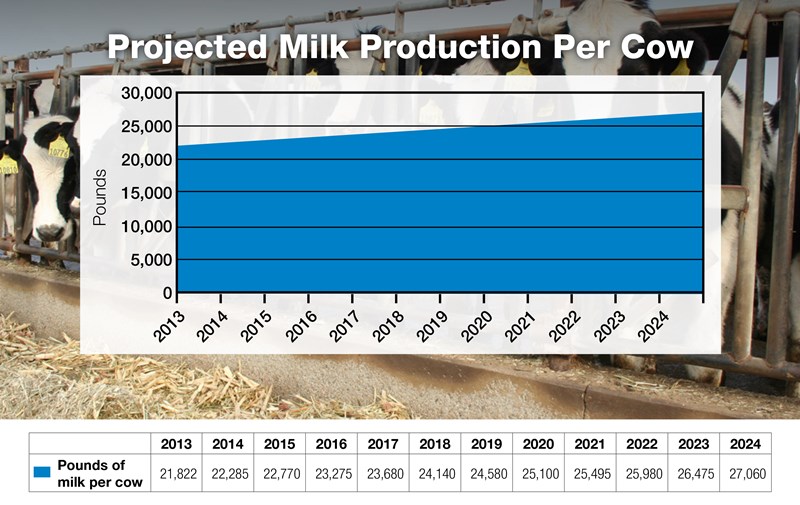 Click here to view the U.S. Livestock report.
Other reports and articles:
USDA Price Projections: Are Tight Margins Here to Stay?
USDA: Dairy Exports Should Rebound in Second Half of 2015
What You Need to Watch: 5 Factors Affecting U.S. Dairy Markets
USDA Agricultural Projections to 2024 full report