USDA projects 2016 net farm income will decline another 3% to $54.8 billion, its lowest level in both real and nominal terms since 2002. USDA's first forecast for 2016, if achieved, means the a drop of 56% in net farm income from the record high of $123.3 billion in 2013. USDA also forecasts net cash farm income to decline 2.5% from 2015 to $90.9 billion.
Cash receipts are forecast to fall $9.6 billion (2.5%) in 2016, led by a $7.9-billion (4.3%) drop in animal/animal product receipts and a $1.6-billion (0.9%) decline in crop receipts. Nearly all major animal specialties—including dairy, meat animals, and poultry/eggs— are forecast to have lower receipts, as are vegetables/melons and feed crops. While overall cash receipts are declining, receipts for several commodities are expected to increase by at least 1% relative to 2015 forecast levels. Direct government farm program payments are projected to rise $3.3 billion (31.4%) to $13.9 billion in 2016 in response to the expected price environment.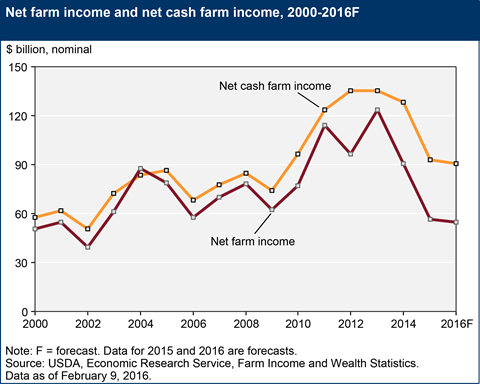 Farm asset values are forecast to decline by 1.6% in 2016, and farm debt is forecast to increase by 2.3%. Farm sector equity, the net measure of assets and debt, is forecast down by $55 billion (2.2%) in 2016. The decline in assets reflects a drop in the value of farm real estate, as well as declines in crop inventories and financial assets. The increase in farm debt is driven by increases in both real estate debt (up 1.1%) and nonreal estate debt (up 3.8%).
Farm sector real estate debt is forecast to increase 1.1% in nominal terms in 2016 (a 0.9% decrease in inflation-adjusted terms as shown in the figure below), to $207.3 billion ($185.1 billion in inflation-adjusted terms). Although 2016 end-of-year farm real estate values are forecast to decline slightly at the sector level, interest rates have remained accommodating and agricultural lenders—particularly commercial banks and the farm credit system— have reported growth in farm real estate loan volumes throughout 2015, suggesting that credit to the sector has not been curtailed up to now, USDA states.
USDA says nonreal estate debt is forecast to continue growing more quickly than real estate debt in 2016, rising 3.8% to $165.2 ($147.5 billion in inflation-adjusted terms). Farm income is forecast to drop for a third consecutive year, reducing the amount of cash available to cover expenses. Farmers have historically borrowed against their equity in periods of declining farm income, and lender reports suggest the demand for nonreal estate debt financing increased throughout 2015; the sector forecast assumes this level of demand will continue through 2016.
As a result of the decline in farm assets and continued increase in farm debt, the sector's debt-to-asset and debt-to-equity ratios are forecast to rise to 13.23% and 15.25%, respectively, in 2016, USDA states. The increase suggests a higher amount of financial stress is building in the sector relative to recent years. However, even though these measures of sector leverage have increased every year since 2012, each remains low relative to historical levels. As such, the sector appears to remain well insulated from the solvency risk associated with declining commodity prices, adverse weather, changing macroeconomic conditions, and the fluctuations in farm asset values, USDA concludes.