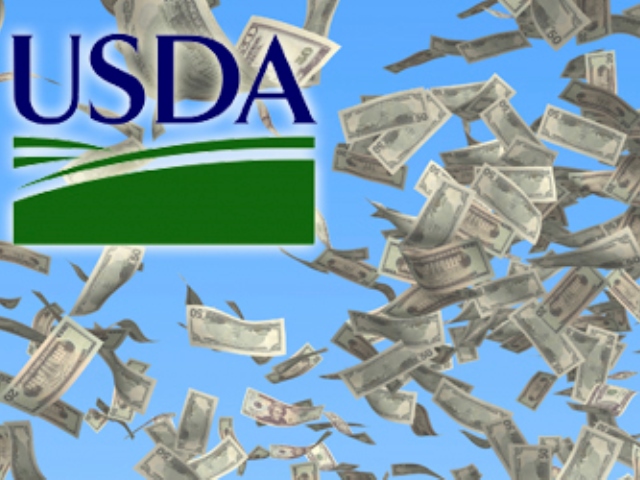 Higher yield expectations cause USDA to increase corn and soybean supplies and lower price forecasts.
Season-Average Corn Prices Range $2.80 to $3.60
This month's 2017/18 U.S. corn outlook is for increased production, greater feed and residual use, higher ending stocks, and lower prices. Corn production is forecast at 14.184 billion bushels, up 32 million from last month.
Corn supplies are up from last month, as a larger crop more than offsets a small decline in beginning stocks due to updated use estimates for 2016/17. Feed and residual use for 2017/18 is raised 25 million bushels with a larger crop and lower expected prices. Corn used for ethanol for 2017/18 is projected down 25 million bushels at 5.475 billion, based on observed usage during 2016/17 and expectations of lower exports. Other industrial use is lowered 50 million bushels. With supply increasing and use falling, corn ending stocks are up 62 million bushels from last month.
The projected range for the season-average corn price received by producers is lowered 10 cents on both ends to a range of $2.80 to $3.60 per bushel. Global coarse grain production for 2017/18 is forecast up 2.4 million tons to 1,316.5 million.
The 2017/18 foreign coarse grain outlook is for greater production, slightly lower consumption, reduced trade, and larger stocks relative to last month. Foreign corn production is forecast to decline relative to last month with reductions for Serbia, Ukraine, the EU, and Russia more than offsetting increases for Argentina and Mexico. The projected corn yield for Ukraine is reduced based on heat and dryness during the month of August. In Argentina, corn area is raised from last month and is now forecast to be record high. Barley production is raised for Russia and Canada, but lowered for Argentina and the EU.
Season-Average Soybean Prices Range $8.35 to $10.05
Soybean production is projected at a record 4,431 million bushels, up 50 million on a higher yield forecast. Soybean supplies are raised with higher production only partly offset by lower beginning stocks. With increased supplies and lower prices, soybean exports are raised to 2,250 million bushels leaving ending stocks unchanged.
The 2017/18 U.S. season-average soybean price is forecast at $8.35 to $10.05 per bushel, down $0.10 at the midpoint.
Soybean meal prices are also lower at $290 to $330 per short ton while soybean oil prices are projected higher at 32.5 to 36.5 cents per pound. Rising soybean oil prices relative to soybean meal reflects additional demand as increased use of domestic biodiesel feedstock partly offsets reduced biodiesel imports in 2018. Changes for 2016/17 include higher exports, higher crush, and lower ending stocks. Exports are increased 20 million to 2,170 million bushels based on official trade data through July and indications from August export inspections. With crush raised 5 million bushels, ending stocks are projected at 345 million bushels, down 25 million from last month.
Soybean imports are raised for China and Thailand reflecting higher U.S. exports. Foreign oilseed stocks for 2017/18 are projected higher as a 1.5-million-ton reduction for Brazilian soybean stocks due to a lower carryin is offset by increased soybean stocks for China, Bolivia, and Argentina, and larger canola stocks in Canada. 
Read the full Sept. 12, WASDE report.