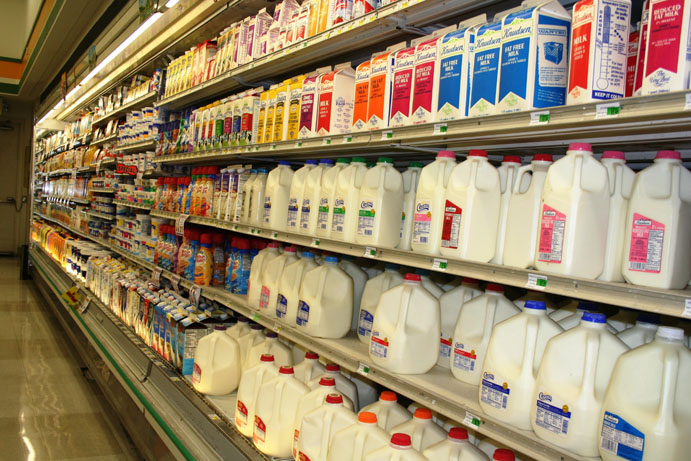 The projections in today's World Agricultural Supply and Demand Estimates report are too bullish for some market watchers.
USDA lowered its projections for 2015 dairy prices in today's World Agricultural Supply and Demand Estimates (WASDE) report, but not enough to reflect what's already occurring in the futures market or to satisfy the more bearish outlooks of market watchers. 
USDA expects Class III prices to average in the $16.20-$17.00 per cwt. range this year, a drop of more than $6 from 2014. Today's Class III estimate is 35 cents below last month's WASDE report.
"USDA is remaining optimistic in its estimate of Class III prices for 2015," asserts Stewart-Peterson commodity consultant Bob Devenport. "In today's report, USDA is projecting the 2015 Class III average price to be $16.60 per cwt. That is a drop of 25.7% from the 2014 Class III average of $22.34 per cwt., but it is still over $1.00 higher than the current Class III futures average price of $15.54 (as of Friday's closing prices).  This means that Class III prices have some work to do if we are to see that projection come to fruition. "
The 2015 All-Milk Price will likely average $17.75 to $18.55 per cwt., down from 2014's expected range of $24.05-$24.15, USDA also noted in today's report.
USDA said it expects dairy demand to strengthen later in the year with the lower price levels, limiting future further price declines.
Elsewhere, the WASDE report shows a sharp month-over-month drop in USDA's forecast for 2015 U.S. milk production.  Pegged at 211.7 billion pounds, today's estimate reflects a 500-million-pound drop from December's 2015 outlook. USDA says lower growth in cow numbers and milk per cow accounted for its reduced figure from December's output estimate. Meanwhile, AgDairy Market's Robin Schmahl expects to see heavier culling on dairy farms.
Even so, the 211.7 billion pounds of milk still puts U.S. 2015 production at record levels and reflects an increase of 2.8% from the 206.0 billion pounds of estimated production for 2014. 
USDA also forecasts total U.S. dairy exports for 2015 to fall about 10% below 2014 exports – again, no surprise here, says Devenport. USDA estimates 11.1 billion pounds of dairy exports, down from the 12.3 billion pounds of estimated exports for 2014. 
"The U.S. is going to struggle with dairy exports," says Schmahl, a commodity trader. "It doesn't help that the U.S. dollar is trading at a nine-year high," which makes American products more expensive for foreign customers to buy.
Regarding specific dairy products, USDA lowered its 2015 projections for cheese, butter, powder and whey prices. "That's not surprising given the continued decline in these prices over recent months," Devenport says. "Cheese is estimated at $1.63 a pound for 2015, which is in line with the current cheese futures average price for 2015 of $1.6375, as of the current market prices."
More questionable is USDA's price projection for 2015 whey. Today's WASDE report USDA projects the 2015 whey price at $0.57 per pound, which is down just 13.5% from the 2014 price of $0.65 per pound.
"This may sound like a large decline, but it is not when compared to that of other dairy products," says Devenport.  "Cheese is estimated to be priced 24.2% lower than 2014, butter 22.5% lower than 2014, and powder 26.5% lower than 2014. So, you can see that the USDA is optimistic about whey prices over the course of the next year in estimating only a 13.5% year-over-year price decline."
This conflicts with the current whey futures prices.  January whey futures are now priced at $0.54 per pound – not far off from the USDA's 2015 estimate.  However, Devenport notes, there is a massive discount priced into the deferred whey futures contracts. April whey futures are currently priced at only $0.34 per pound, and the remainder of 2015 contracts range from $0.34½ up to $0.45¾.  The January-December average futures price for whey is about $0.39 per pound, based on Friday's settlement prices.
"This means the futures market is priced at an 18-cent discount to the USDA projection of $0.57 per pound," says Devenport. "This means that either the futures market is pricing in too much of a discount and prices could rally over the year, or USDA's price projection will need to be lowered in future reports. Only time will tell."