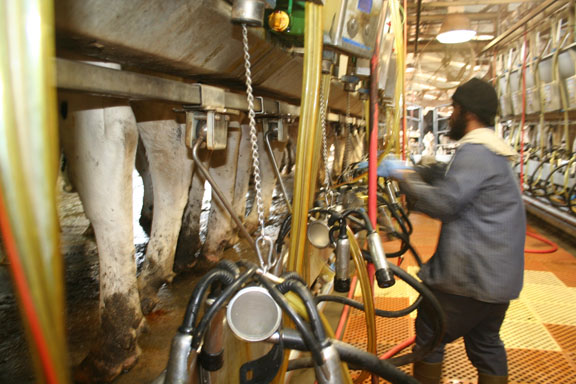 The increase over year-earlier levels is lower than many expected.
U.S. dairies produced 2.5% more milk in August than they did a year earlier, surprising market watchers who expected a greater increase.
U.S. milk production totaled 17.2 billion pounds in all 50 states last month, USDA said today in itsAugust Milk Production report. 
"I expected something along a 4% increase," said Robin Schmahl , a commodity broker and owner of AgDairy LLC, a Wisconsin-based commodity brokerage firm.
USDA's production number was "well below our expectations for 17.4 billion pounds," noted Dave Kurzawski, a risk management consultant with the Chicago office of INTL FCStone. The firm specializes in dairy risk-management and margin hedging programs and services.
The U.S. is projected to produce record milk production this year of 206.3 billion pounds, according to USDA's World Agricultural Supply and Demand Estimates, released Sept. 11.
USDA said per-cow production averaged 1,856 lb. for August, 37 lb. above August 2013. The number of milk cows increased to 9.28 million head, 47,000 head more than August 2013 but 1,000 head less than July 2014. The lower cow numbers were a surprise "given the very strong milk prices and fading grain prices," said Kurzawski.
Despite the decline from the prior month, this is the largest year-over-year cow number increase since May 2012, Dairy Farmers of America reported in today's "DFA Today" e-newsletter.
Among states with the highest percentage increases, Florida's milk output rose 8.4% over August 2013, generating 193 million pounds last month. Colorado boosted its milk production by 8% to 310 million pounds in August. Michigan's dairies churned out 833 million pounds, 6.7% more milk than in August 2013. Texas dairies increased their output by 6.2%, to 839 million pounds for the month.
California continued to lead all states in national milk production, pumping out 3.449 billion pounds in August, a 1.4% increase over year-earlier levels. Wisconsin, the nation's No. 2 milk producer, rose 1.2% in output to yield 2.362 billion pounds last month. Idaho, the third-largest milk producing state, jumped 3.1% to 1.216 billion pounds.
While Kurzawski said his firm would expect to see a push higher in prices come Sunday night as a result of the bullish report, Schmahl didn't anticipate much market influence by the report.
"These reports used to have a bigger impact," Schmahl said. "They're really not market movers anymore. Now, they're 30-45 days behind. August's production has already been absorbed, processed and moved by the market."