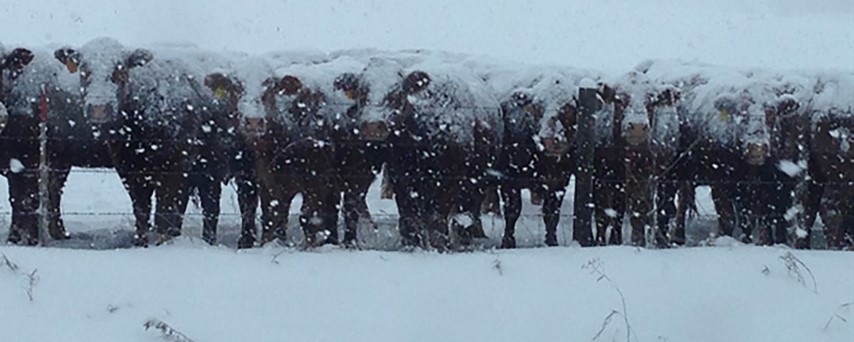 Corbitt Wall gave his weekly Feeder and Stocker Cattle Market Summery for the week ending February 7. The winter weather across the nation didn't allow enough trade to really test the markets. Due to the bitter cold temperatures, ice and snow, auctions just didn't see the cattle they've been seeing and some auctions even closed as the winter storms moved in. Overall, the auctions were running on limited receipts with the best test in the Southeast. However, producers in the Northern plains, in North and South Dakota, Corbitt says are just "tougher than the rest of us." They saw good sales and good demand despite the bitter cold temperatures.
Overall, the markets are seeing lower undertones where cattle were sold coming in steady to mostly $5.00 lower and nationwide auction receipts down 39% and big auction sales, like in MO, down 80% due to weather.  Country trade, or direct sales, on feeder cattle has been pretty slow, which is normal with many auctions shut down they've had a hard time keeping up with this market.
Fat cattle and live cattle futures never really came together which is why there was such a drop this week as buyers and sellers had a hard time coming together. We saw slow trade of all classes of cattle and no big sales. Everything is really slow perhaps because a lot of the bosses were out at the NCBA mingling with other producers.
Corbitt mentioned that between the bitter cold temperatures, snow storms, ice and snow you really find out who you are when you've got temperatures well below zero, ice and snow falling, but it's so important to keep those cattle fed and watered.
Additionally, with a good market, a lot of producers are looking for replacement heifers with the because they can afford to do so now and it's not all straight black or straight Angus that they're looking for, either. In Burwell, Neb., they had a set of 670 pound replacement quality Hereford heifers bring $2.24 per pound and F1 Black Baldies weighing 686 brought $2.35 per pound.
Watch Corbitt Wall's full report at the Cattle Markets Center.