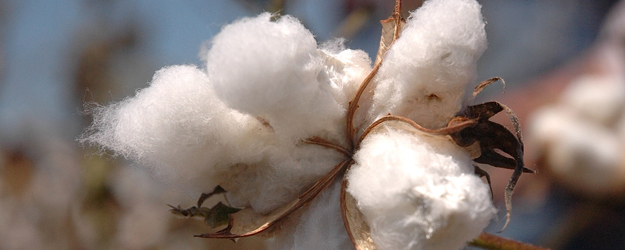 Lower expected U.S. cotton production has raised the outlook for prices, but cotton producers should keep a close eye on China.
 
Lower expected U.S. cotton production has raised the outlook for 2013-14 cotton prices, but cotton producers need to be ever vigilant about growing stocks of cotton in China that have cloaked prices in uncertainty.
According to USDA's latest World Agricultural Supply and Demand Estimates, released June 12, old-crop U.S. cotton exports to China are much larger than originally anticipated. Stronger exports should reduce the current season's ending stocks as well as carry-in stocks for the new-crop balance sheet, according to USDA's projections.
At the same time U.S. cotton continues to move offshore, USDA reduced projected production of new-crop cotton by 500,000 bales to 13.5 million bales due to an expected increase in abandonment that reflects continued drought conditions in the Southwest. Last year, the nation's cotton growers produced 17.32 million bales of cotton.
According to USDA's latest Drought Monitor Index, most of New Mexico, the Oklahoma and Texas panhandles, western Kansas and Nebraska, and eastern Colorado continue to battle severe to exceptional drought conditions.
"The drought will have a wide impact from the Rio Grande to north of Amarillo," says John Robinson, economist with Texas A&M University. "Two million acres in Texas might not produce anything. We'll have a good feel for that in August or September. Drought has not improved in the area where there is extensive dry land and cotton."
The Chinese Dilemma
China's presence in world markets has helped raise USDA's price outlook for U.S. cotton to 83 cents per pound, up a nickel on each end of the 73 to 93 cents range.
Stronger Chinese purchases are drawing stocks out of exporting countries and constraining the 2013-14 supply outside of China, says USDA in its WASDE commentary.
"It's reasonable to expect that China will continue its stockpiling of cotton," says Robinson. "But it can't continue to do it forever." Currently China has 50.01 million bales of cotton stockpiled, or 61.6 percent of the world's stocks.
"I think China has painted itself into a corner," says Robinson. "How does it stop stockpiling cotton without depressing prices for its farmers? If China starts to use its stockpiles, world prices would weaken."
China began its program of supporting domestic cotton prices and building stocks two years ago, so some of the country's stored cotton is aging. Robinson, who traveled to China last year, says the Chinese government's stocks are stored properly, under tarps and indoors, but stored cotton is vulnerable.
"Warehouse people have told me that old bales are not good for anything but mops," he adds. "Eventually the quality of the fiber will decline." The process of decline, however, could be anywhere from two to five years.
The only way China would be able to unwind its cotton policy would be to sell its stocks into the world market during a period when global supplies are in shortfall and prices rise to $1.20 per pound or more, Robinson adds.
USDA reduced world production of cotton for the 2013-14 crop slightly from last month, based on lower production for the United States, Turkmenistan, and other countries. World consumption was also reduced slightly.
Projected world new-crop ending stocks are reduced marginally, but USDA raised China's stocks by 750,000 bales, which means projected stocks outside of China declined by about 3 percent lower.
"These projections assume that China continues current policies regulating the national reserve acquisition and release prices," cautions USDA.