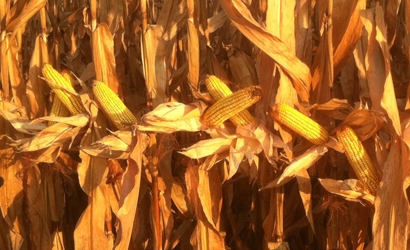 USDA reinforced its prediction for record corn and soybean crops in 2014.
USDA had its first chance to lower 2014 yield expectations on Friday, May 9 in its monthly Crop Production and World Agricultural Supply and Demand Estimates (WASDE). But it resisted the urge.
Even with corn planting being behind the five-year average, USDA forecast 2014 corn production a record 13.935 billion bushels, with an average national yield of 165.3 bu./acre. For soybeans, 2014 production is estimated at 3.636 billion bushels (also a record) and the average national yield is pegged at 45.2 bu./acre.
"A lot of people, including me, thought there was no way they would use the 165 bu./acre yield estimate," says Jerry Gulke, president of The Gulke Group. He says USDA has a history of using trendline yields, as long as 50% of corn planted by May 15.
As of May 4, USDA estimates 29% of the U.S. corn crop is in the ground Last year only 11% of the corn crop was planted by May 4 and the five-year average is 42% by early May. According to 1,400 farmers and ranchers responding to the May 7 Farm Journal Pulse, 48% of corn is planted.
Hear Gulke's full audio analysis:


Corn planting is severely behind in Minnesota, Iowa, Ohio, Wisconsin, Michigan, North Dakota, Pennsylvania and North Carolina, as all are 15 percentage points or more behind average. Yet, farmers in Colorado, Kansas and Missouri are 5 percentage points or more ahead of the average planting pace.
Gulke says since corn planting in the central and southern parts of the Corn Belt are nearly done, the market isn't strongly reacting to planting delays. "The market is saying they don't care if we plant the corn in the Dakotas, Minnesota, Wisconsin or Michigan," he says. "We think we're going to have enough by the I States on south and what gets planted in Minnesota."
Another surprise in the report was old-crop demand, Gulke says. USDA lowered the 2013-14 carryout to 1.146 billion bushels. The average analyst estimate was 1.314 billion bushels. He says they increased exports but didn't significantly change feed and residual or ethanol usage.
Lower demand and higher production leaves the 2014-15 estimated corn ending stocks at 1.7 billion bushels, up 580 million bushels from the projection for 2013-14. With the larger carryout, USDA predicts a season-average farm price of $3.85 to $4.55 per bushel, down from $4.50 to $4.80 per bushel for 2013/14.
For soybeans, U.S. crush for 2014/15 is projected at 1.715 billion bushels, up 20 million from 2013/14. Despite lower prices, soybean meal exports are projected up only slightly with Argentina soybean meal exports accounting for most of the gains in global soybean meal trade.
U.S. soybean exports are projected at 1.625 billion bushels, up 25 million from 2013/14 on record supplies and competitive prices. Despite gains in use, ending stocks for 2014/15 are projected at 330 million bushels, up 200 million from 2013/14. The U.S. season-average soybean price for 2014/15 is forecast to decline to $9.75 to $11.75 per bushel compared with $13.10 per bushel in 2013/14.
Read complete coverage of the May 9 USDA reports.
Have a question for Jerry? Contact him at 815-721-4705 or jerry@gulkegroup.com.

For More Information  
See current market prices in AgWeb's Market Center.
---