via a special arrangement with Informa Economics, Inc.
Feed price ratio improvement has improved for all livestock sectors
---
NOTE: This column is copyrighted material, therefore reproduction or retransmission is prohibited under U.S. copyright laws.
---
Several years of low margins have given way to improved feed price ratios and thus "much improved" market prospects for the US livestock sector, according to USDA Chief Economist Joe Glauber.
While prices remain lofty, Glauber noted that US exports "continue to be strong for meat and poultry. Broiler exports are expected to reach record levels in 2014, up 1.8 percent from 2013. Pork exports are expected to be up 3 percent from 2013. Only beef exports are expected to decline, forecast down 10 percent in 2014, due to the high beef prices reflecting tight supplies."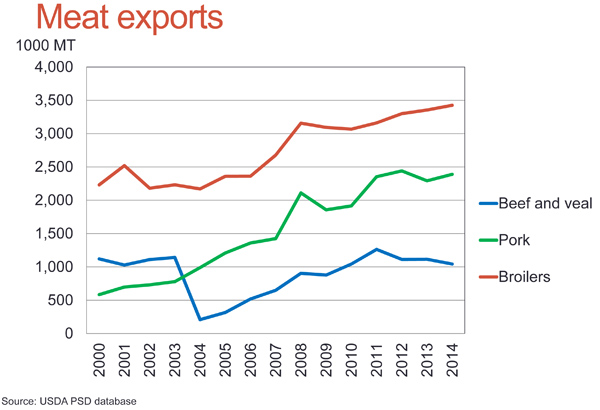 However, Glauber noted that the more-profitable picture for US livestock producers in the red meat sector is not translating into rapid expansion. "Prospects for the beef sector are constrained by the decline in cattle inventory which as of January 1 was at the lowest cattle and calf inventory since 1951," Glauber detailed. "While cattle numbers have been trending down since the 1970s, the continued drought in the Southern Plains has resulted in large declines in the cattle herd. Since 2011, the cattle inventory has declined by almost 1.3 million head. Almost 75 percent of the losses occurred in Texas, Oklahoma, Kansas and Missouri."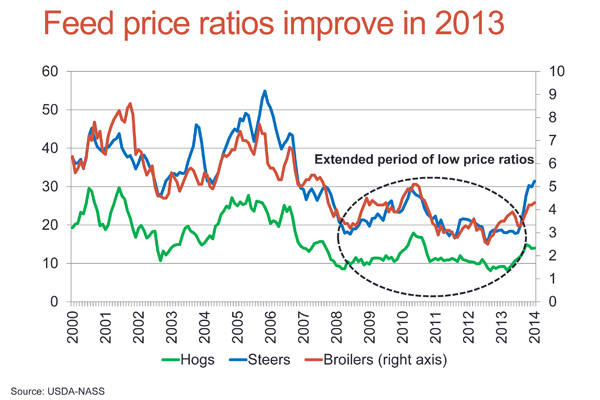 While cow-calf operations are seeing strong returns, Glauber noted, "many producers appear to be taking a cautious view, rebuilding capital after a year or more of buying expensive forage and ensuring sufficient supplies of forage and water will be available before expanding in earnest."
As for the hog sector, Glauber said the more positive feed cost situation have "set the stage for strong expansion. However, the spread of Porcine Epidemic Diarrhea virus (PEDv) through the U.S. herd is expected to sharply limit the supply of hogs compared to earlier expectations. Mortality rates due to PEDv have been highest among young piglets which have curtailed the growth in the number of pigs per litter and will likely slow expansion."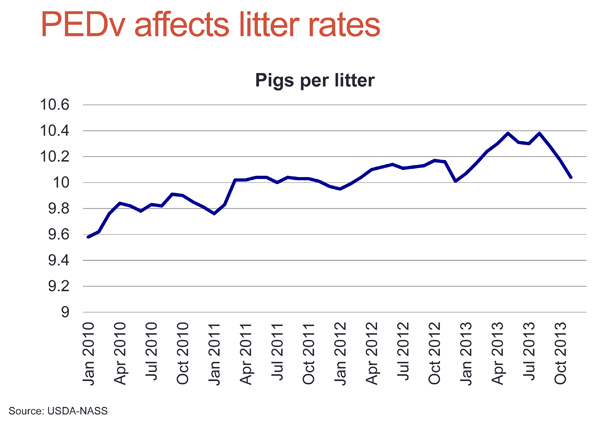 Dairy producers have also enjoyed improving margins since July 2013, Glauber said. "Margins are expected to stay above $8 per hundredweight for all of 2014. Dairy product prices have been at or near record levels due, in part, to strong demand for U.S. dairy products, particular cheese and butter. Dairy exports have shown remarkable growth over the past 5 years and are expected to growth further over the next 10 years."
---
NOTE: This column is copyrighted material, therefore reproduction or retransmission is prohibited under U.S. copyright laws.
---
---