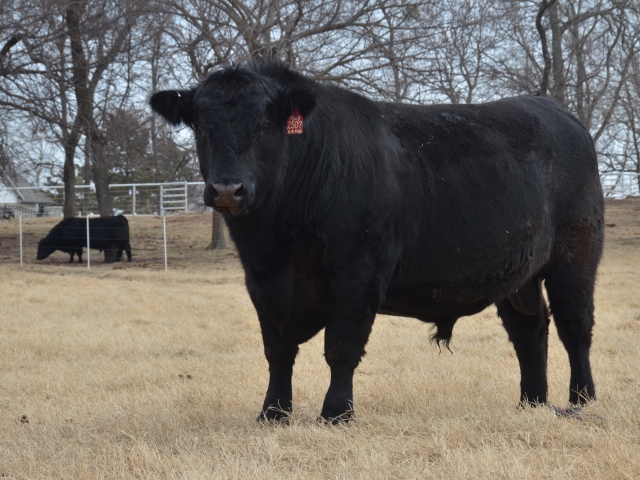 By: Katie Allen and Connor Orrock, Kansas State University Extension 

With cow herd rebuilding still in progress in the United States, K-State Research and Extension cow-calf specialist Bob Weaber offers advice on selecting herd sires to make the most valuable replacement daughters.
Calving ease is one of the most important genetic traits for producers to consider.
"As producers, one of the things we need to focus on is how to minimize dystocia," Weaber said. "An effective way do that is use of calving ease EPDs (expected progeny differences)."
Two kinds of calving ease EPDs exist, he said, which are calving ease direct and calving ease maternal. Calving ease direct is based on the percent of unassisted calves born from a particular sire when mated to first-calf heifers; the calving ease direct EPD is desired when breeding virgin heifers to decrease dystocia events. Calving ease maternal is based on the percent of unassisted calves born to daughters of a particular bull; therefore, it is how easy a sire's daughters calve.
"It is important as we build replacement heifers that we put some emphasis on the maternal calving ease component for the long term," Weaber said. "Unfortunately in beef cattle, calving ease direct and calving ease maternal have a negative genetic association. If we select only on calving ease direct over time and don't put any pressure on maternal calving ease, maternal calving ease will get progressively worse over time."
"Fortunately, seedstock producers are putting upward pressure on both of those traits so now we can find a good number of bulls in the market that have desirable calving ease direct and calving ease maternal EPDs," he added.
One of the challenges in making bull selections is that producers often have to sort through dozens of EPDs. Selection indexes are designed around a specific endpoint to help guide producers. Weaber said producers should pick the selection index that most closely matches their breeding, production and marketing scenario.
For example, producers who sell calves at weaning might use the weaned calf value ($W) index when buying an Angus bull. Beef value ($B) describes value through the feedlot and carcass phase of production.
If producers want to raise their own replacement females, however, using a selection index becomes trickier, Weaber said. Some breeds have an all-purpose index that considers both maternal and terminal traits, but it puts more emphasis on maternal traits compared to other indexes. Be sure not to use a terminal index to select sires of replacement females, as the terminal index places no selection emphasis on maternal traits.
Weaber also said producers should limit their use of other EPDs when using a selection index. Using both could contaminate the decision by over or under weighting the economically important traits. Using additional EPDs in addition to using a selection index also dramatically reduces the efficiency of your selection through decreased selection pressure on the index.
"Let the index drive you, because it applies the appropriate amount of economic weight to each of the EPDs that influence value to the end point," he said.