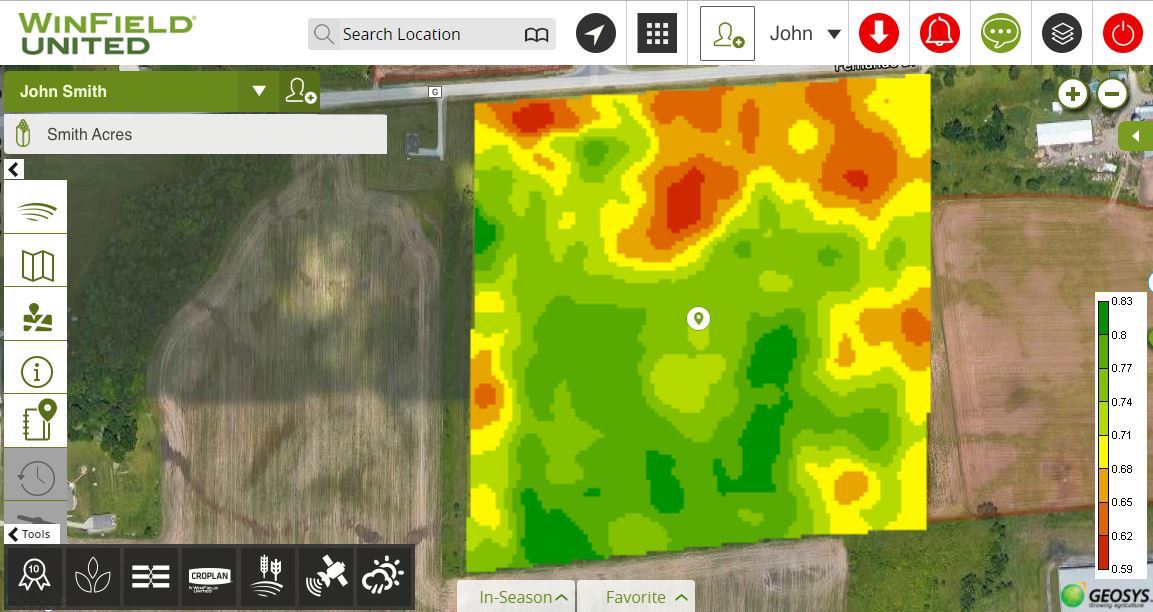 By Mary Pat Sass, Technology Manager, WinField United
Use Tech to Identify Problems, Spotlight Opportunities
During the growing season, every minute counts. Many times, extra hands are hard to come by and more hours in the day are not an option. Technology, however, is often the farmer's saving grace. Quality technology that is properly leveraged can quickly detect field problems and successes to help pinpoint where you should concentrate management efforts.
The R7® Tool by WinField United provides features that help gather multiple data points from your fields, enabling you to see both the big picture and specific details and take any necessary action in a timely manner. These capabilities work in tandem to provide an edge in planning, planting and in-season decision-making, stay ahead of problems, and make any needed applications precisely when and where they will do the most good.
Here are capabilities found in the R7 Tool that can help you and your trusted local advisor assess crop needs and make adjustments throughout the season.
In-season imagery: bird's-eye view, with detail
In-season imagery from the R7 Tool directs you to specific zones in your fields, providing a window into plant biomass levels so you can see variability across the field due to things like disease, insect pressure, storm damage or nutrient deficiencies. R7 Tool in-season imagery delivers images at 5 meters, giving you a detailed look at each field's management zones. Your location is pinned as you and your agronomist walk through the field, so you always know precisely where problem areas lie. Scouting notes and pictures can be taken with the R7 Tool to document findings and keep records of field variability throughout the season.
The R7® Field Monitoring Tool uses daily, low-resolution satellite imagery to benchmark fields based on biomass accumulation. Featuring a multi-field dashboard, the Field Monitoring Tool displays day-to-day performance of all the fields on a particular farm or in a designated area, alerting farmers to spots that may require immediate attention to preserve yield potential. The tool also helps prioritize tasks for increased productivity.
Knowing field biomass levels alerts you and your agronomist as to whether tissue samples are needed and, if so, where. It also indicates how to manage inputs for the remainder of the season — for example, if you should be applying variable-rate nitrogen or a fungicide to manage disease pressure. Use the Field Monitoring Tool to be more specific in identifying fields that need immediate attention to correct a problem or that need a change in management.
The Field Monitoring Tool also contains five years of historical biomass curves, which are a good indicator of high- and low-performing fields. This archive of historical field trends can be used to analyze the upcoming season, providing insights that enable you and your agronomist to have a plan in place to execute as soon as fields can be prepped.
One farmer I'm working with used the Field Monitoring Tool to determine which fields needed nitrogen first, but he also used it later in the season as he was preparing to make fungicide decisions. He had a corn field that looked like it was doing very well, trending up and ahead of his other fields. This particular field also contained a hybrid with a high response to fungicide. As a result, the recommendation his agronomist made was that this was a field where the farmer should be investing in a fungicide application to meet his ROI and yield goals.
Use the Field Monitoring Tool as a triage device that allows more specificity in identifying fields that need an extra push or a bit more management.
Gauge crop performance and ROI
The R7® Field Forecasting Tool is a web-based crop model that uses field-specific information from the Answer Plot® program and NutriSolutions 360® system to simulate daily crop growth and development. This enables proactive management of water and nutrient applications throughout the season.
The Field Forecasting Tool allows you to drill down on how much nitrogen and potassium are needed to reach particular yield goals. For example, will a nitrogen application made at a certain time and at a certain amount generate ROI? Or is there a greater ROI opportunity if the nitrogen is applied at a different rate on another date?
The Field Forecasting Tool also helps you determine when and how much water will be a benefit to crops. Historical information is also provided about weather, nitrogen or potassium stresses, and a crop growth indicator shows you and your agronomist how much biomass fields are accumulating.
Your specific crop management practices can be factored into the program to create a more complete picture of what is needed to enhance field success.
Get a handle on the season
Using a suite of ag technology products, the R7 Tool can help farmers and agronomists make informed decisions from planning to planting, in-season to harvest. Talk with your local WinField United retailer to find out more about leveraging the R7 Tool to help optimize ROI potential this season.
Answer Plot®, R7®, NutriSolutions 360®, WinField® and WinField Unitedä are trademarks of Winfield Solutions, LLC.
© 2018 Winfield Solutions, LLC