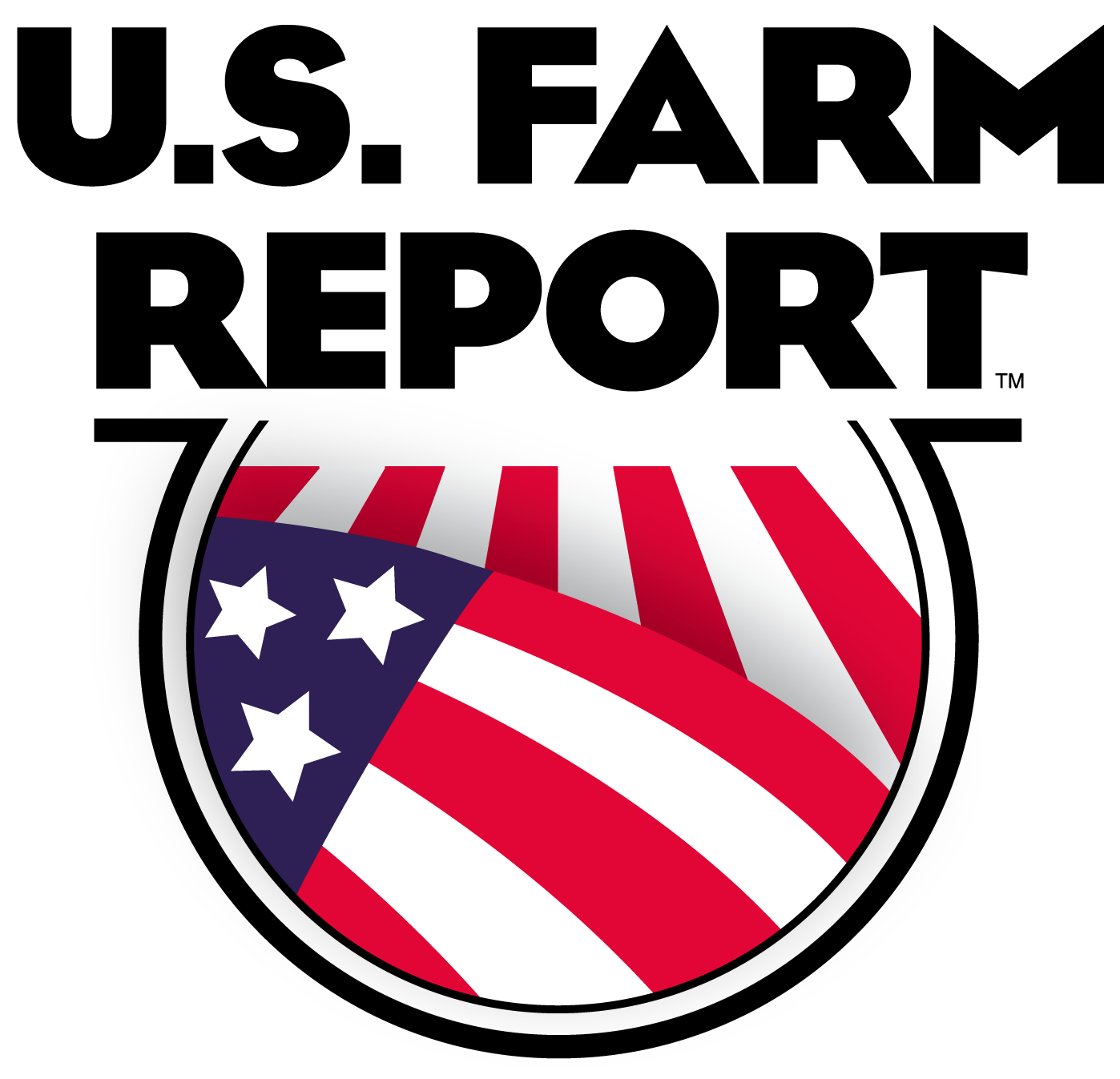 TODAY ON U.S. FARM REPORT
FEBRUARY 25-26, 2017

HEADLINES
WELCOME TO U.S. FARM REPORT. I'M TYNE MORGAN,  AND HERE'S WHAT WE'RE WORKING ON FOR YOU OVER  THE NEXT 60 MINUTES. USDA THINKS NET FARM INCOME WILL BE FLAT THIS  YEAR. WE'LL SHOW YOU PRICE PROJECTION STRAIGHT  FROM WASHINGTON.AS THE PRESIDENT ROLLS OUT HIS NEW PLAN ON  IMMIGRATION, IT'S GETTING REAL FOR FARMERS AND  RANCHERS... UNUSUALLY WARM TEMPERATURES BLANKETING THE  COUNTRY THIS WEEK.. AND IT'S STRIKING FEAR THAT THE WARMTH COULD  BLOSSOM INTO ISSUES LATER THIS SPRING.  AND IN JOHN'S WORLD..
USDA REPORT
NOW FOR THE NEWS THAT MOVED THE MARKETS THIS  WEEK, USDA THINKS WE COULD SEE PLANTED ACREAGE  DROP 3 POINT 6 MILLION ACRES THIS YEAR, WHILE  PRICES EDGE UP SLIGHTLY.  USDA'S CHIEF ECONOMIST ROBERT JOHANSSON  PROVIDING INSIGHT AT THE AG OUTLOOK FORUM THIS  WEEK.  HE EXPECTS U-S SOYBEAN ACREAGE WILL SEE A BUMP,  CALLING FOR 88 MILLION ACRES. CORN IS FORECAST AT 90 MILLION. THE PRICE OUTLOOK IS A LITTLE BEARISH FOR BEANS.  THE ECONOMIST CALLING FOR 9 DOLLARS 60 CENT  SOYBEANS AS AN AVERAGE PRICE FOR THE 2017 YEAR.  CORN AT 3.50.  HE EXPECTS NET FARM INCOME TO LIKELY REMIN FLAT  UNTIL THE STOCKS TO USE RATIO STARTS TO FALL.  USDA ALSO FORECASTING AVERAGE YIELDS TO HIT 170  POINT 7 BUSHELS PER ACRE. WITH 90 MILLION ACRES,  THAT MEANS PRODUCITON WOULD TOP 14 BILLION  BUSHELS ONCE AGAIN. AND FOR BEANS, THE AGENCY FORECASTING A 48  BUSHEL PER ACRE AVERAGE YIELD, PUTTING  PRODUCTION AT 4.18 BILLION BUSHELS.  USDA PROJECTING WHEAT PRICES TO HIT AN AVERAGE  OF $4.30 THIS YEAR. THE AGENCY ALSO PEGGING  WHEAT ACREAGE AT 46 MILLION. WHEAT DEMAND COULD DRIVE PRICES HIGHER. ANALYSTS SAY CHINA WILL MORE THAN LIKELY  CONTINUE TO BUY FROM THE U.S. BECAUSE THERE  JUST AREN'T A LOT OF ALTERNATIVES TO HIGH PROTEIN  WHEAT    CRONIN SAYS THE U.S. IS LOOKING AT A DECLINING  STOCKS SITUATION IN SPRING WHEAT AND WE'RE  BUILDING STOCKS WITH WINTER WHEAT.  CRONIN SAYS THE U.S. IS LOOKING AT A DECLINING  STOCKS SITUATION IN SPRING WHEAT AND WE'RE  BUILDING STOCKS WITH WINTER WHEAT. 
WARM FEBRUARY IMPACTING WHEAT
BALMY FEBRURARY TEMPERATUES COULD TAKE ITS  TOLL ON THE NATION'S WEHAT CROP. AGRONOMISTS SAY IT'S ADVANCING THE GROWTH OF  WINTER WHEAT IN THE PLAINS. THAT EARLY GROWTH  LEAVES THE CRPO VULNERABLE TO FREEZE DAMAGE  LATER THIS SEASON.  RAINS ARE DRENCHING FIELDS IN A KEY SOYBEAN  PRODUCING REGION OF SOUTH AMERICA, AND IT'S  TURNING INTO LOST PRODUCTION. BLOOMBERG REPORTING FARMERS IN BRAZIL'S TOP  PRODUCING SOYBEAN STATE OF MATO GROSSO ARE  ALREADY SEEING LOST PRODUCTION. SOME ARE CALLING IT THE WETTEST HARVEST IN FIVE  YEARS. THE RAIN CAUSING CROP QUALITY ISSUES, WITH BEANS  FERMENTING IN SOME AREAS, AND SEEDS EVEN  STARTING TO GERMINATE. 
MEXICO LOOKING TO BRAZIL, ARGENTINA TO SOURCE GRAIN
MORE STEPS ARE BEING TAKEN IN MEXICO TO STOP  BUYING CORN FROM THE U-S. ONE OF MEXICO'S LARGEST BUSINESS GROUPS IS  LOOKING INTO BRAZIL AND ARGENTINA TO SOURCE  THEIR GRAIN, WHICH COULD PLAY AS A BARGAINING  CHIP ONCE TRADE RENATIATIONS START ON NAFTA. MEXICO IS THE LARGEST CUSTOMER FOR U-S CORN.  PRESIDENT DONALD TRUMP REAFFIRMING HIS SUPPORT  OF RENEWABLE FUESL. TUESDAY, PRESIDENT TRUMP SENDING A LETTER OF  SUPPORT TO ATTENDEES OF HTE NATIONAL ETHANOL  CONFERENCE THIS WEEK.  IT SAYS QUOTE "REST ASSURED THAT YOUR PRESIDENT  AND THIS ADMINISTRATION VALUE THE IMPORTANCE OF  RENEWABLE FUELS TO AMERICA'S ECONOMY AND TO  OUR ENERGY INDEPENDENCE."  ADDING THAT HIS TEAM IS LOOKING FORWARD TO  WORKING WITH THE RENEWABLE FUELS ASSOCIATION  AND MANY OTHERS, TO IDENTIFY AND REFORM THOSE  REGULATIONS THAT IMPEDE GROWTH,  RENEWABLE FUELS ASSOCIATION CEO BOB DINEEN  SAYS HE APPRECIATES THE PRESIDENT'S CONTINEUD  SUPPORT.  DINEEN ALSO SAYING TRUMP UNDERSTANDS HOW  IMPORTANT VALUE ADDED AGRIUCLTURE IS TO THE  REVITALIZATION OF RURAL ECONOMIES. 
SCOTT PRUITT MEETS EPA STAFF
LESS THAN A WEEK AFTER THE SENATE CONFIRMED  NEW EPA HEAD SCOTT PRUITT, HE HELD AN EMPLOYEE  MEETING WITH HIS NEW STAFF AT EPA. HE LAID OUT HIS VISION AND DIRECTION FOR THE  AGENCY. FARM GROUPS HOPE HE'LL BRING BETTER  COMMUNICATION AND A CLOSER WORKING  RELATIONSHIP TO AGRICULTURE.   
WEATHER
THOSE ARE THE HEADLINES...METEOROLOGIST MIKE  HOFFMAN JOINS US NOW WITH WEATHER... MIKE,  MOTHER NATURE CAN'T SEEM TO MAKE HER MIND UP  ON IF IT'S WINTER OR SPRING.  WELL THAT 'S RIGHT TYNE AND THIS WEEK I THINK IT'LL L BE MORE WINTER THAN SPRING FOR A MOST FOLKS BUT IT WILL BE GO BACK AND FORTH. THERE IS A DROUGHT MONITOR THE GAMES IN THE POCKETS OF CONCERN HERE SOUTHEAST SOUTHERN PLAINS NORTHEAST NOT TOO MUCH IN CALIFORNIA ANYMORE BUT WE GO BACK A MONTH. IT WAS A SLIGHTLY LARGER SITUATION THAT. TINGS WERE ALREADY IMPROVING. A MONTH AGO BUT AS WE SEE OVER THE LAST A WEEK BY WEEK LOOK THINGS HAVE GENERALLY BEEN SHRINKING A LITTLE BIT, HAVEN'T RUN A LOT THOUGH IN THE SOUTHEAST IN THE SOUTHERN PLAINS OR TWO AREAS WILL HAVE THE WATCH AS WE HEAD INTO THE SPRING. SO LET 'S GO DAY BY DAY THIS WEEK STRONG STORM SYSTEM MOVING THROUGH THE MISSISSIPPI VALLEY AS WE START THE WEEK MAYBE A LITTLE SNOW ON THE NORTHERN FRINGES BUT IT 'S MAINLY RAIN THUNDERSTORMS PRETTY LIKELY THOUGH IN THE SOUTHEASTERN PORTIONS OF THE COUNTRY NEXT SYSTEM DIVING THROUGH THE WEST. LOTS OF SNOW WITH THAT WHEN THERE 'S SOME FAIRLY COLD AIR IN THE WESTERN PORTIONS OF THE COUNTRY BY WEDNESDAY THEN THAT 'S FOR SYSTEMS ALREADY GONE IN THE SECOND STRONG STORM SYSTEM COMING THROUGH THE UPPER MISSISSIPPI VALLEY WITH MORE SNOW WITH THIS ONE ACROSS THE NORTHERN LIGHTS AND THEN RAIN SHOWERS DOWN INTO THE ALL HOW A RIVER VALLEY THUNDERSTORMS SOUTHEAST. THEN WE GET INTO A SITUATION WHERE THE STORM SYSTEM STILL A DIVE OUT OF WESTERN CANADA SO THAT FIRST ONE COMES IN TWO OF THE CENTRAL PORTIONS OF THE GREAT LAKES INTO THE OHIO VALLEY WITH RAIN SHOWERS NOW ARE SNOW SHOWERS. I SHOULD SAY THAT HE 'S MUCH COLDER AIR COMING IN AND YET ANOTHER ONE COMING THIS WAY AS WE HEAD THERE THROUGH NEXT WEEK AND SO DOUBTFULLY LEVEL CHANGE TWO MORE WINTRY CONDITIONS MY LONGER RANGE THANKS, MIKE.
TEASE
USDA MAKING SOME PREDICTIONS ON THIS YEAR'S  CROP DURING ITS AG OUTLOOK FORUM. WE'LL GET OUR  ANALYSTS THOUGHTS ON IF THOSE PROJECTIONS  COULD HOLD TRUE. DUSTIN JOHNSON AND DANNY  OBRYAN JOIN ME NEXT. 
ROUNDTABLE 1
WELCOME BACK TO U S FARM REPORT ON THE ROUND TABLE WITH ME THIS WEEKEND WE HAVE DAN O'BRIEN OF TOP THIRD AND DUSTIN JOHNSON OF AG YEILD. WITH THIS WEEK WITH THE AG OUTLOOK FORUM THAT MADE HEADLINES BUT THERE WAS A LITTLE BIT OF A CURVEBALL WITH A COURAGE CALL IS FOR CORN AT NINETY MILLION ACRES THIS YEAR. SOYBEANS WE COULD SEE A TWO A HALF MILLION ACRE INCREASE IN THE WHEAT THEY DROPPED WHEAT ACREAGE BY TWO AND A HALF MILLION. SO I MEAN I KNOW THIS IS JUST OUR OUR FIRST TASTE OF A KIND OF A WORD FROM USDA 'S OUT BUT USUALLY FROM THIS POINT TIL THE MARCH THIRTY FIRST UNTIL WE SEE THE THE THE PLANTING INTENTIONS REPORT HOW MUCH CHANGE COULD COULD WE HAVE??? I THINK A LOT OF IT MAY DEPEND ON THE WEATHER.  WE'VE HAD SOME REALLY WARM WEATHER. EVEN IN JUST OVER THE LAST WEEK. AND IF IT CONTINUES WARM, AND GUYS WERE ABLE TO GET OUT IN THE FIELD, YOU MAY HAVE MORE ACRES MOVING INTO CORN JUST AS GUYS HAVE AN OPPORTUNITY TO DO THAT. I HEARD A LITTLE BIT OF OF OF CHATTER ABOUT THAT THIS WEEK. IT WAS SO NICE WE SAW SOME PEOPLE ACTUALLY WAITING FOR THE FIRST TIME I SURE HOPE IT WAS JUST TESTING OUT THE PLANTERS AND THINGS LIKE IN ILLINOIS BUT SO IF WE HAVE THE FAVORABLE WEATHER CONDITIONS WILL ENTICE PRODUCERS TO GROW EVEN MORE CORN THAN WHAT WE THINK??? I IMAGINE THAT WOULD BE THE CASE. WE ALSO HAVE TO REMEMBER THAT PRICES HAVE BEEN RISING TOO. SO A LOT OF THESE EARLY ESTIMATES WERE FOR CALLING FOR FIVE OR MORE MILLION BEAN ACRES PICKED UP THIS YEAR,  THAT WAS WHEN OVERALL PRICES WERE LOW. AND IT FAVORS IN A LOWER COST PRODUCTION CROP. NOW THE PRODUCERS CAN START TO SEE FOR DOLLAR FUTURES AND THE HEADLINES, AND OUT BE A LITTLE BIT MORE CONFIDENT THAT THEY GROW WHAT THEY WANT TO GROW. I THINK A LOT OF THOSE AREAS ARE GOING TO WANT TO PLANT CORN STILL. AND  WE COULD ACTUALLY SEE LESS CORN ACRES LOST THAN EXPECTED. SO I WOULD LEAN TOWARDS THE OUTLOOK FORUM IS BEING A LITTLE BIT MORE RIGHT OKAY AND YOU THINK THAT CORE RAP IS RALLYING RIGHT NOW TO TWO TO POSSIBLY BUY SOME ACRES AS OF LATE?? AND I THINK THAT 'S DEFINITELY A GOOD POSSIBILITY THERE. AND ANOTHER THING ADDING TO DUSTIN 'S POINT IS THAT THE INPUTS FOR CORN HAVE ALSO COME DOWN AS WELL SO IT BRINGS DOWN THAT FUTURES PRICE WHERE THEY CAN SEE PROFITABILITY. SO THAT 'S ANOTHER INCENTIVE FOR THEM TO GET OUT THERE. WHAT YOU THINK IS PRICED IN WITH THE TRADE RIGHT NOW IS THIS NINETY MILLION ACRES WITH THE TRADE IS THINKING IN THE TENTH WITH BEANS YOU KNOW WERE THEY THINKING EVEN MORE ACREAGE SO WE ACTUALLY SEE I'M ONLY A TWO A HALF MILLION ACRE INCREASE IN THE SOYBEANS COULD THAT BE A FAVORABLE STORY FOR THE BEANS ARE OR WHAT IS IT GONNA TAKE??? THAT 'S THE MILLION DOLLAR QUESTION I MEAN I THINK PRODUCERS ARE GOING TO NOT LET GROUND SIT IDLE. I THINK THAT NOW THEY CAN ACTUALLY GET FOUR DOLLAR FUTURE 'S LIKE I SAID, THERE ARE GONNA BE A FAIR NUMBER OF CORN ACRES. IF IT IS NINETEEN MILLION AND WE HAVE A TREND LINE YIELD, YOU'RE STILL LOOKING AT THAT IN A FOURTEEN BILLION BUSHEL PRODUCTION NUMBER A ROUGHLY THAT WILL BE JUST ENOUGH TO SATISFY DEMAND. MAYBE A SLIGHTLY FALLING CARRY OUT. YOU KNOW ESPECIALLY WE HAVE A LOT OF THOSE DJ STAY HOME. BUT WE HAVE A LOT OF GRAIN IN THE WORLD. AND WE'VE BEEN IN A SITUATION OF GROWING SUPPLY. SO THAT TO ME TELLS ME THAT THERE 'S NOT MUCH MORE INCENTIVES THE MARKET REALLY NEEDS TO PROVIDE AT THIS POINT. IT NEEDS THE COME DOWN TO A WEATHER EVENT IN MY POINT OF VIEW. USDA ACKNOWLEDGED THE FACT THAT STOCKS USE RATIO. WE NEED TO SEE THAT DECLINE IN ORDER TO TO TO PUSH PRICES HIGHER. HOW POSSIBLE IS IT THAT WE WILL SEE THE STOCKS USE RATIO DECLINE?? BASED ON THE REPORT THAT CAME OUT TODAY, I KNOW IN THE CORN THEY CUT OFF FEED AND RESIDUAL USAGE THE EXPORTS WERE CUT AS WELL.  SO IN ORDER TO GET THAT RATIO DOWN LIKE DUSTIN SAID, I THINK YOU'RE GONNA HAVE TO HAVE A WEATHER EVENT.  THE DEMAND COMING OUT RIGHT NOW IS JUST NOT THAT GREAT. I THINK IT'S ALL DEPENDENT ON THE WEATHER. YOU CAN USE THE USDA ARE LOOKING AT A HIGH NOTE SO FAR OUT RIGHT NOW BUT THEY'RE USING THE ONE HUNDRED SEVENTY POINT SEVEN BUSHEL PER ACRE CORN YIELD. AND FORTY EIGHT BUSHEL PER ACRE SOYBEAN YIELD IN. AS YOU MENTIONED ABOVE A FOURTEEN BILLION BUSHEL CORN CROP. CAN WE MEAN WHEN WE COME OFF OF A RECORD YEAR WHEN WE HAD THIS YEAR LISTEN WE HAVE ANOTHER RECORD YEAR NEXT YEAR. CAN WE HANDLE IT??? THAT 'S A WHOLE NOTHER DEBATE. BUT I I THINK THAT WE SHOULDN'T PLAN ON YOU KNOW ANYTHING ABOVE OR BELOW TRENDLINE YIELDS. I THINK A LOT OF DEALS THEY WERE DUE FOR A WEATHER EVENT OF SOME SORT. OF THE FACT IS WE JUST GOT PAST ARE GETTING PAST A MAJOR SEASON FOR SOUTH AMERICA AND WE HAVE A BIGGER LEVEL SUPPLY SO THAT  NEED FOR WEATHER AND SEE HIGHER PRICES IS DEFINITELY THERE. I DON'T THINK THE MARKET WOULD BE ABLE TO HANDLE THIS ANOTHER YEAR LIKE THIS FOR YIELD. SO DOES IT SOUND PRETTY BEARISH ONE EASY WAY HIS OUTLOOK ON PRICE DO YOU AGREE WITH HIM OR DOES YOUR OPINION DIFFERED THAT ARE ADDED??WE WITH THAT I THINK RIGHT NOW ALL OF THE OUTSIDE INFLUENCE ARE ARE FUNDAMENTALLY BEARISH. THE MARKET AND BEANS HAS RALLIED OVER THE LAST FIVE OR SIX MONTHS. I THINK REGARDLESS OF WHY IT DIDN'T RALLY, KNOW WAS KIND OF IN THE FACE OF A LOT OF NEGATIVE FUNDAMENTAL NEWS. THIS IS THE REASON THAT WE ARE TRYING TO BE SO AGGRESSIVE IN PROTECTING THESE PRICES. WERE TO GET TO SAY WELL WE'RE HERE NOW ALL RIGHT OBVIOUSLY WE'RE GONNA GO HIGHER DOWN IN THE TIME OF YEAR YOU KNOW TOWARD SPRING AND SUMMER ONE MARKET SHOULD RALLY. YOU GOTTA TAKE ADVANTAGE OF THESE RALLIES WHEN THEY OCCUR. AND HOPE FOR THE BEST. PUT SOME FLOORS AND A PLACE AND GET THAT PROTECTION AND BECAUSE LOOKING AT THE BEAN CORN RATIO WHICH IS UP AROUND TWO POINT FIVE EIGHT, TWO POINT FIVE NINE, SOME HAST AND GIVE. IT SOMETHING 'S GOTTA COME DOWN ON EITHER THE KORAN IS GONNA MOVE UP AND BY ANCHORS OR WHAT 'S BEEN HAPPENING OVER THE LAST COUPLE WEEKS MEANS HAVE DROPPED THIRTY CENTS HEADING INTO THIS REPORT TODAY. ALL RIGHT SO LOOKING AT WHY HAVE BEANS DROPPED THAT MUCH IS ALL FINE ACTION WILL KIND OF EXPLORE THAT WHEN WE COME BACK ON U S FARM REPORT
ROUNDTABLE 2
ALL RIGHT WELCOME BACK. WELL THE MISSION WE WE'VE LOST THIRTY CENTS IN THE SOYBEAN MARKET AND WE LOOK AT THE FUND ACTION WE'VE SEEN THAT THE FUNDS CAN DRIVE PRICES BOTH WEIGH IN. THEY COULDN'T DO SO QUICKLY. SO WHAT ARE THE FUND POSITIONS RIGHT NOW WE'RE TEASING WERE HEADING WITH PRICES BASED ON THAT ACTION. SURE I WAS THERE. THEY'VE BEEN VERY SATURATED WITH A LONG SOYBEAN POSITION AS PART OF THE REASON WHY THE RATIO IS SO HIGH AND THEY'VE BEEN DRIVING THAT UP. WE'VE SEEN IN THE BASIS LEVELS AS WELL. BUT THEY HAVE BEEN SHORT VERY SHORT WHEAT AND THEN HAD BEEN SHORT CORN LEADING INTO THIS PERIOD AND THEY'RE JUST STARTING TO GET LONG. THIS IS WHAT THEY'VE DONE LAST TWO YEARS. THE LOOK OF THE FUND ACTIVITY THE GUY A VERY LONG GOING INTO THAT THAT PEAK OF THE GROWING SEASON AND THEN WE GOT REALLY GOOD CROPS. SO THEY HAD TAILOR BACKED THAT POSITION.  WHY ARE THEY DOING THAT EXACTLY MAYBE IT 'S THE INFLATION PLAY. WE'VE SEEN THIS ON A GRAND SCALE AND OTHER ASSET CLASSES PEOPLE ARE BETTING ON INFLATION. ARE THEY DOING FOR THAT REASON PROBABLY. BUT DOES THAT MEAN AS A PRODUCER YOU SHOULDN'T PLAY THAT SAME GAME. NO YOU SHOULD PROBABLY USE THOSE OPPORTUNITIES AND I THINK THIS RALLY IS A GIFT FOR THAT REASON.  YES TO THE FUNDS AND WE SAW LAST YEAR WE SAW KIND OF OVEREXTEND PRICES JUST BECAUSE OF OF OF FUN MOVEMENT. SO COULD PUT IT PLAYING THEIR POSITIONS. COULD THAT PLAY TO OUR ADVANTAGE?? IT DEFINITELY COULD. THEY HAVE AS DUSTIN SAID THEY'RE COMING AFTER COMMODITIES AS AN INFLATION PLAY THEY'RE BUYING COTTON THEY'RE BUYING COPPER THE BUYING CORN AND CATTLE. IT IS KIND OF THE FOUR CS RIGHT NOW.  BUT FOR WHATEVER REASON THEY'RE DOING THIS, YOU HAVE TO TAKE ADVANTAGE OF THAT PURCHASING. WHAT WAS INTERESTING A COUPLE WEEKS AGO AS WE HAD BEEN COUNTING ON FUN ON SHORT COVERING AFTER DR KORN HIRED TO DRIVE THE WHEAT HIGHER, AND HEADED INTO COMMITMENT OF TRADERS REPORT A COUPLE WEEKS AGO WE GOT RIGHT UP TO THAT THREE SEVENTY LEVEL IN THE MARCH CORN. AND THE MINUTE IT HIT THAT LEVEL, IT BACKED FAILED THERE AND PEOPLE WERE SURPRISED. WHY DID IT FAIL WITH ALL THESE SHORTS AND THERE WILL THE COMMITMENT OF TRADERS REPORT WHICH CAME IN ON THAT FRIDAY SHOWED THAT ON THAT DAY THEY HAD PRETTY MUCH COVER ALL OF THE SHORTS.  AND JUST STARTED GET LONG. SO RIGHT THAT THOSE RESISTANCE LEVELS THE FUNDS RAN OUT OF BULLETS. AND THAT 'S HOW THEY CAN REALLY AFFECT THESE MARKETS. WE HAVE A LOT OF UNPRICED CORN OUT THERE SO WHEN WE LOOK AT THESE CORN PRICES WHAT 'S KEEPING US FROM FROM REALLY MOVING PRICES HIGHER AT THIS POINT?? WHAT I THINK PRODUCERS ARE GENERALLY HAVEN'T BEEN REAL HAPPY WITH THE PRICE ESPECIALLY COMING OFF OF THE LAST DECADE OF PRICES THAT WE'VE HAD.  THERE BEEN A VERY HIGH SUBSCRIBERSHIP OF THE IDEA THAT IF I JUST PUSH FORWARD THAT SALE AND WAIT TO MAKE THAT PRICE A LITTLE LATER DATE, THAT SOMETHING WILL COME ALONG TO GIVE ME A BETTER PRICE. SO IT 'S BEEN VERY POPULAR TO DO THIS IN A FIXED BASIS PRICING WHERE YOU WAIT TO SET THE FUTURE 'S IN A LATER DATE. THAT COMES DOWN TO A TIME FRAME THOUGH AND HE USUALLY COMES DOWN TO THE DAY BEFORE FIRST NOTICE WHAT THEY'RE CALLED TO MAKE AN ACTION. WHETHER NOT THEY WANT TO MAKE. THE SALE ARE PUSHING FORWARD THE LAST THREE TIMES WE GONE INTO A FUTURES CONTRACT EXPIRATION. WE'VE SEEN A PRICE THAT SHORT TERM PRICE DIP. SO I THINK THAT 'S WHAT WE HAVE TO BE CAREFUL OF GOING INTO THIS MARCH EXPIRATION.  WATCHING SOUTH AMERICA HEARD OF THE END OF THE WEEK THIS WEEK THAT THERE 'S A PRODUCTION ROAD BUT BLOWS AND LIKE MATO GROSSO AT THE SAME TIME WE HAVE MEXICAN THE HOW LEADERSHIP THREATENING TO STOP PURCHASING U S COURT SO THERE 'S A LOT OF THINGS ON THE INTERNATIONAL MARKET THAT DON'T SEEM TOO SIMPLE SOME OF IT SEEMS THE FAVOR OF THE SOUTH AMERICAN PRODUCTION WOES SEEM TO FAVOR US RIGHT NOW BUT THE TRADE WAS NOT SO SO WHAT 'S YOUR OUTLOOK RIGHT NOW MOVING FORWARD WE HAVE THOSE TWO WILD CARDS??? THIS IS AN ANOTHER POINT THAT THAT GIVES US THE IDEA THAT WHAT PRODUCERS ARE GONNA DO IS TAKE ADVANTAGE OF MARKETING OPPORTUNITIES WHEN THEY OCCUR. RIGHT BECAUSE WITH THAT THE NEW PRESIDENT PRESIDENT TRUMP AND THERE ON THE RHETORIC AGAINST MEXICO AND AGAINST NAFTA AND THINGS LIKE THAT,  THAT 'S A WILD CARD COULD GIVE YOU A VERY SHORT TERM  VIOLENT FLUCTUATIONS IN THE MARKET AND ON DEPENDING ON WHAT AND TWEET COMES OUT. BUT I THINK LONGER TERM AT AN AG SECRETARY IN THERE WHO IS IN A WHISPERING INTO PRESIDENT 'S EAR AND HAS AND YOU'RE GONNA REALIZE WHO HELPED GET YOU ELECTED AND HOW IMPORTANT AGRICULTURE IS TO THE U S LONG TERM. I THINK THEY WANT TO DO THE RIGHT THING.  BUT WITH ALL OF THESE WILD CARDS OUT THERE AGAIN YOU GOT TO BE AGGRESSIVE ABOUT PRICING WHEN YOU GET THE OPPORTUNITY RIGHT TIME NOW TO GET THE CLOSING THAT 'S A LET 'S TAKE A BREAK WILL DO THAT WHEN WE COME BACK
MARKETS NOW
ALL RIGHT WELCOME BACK TO DUSTIN JOHNSON A WHAT DO YOU WANT TO LEAVE US WITH?? I JUST THINK THAT YOU KNOW THIS IS VERY FRUSTRATING TIME FOR MARKING FOR A LOT OF PEOPLE. BUT I WOULD JUST TAKE COMFORT IN THAT WE DID JUST A NICE RALLY AND THAT MARGINS HAVE BEEN IMPROVING. AND THE KEY BIT OF MARGIN SPACE APPROACH WITH CROP INSURANCE LEANING ON CROP INSURANCE HEAVILY FOR THAT APPROACH. I THINK WE'RE ALL GONNA COME OUT AHEAD BY DOING THAT. ALL RIGHT TEXT US TODAY IN OURI THINK COMING OUT OF THIS WITH ALL THE RISK IN THE MARKET AND ALL OF THE NEWS AND THE VARIABLES THAT WE CAN'T CONTROL AGAIN, I THINK THE BEST THING TO DO IS TAKE MARKETING OPPORTUNITIES WHEN THEY OCCUR AND ESPECIALLY IN THESE QUICK MARKETS WHERE THE FUNDS CAN MOVE MONEY BACK AND FORTH BETWEEN ASSET CLASSES SO FAST. HAVE A PLAN IN PLACE AND BE PREPARED TO ACT WHEN YOU GET YOUR SIGNALS. BECAUSE THE OPPORTUNITIES CAN DISAPPEAR IN A COUPLE MINUTES. ALL RIGHT THANK YOU BOTH FOR BEING HERE WE APPRECIATE IT STAY WITH US JOHN PHIPPS JOINS US FROM THE CAB OF HIS TRACTOR NEXT
JOHN'S WORLD
WELCOME BACK. WELL, WE'VE ALREADY DISCUSSED  THE WARM WEATHER ON TEH SHOW, BUT IT ALSO  MEANS JOHN HAS A DIFFERENT VIEW FROM HIS OFFICE  THIS WEEK. JOHN.  I'VE BEEN IN THE FIELD FOR THREE DAYS. I AM DOING SOME VERTICAL  TILLAGE ON CORN STALKS, ALL YOU KNOW KILLERS WHO ARE OFFENDED BY  THIS, THAT 'S AN ARGUMENT WE COULD HAVE ANOTHER DAY,BUT TO SAY  THE LEAST THIS IS   INCREDIBLY UNUSUAL, THE GROUND IS WORKING RIGHT, THE STALKS ARE  DRY, AND THEY'RE CUTTING OUT THE DOOR TRYING TO GET HOT AND DRY  AWAY DOWN. THE PILOT 'S NOT RIGHT. THIS IS UNUSUAL WEATHER AND   WE'RE NOT THE ONLY PEOPLE ARE HAVING  UNUSUAL WEATHER, IF YOU'VE BEEN PAYING ATTENTION, CALIFORNIA 'S LONG TERM EPIC DROUGHT TO A NEAR CATACLYSMIC FLOODS WITH THE  DAM 'S BEING TRHEATENED. AUSTRALIA STRUGGLING WITH HAVING  ENOUGH COLORS TO SHOW HOW HARD IT IS IN THE INTERIOR. THEY'VE  FINALLY HAD TO ADD PURPLE. TO THEIR TEMPERATURE MAP SO THAT THEY COULD SHOW HOW HOT IT  WAS. YOU'VE GOT ARCTIC SEA ICE WELL GLOBAL SEE  ICE COUNTING BOTH  POLLS  IS THAT A NEW MINIMUM AND TRENDING LOWER? AS A MATTER OF FACT  THERE'S JUST A LOT OF WEIRD WEATHER ALL OVER THE WORLD AND WE'VE  BEEN TALKING ABOUT IT. IT TURNS OUT THAT ALL THESE THINGS  PREDICTED BY AND I THINK EXPLAINED BY WHAT CLIMATOLOGISTS SAID  MANY YEARS AGO. AND I BOUGHT INTO A DECADE AGO AND THAT ITS  ANTHROPOGENIC GLOBAL WARMING MAN CAUSE GLOBAL WARNING  WARMING. AND THIS IS THE OUTCOME OF IT.  WE'RE 68 DEGREES IN CENTRAL ILLINOIS IN FEBRUARY. IT'S KIND OF  INTERESTING, WHILE WE MAY BE IN THE PROCESS OF LEGISLATIVE  REPEALING GLOBAL WARMING. IT REALLY DOESN'T CARE WHETHER WE  BELIEVE IT OR NOT ,IT 'S GOING TO GO AHEAD CONTINUE  MATTER OF FACT, THAT FAMOUS SAYING BY MARK TWAIN WHICH HE MAY  OR MAY NOT HAVE SAID, THAT "EVERYBODY TALKS ABOUT THE WEATHER,  BUT NOBODY DOES ANYTHING ABOUT IT."IT COULD BE BACKWARDS. IT  COULD BE THAT WE'VE ALL BEEN DOING SOMETHING ABOUT THE WEATHER  AND THAT 'S WHY WE'RE TALKING ABOUT IT. THANKS, JOHN.
TEASE
THE WARM WEATHER ALSO CREATING A GROWING FEAR  AMONG FRUIT FARMERS. FROM PEACHES TO APPLES,  WE'LL HEAR FROM MICHIGAN GROWERS WHO WORRY  THAT IF TEMPERATURES DON'T RETURN TO NORMAL,  THEY COULD SEE A REPEAT OF 2012. 
HEADLINES
WELCOME BACK TO U-S FARM REPORT. WE HAVE MUCH  MORE AHEAD THSI WEEKEND.  YOU MAY BE ENJOYING WARM TEMPS, BUT IT'S  GROWING FEARS OF A POSSIBLE FRUIT FREEZE.  KIDS DRIVING TRACTORS TO SCHOOL? HOW SOME HIGH  SCHOOL STUDENTS CELEBRATED FFA WEEK.  AND JOHN PHIPPS TACKLES A QUESTION ABOUT  WASTEFUL GOVERNMENT SPENDING. 
FARM BILL DISCUSSION UNDERWAY
NOW FOR THE HEADLINES, WORK ON HASHING OUT  DETAILS OF THE 2018 FARM BILL IS OFFICIALLY  UNDERWAY, WITH FARM BILL DISCUSSIONS KICKING OFF  THIS WEEK IN KANSAS THE SENATE AGRICULTURE, NUTRITION AND FORESTRY  COMMITTEE HOLDIGN A FIELD HEARING AT KANSAS  SATE UNIVERSITY.  SENATE LEADERS HEARD FROM SEVERAL AG GROUPS,  URGING LEGISLATORS THAT A STRONG SAFETY NET IS  NEEDED MORE NOW THAN EVER.  COMMITTEE CHAIR PAT ROBERTS ACKNOWLDING THIS  FARM BILL DISCUSSION WILL BE DIFFERENT, AS THE  LAST DEBATE TOOK PLACE DURING RECORD HIGH  PRICES.  GROUPS SUCH AS THE AMERICAN BANKERS  ASSOCIATION PROVIDING PERSPECTIVE ON THE  CURRENT FARM BILL, TELLING MEMBERS OF CONGRESS  THERE'S A NEED TO CONSIDER REFORMS TO  PROGRAMS, INCLUDING RAISING THE LENDING LIMIT  CAP ON GUARENTEED OPERATING LOANS. THE NEXT FIELD HEARING WILL TAKE PLACE IN  MICHIGAN  MEANWHILE, THERE'S TALK OF STRIPPING FUNDING  FROM THE CURRENT FARM BILL.  MORE THAN 500 GROUPS RANGING FROM AGRICULTURE  TO CONSERVATION, SENT A LETTER TO LEGISLATORS  THIS WEEK, SAYING ADDITONAL FUDNIGN CUTS WOULD,  QUOTE, HINDER DEVELOPMENT AND PASSAGE OF THE  2018 FARM BILL, END QUOTE. THE LETTER URGES CONGRESS TO REJECT CALLS FOR ADDITIONAL CUTS AT A TIME WHEN AGRICULTURAL AND  RURAL ECONOMIES ARE SHOWING STRESS. IT ALSO POINTS OUT THE LAST FARM BILL ALREADY  CONTRIBUTED 23 BILLION DOLLARS IN SAVING TO  DEFICIT REDUCTION OVER 10 YEARS. 
TRUMP'S IMMIGRATION REFORM PLAN
THE TRUMP ADMINISTRATION ROLLING OUT THE LATEST  IMMIGRATION REFORM PLAN, INCLUDING DETAINING  AND DEPARTING IMMIGRANTS RESIDING IN THE U-S  ILLEGALLY. I RECENTLY TALKED TO AMERICAN FARM BUREAU  PRESIDENT ZIPPY DUVALL WHO TOLD ME IT'S A BROKEN  SYSTEM TODAY THAT NEEDS FIXED.  ALL THIS RHETORIC AROUND IMMIGRAITON REFORM AND WHAT'S GOING ON  IN IMMIGRATION RIGHT NOW MAKES US ALL VERY NERVOUS. WE'RE  COMING UP ON A PLANING SEASON REALLY SOON. AND THE WORKERS ARE  NEEDED NOW. AND THE H2A PROGRAM IS BROKEN, SO IT'S GOING TO BE  PUTTING A STRAIN ON IT BECAUSE WE'RE GOING TO QUADRUPLE ASK OUT  OF IT, VERSUS WHAT IT WAS 4 YEARS AGO.> DUVALL SAYS THE H2A PROGRAM NEEDS TO BE  WORKABLE, WHERE FARMERS DON'T NEED A LAWYER  TO NAVIGATE. BUT HE ALSO STRESSED THE IMPORTANCE OF GETTING  SONNY PERDUE CONFIRMED AS AG SECRETARY, SO  AGRICULTURE HAS A VOICE AT THE WHITE HOUSE  TODAY. 
AG CONSOLIDATION
U-S FARMS SAW MORE MORE CONSOLIDATION IN 2016.THE AG DEPARTMENT'S ANNUAL OVERVIEW OF FARM  PROPERTIES  SHOWS THE NUMBER OF FARMS IN THE U- S IS JUST OVER TWO MILLION FARMS, DOWN EIGHT  THOUSAND FARMS FROM THE YEAR PRIOR. TOTAL LAND IN FARMS, AT 911 MILLION ACRES, DOWN A  MILLION ACRES. THE NATIONAL AVERAGE FARM SIZE FOR 2016 IS 442  ACRES, UP 1 ACRE FROM THE PREVIOUS YEAR.  ONE CROP STRUGGLING WITH KEEPING ACRES IS  TOBACCO. KENTUCKY AG COMMISION RYAN QUARLES TELLING ME  TOBACCO RELIES HEAVILY ON EXPORTS. AND AS THE  CROP CONTINUES TO GET NIXED FROM TRADE DEALS,  IT'S TAKING ITS TOLL ON ACRES IN THE STATE.  QUARLES SAYS TOBACCO IS VERY LABOR INTENSIVE.  MOST ESTIMATES SAY IT REQUIRES ROUGHLY 250  HOURS OF MANUAL LABOR FOR EACH AND EVERY ACRE  OF TOBACCO IN KENTUCKY. 
MERGER NEWS
BAYER'S TAKEOVER OF MONSANTO IS ON TRACK TO  CLOSE BY THE END OF THE YEAR. BAYER'S CEO WERNER BAUMANN MAKING THE  COMMENT DURING THE COMPANY'S EARNINGS CALL  THIS WEEK. THIS IS DESPITE DELAYS WITH U-S AND EUROPEAN  ANTITRUST AUTHORITIES.  BAUMANN SAYS THE COMPANY IS IN THE PROCESS OF  PRODUCING A SECOND REQUEST FROM THE U-S  DEPARTMENT OF JUSTICE FOR ADDITIONAL  INFORMATION.  BOTH DOW CHEMICAL COMPANY AND DUPONT SAY THE  COMPANIES ARE ON TRACK TO GAIN THE EUROPEAN  UNION'S APPROVAL FOR ITS PENDING MERGER. DOW JONES REPORTING THE EUROPEAN COMMISSION  IS SET TO CLEAR THE DEAL, EVEN THOUGH THE  DECISION ISN'T COMPLETED YET. THIS COMES AFTER THE COMPANIES AGREED TO  DIVEST PORTIONS OF EACH BUSINESS, INCLUDING  DUPONT'S CROP PROTECTION BUSINESS. E-U GAVE ITSLEF AN APRIL 4 DEADLINE TO MAKE A FINAL  DECISINO ON THE MERGER.
MILK PRODUCTION NUMBERS
USDA PUSHING OUT FINAL MILK PRODUCTION NUMBERS  THIS WEEK, SHOWING THE MILK SUPPLY GREW LAST  YEAR. MILK PRODUCTION TOTALED 212 BILLION POOUNDS,  NEARLY 2 PERCENT ABOVE 2015. AND PRODUCTION PER COW REACHING 22 THOUSAND  774 POUNDS, A SPIKE OF 378 POUNDS FROM THE YEAR  PRIOR.  CALIFORNIA PRODUCERS CONTINUE TO LEAD THE RACE,  WITH PRODUCTION HITTING 3 POINT 41 BILLION POUNDS.  THAT'S EVEN AS PRODUCTION SLOWED IN THE LARGEST  MILK PRODUCING STATE. THE LONE STAR STATE SAW THE BIGGEST JUMP YEAR  OVER YEAR, AT 995 MILLION POUNDS. THA'TS A JUMP OF  MORE THNA 19 PERCENT.  
WEATHER
AGRICULTURE'S NATIONAL FORECAST IS BROUGH T TO YOU BY STRATEGO. ADD STRATEGO YELD FUNGICIDE AT THE EARLY SEASON RATE TO YOUR POSTEMERGENCE HERBCIDE TANK MIX. YOU'LL ET HEALTHIER FIELDS, HEALTHIER YIELDS AN DHIGHER RETURN ON INVESTMENT. THAT'S IT FOR NEWS...METEOROLOGIST MIKE  HOFFMAN JOINS US NOW WITH A LONGER RANGE LOOK  AT WEATHER, WHICH GIVES US A GLIMPSE OF  CONDITIONS OVER THE NEXT THREE MONTHS. MIKE THANKS, TYNE. YEAH THAT 'S RIGHT SO THE WINTER DIDN'T EXACTLY GO  ACCORDING TO PLAN IN MANY PLACES SO WE'VE HAD THE LOOK OF A  HARD AT THE SPRING, WE'LL BE SHOWING THAT TO YOU. IN THE MEANTIME  A JET STREAM SHOWS MORE WINTRY CONDITIONS COMING IN   LOTS MORE COLD AIR TRYING TO COME SOUTHWARD, NOT LIKE IT 'S JANUARY  EARN ANYTHING BUT BELOW NORMAL TEMPERATURES AS WE HEAD INTO  THE FIRST PART OF OUR MARCH, YOU CAN SEE SEVERAL TROUGHS KIND OF DIVING THROUGH THE EASTERN PORTIONS OF  THE COUNTRY, YOU FOLKS OUT WEST WILL BE A LITTLE BIT WARMER THOUGH  AS WE HEAD THROUGH NEXT WEEKEND. TAKING A LOOK AT MARCH  TEMPERATURES, BELOW NORMAL THROUGH THE NORTHERN TIER OF STATES,  ESPECIALLY THE NORTHERN HALF OF THE ROCKIES IN THE NORTHERN PLAINS ABOVE NORMAL SOUTHEAST BACK INTO TEXAS APRIL, WE'LL EXPAND THAT  WARMER AIR FARTHER NORTH BELOW NORMAL THOUGH STILL IN THE  NORTHWEST AND ON TO MAY,MOST OF THE GROWING REGION ABOVE  NORMAL I TOOK OUT THEY ARE BELOW NORMAL COMPLETELY WITH NEAR  NORMAL NORTHERN PLAINS INTO THE NORTHWEST, PRECIPITATION, THIS IS  ALWAYS A TOUGH CALL, FOR SPRING ABOVE NORMAL OHIO VALLEY, GREAT LAKES, AND THE NORTHWEST BELOW  NORMAL FOR NEW MEXICO AND SURROUNDING AREAS. TYNE  THANKS, MIKE. WHILE, MANY OF US HAVE ENJOYED 
FARM JOURNAL REPORT
THESE ABNORMALLY WARM TEMPERATURES LATELY,  IT'S SPARKING FEAR AMONG FRUIT FARMERS.  MICHIGAN GROWERS ARE WATCHING THE WEATHER  CLOSELY - TEMPERATURES REACHING NEAR 70S THIS  WEEK EVEN THOUGH FORECASTS POINT TO SNOW  OVER THE WEEKEND, THE WARM TEMPS ARE FAR FROM  IDEAL  FOR THE STONE FRUIT CROPS WHICH COULD SEE  SOME DAMAGE BECAUSE OF IT. IN THIS FARM JOURNAL REPORT, BETSY JIBBEN  EXPLORES THE IMPACT ON FARMERS, AND THE  BUSINESSES IN WHICH HAVE PROVIDED A LIVELIHOOD  FOR MULTIPLE GENERATIONS.  IT'S COMMON FOR BILL TEICHMAN WITH TREE-MENDOUS  FRUIT IN EAU CLAIRE, MICHIGAN TO TRIM TREES THIS  TIME OF YEAR.  WHAT'S UNUSAL IS THE WARM WEATHER IN FEBRUARY.  THAT CONCERN STEMS FROM A FAIRLY MILD FALL AND  WINTER, WITH LITTLE SNOWFALL... TEMPERATURES NEARING THE 70S IN FEBRUARY....  STONE FRUIT LIKE PEACHES, CHERRIES AND  APRIOCOTS COULD BE IMPACTED THE MOST BY WARM  WEATHER IF CROP COME OUT OF DORMANCY AND BUD  EARLY. THE THREAT OF A SPRING FREEZE WILL LOOM  LARGE.  KENNY STOVER WITH STOVERS FARM MARKET AND U  PIC IN -- MICHIGAN SAYS IT DOESN'T TAKE MUCH TO GET  THE SAP MOVING IN THE TREES, SENDING BUDS INTO  MOTION.  BUT THERE ARE DIFFERENCES OF OPINION.... FRUIT NEEDS A CERTAIN NUMBER OF CHILLING HOURS  EACH WINTER TO PUT THEM INTO DORMANCY... STOVER FEELS THE TREEES AREN'T AS 'SLEEPY' AS  THEY SHOULD BE BECAUSE OF THESE MILD WINTER  WITH LITTLE SNOW. OTHERS SAY THE TREES IN THE AREA DID SEE THE RIGHT  AMOUNT OF COLD - BUT JUST BARELY. PRODUCERS SAY THEY'R ENOT TOO CONCERNED  ABOUT MORE SNOWFALL BUT THEY DO WORRY ABOUT  TEMPERATURES DROPPING NEAR THE 10 DEGREE  MARK.  BOTH PRODUCERS SAY FRUIT CONDITIONS SHOULD  TURN OUT OK AS LONG AS THIS EARLY SPRING HOLDS.  UNLIKE WHAT HAPPENED BACK IN 2012 - WHEN  TEICHMAN UPROOTED DEAD TREES DUE TO DAMAGE. THIS IS THE THE FIRST YEAR HE WILL HAVE A PEACH  CROP OFF THE NEW TREES.  UNTIL THE SEASON PROGRESSES, PRODUCERS LIKE  TEICHMAN WILL CONTINUE TO PREPARE FOR ANOTHER  YEAR... AND BE AT THE MERCY OF MOTHER NATURE...  REPORTING FOR U.S. FARM REPORT, I'M BETSY JIBBEN.  THANKS BETSY. 
TEASE
BOTH GROWERS HAVE A LEVEL OF CROP INSURANCE -  EVEN THOUGH IT IS EXPENSIVE.  BOTH GROWERS ALSO SAY THEY'RE NOTICING SOME  DISEASE AND PEST PRESSURE ALREADY IN FEBRUARY.  SOMETHING THEY SHOULDN'T SEE SO EARLY IN THE  SEASON. NEXT UP JOHN PHIPPSPHERE'S YOUR CHANCE TO WIN A DREAM SPORTS TRIP.  PLUS A $10,000 DONATION FOR A COMMUNITY SPACE.  TEXT DREAM TO 31313 TO ENTER TODAY>
CUSTOMER SUPPORT
WELCOME BACK. JOHN TACKLES A QUESTION ABOUT  FEDERAL SPENDING IN THIS WEEK'S CUSTOMER  SUPPORT. JOHN.  TED STERN FROM PICKNEYVILLE, ILLINOIS HAS A FAMILIAR COMPLAINT  ABOUT GOVERNMENT SPENDING. "I SAW ON THE NEWS LAST NIGHT THAT PRESIDENT TRUMP TOOK AIR  FORCE ONE TO PHILADELPHIA TO ADDRESS THE REPUBLICAN RETREAT.  NOW HOW MUCH DID IT COST TO FLY AIR FORCE ONE TO PHILADELPHIA? IT  SEEMS TO ME THAT WHILE EVERYONE BUT THE VERY RICH WATCH EVERY  PENNY SHOULD NOT THE PEOPLE WE PUT IN CHARGE OF THE COUNTRY DO  THE SAME? HOW MANY TIMES DOES SOMETHING LIKE THIS HAPPEN IN  A YEAR'S TIME? IS IT ANY WONDER THAT THE AMERICAN PEOPLE ARE  LOSING FAITH?" TED, THANKS FOR WRITING. THIS IS A TIMELESS AND ODDLY TIMELY  CRITICISM, SINCE IT LOOKS LIKE PRESIDENT TRUMP IS GOING TO SHATTER  THE TRAVEL EXPENSE RECORDS FOR PRESIDENTS. IN HIS EIGHT YEARS,  PRESIDENT OBAMA RACKED UP OVER 100 MILLION DOLLARS OF TRAVEL  EXPENSES. PRESIDENT TRUMP EXPENDED AROUND 10 MILLION IN HIS  FIRST MONTH. THIS DOES NOT INCLUDE THE MONTHLY 3 MILLION DOLLARS TO  SUPPORT THE NEW YORK RESIDENCE OF THE FIRST LADY, EITHER. BUT I THINK THERE ARE TWO IMPORTANT ASPECTS TO GOVERNMENT  WASTE, FIRST, IF IT IS PROGRAM OR PERSON YOU SUPPORT, IT DOESN'T  SEEM SO BAD. CROP INSURANCE FRAUD AND WASTE ARE NOT TREATED  AS A BIG DEAL BY FARMERS COMPARED TO FOOD STAMP WASTE, FOR  EXAMPLE. THE OTHER THING IS THE MATH PROBLEM. WHAT PERCENTAGE OF  GOVERNMENT WASTE WOULD YOU FIND ACCEPTABLE? ANSWERING ZERO  IS UNREALISTIC, SO LET'S SAY 1%. THIS WORKS OUT TO ABOUT 36 BILLION  DOLLARS. AND THOSE WASTED DOLLARS AREN'T LABELED, SO YOU HAVE TO  PSEND MONEY TO FIND THEM, WHICH PRETTY SOON GENERATES MORE  COST THAN BENEFITS. FINALLY, I DON'T KNOW WHY WE EXPECT GOVERNMENT OR BUSINESSES  FOR THAT MATTER TO BE MORE FINANCIALLY PRECISE THAN PEOPLE. I'M  PRETTY SURE AN OUTSIDE AUDITOR COULD FIND A LOT MORE THAN 1%  WASTE IN MY BUDGET. THANKS, JOHN. AND IF YOU HAVE QUESTIONS OR  COMMENTS, SEND US AN EMAIL, MAILBAG AT U-S FARM  REPORT DOT COM.
TEASE
JOHN AND I WILL BOTH BE BROADCASTING FROM  COMMODITY CLASSIC NEXT WEEK IN SAN ANTONIO, SO  TUNE IN NEXT WEEKEND FOR THAT. UP NEXT, WE'LL HEAD OUT WEST TO VISIT BAXTER  BLACK. 
BAXTER BLACK
BAXTER BLACK IS KNOWN FOR A LOT OF THING, BUT PROBABLY THE MOST RECOGNAIZABLE FEATURE IS HIS  MUSTACHE. SO, THIS WEEK, HE HAS A TRIBUTE TO ALL  THOSE MUSTACHES OUT THERE, AND POINTS OUT TRUE  MUSTACHE CODE.  ITH THE ADVENT OF COWBOY POETRY HAS COME A LEAK AND THE  WEARING OF A LARGE MUSTACHE  NOT SEEN SINCE THE ADMINISTRATION  OF CHESTER A ARTHUR  TO COMPLY WITH THE INTERNATIONAL BUREAU OF THE GROOMING AND  FASTIDIOUS IN REGARDS TO PUBLIC DISPLAY OF FACIAL HAIR. DEFINED AS  THOUGH THOUGH NOT LIMITED TO MUSTER A   COOKIE DUSTER PENCIL THIN, HANDLE BAR, CATERPILLAR COW CATCHER LIT  BRIGHT BRO NO STICKLER COPENHAGEN MOTH ATTRACTOR AND A  BIRDHOUSE   FOR THE MIGRATING HEALTHY FLY.  A COPY OF THE REGULATION SHOULD BE  PROMINENTLY DISPLAYED OVER THE THINKING IN SPANISH AND ENGLISH  OR NOT THEY HAVE IN A SENSE THEY ARE LESS STAGED DEPRIVED AND  ESTABLISHMENTS WHERE FOOD IS BEING SERVED   ANIMALS ARE ALLOWED TO RUN FREE WHERE SURGERY IS BEING OFFERED  FOR NUMBER ONE THE OWNER OPERATOR OF SAID MUSTACHE SHALL  CONFINE HIM OR HERSELF.   TOO LONG FOR FOOD. I.E. HOT DOGS, SPAGHETTIE, EELS OR BREADSTICKS,  WIDE FOODS SUCH AS WATERMELON BARBECUED RIBS OR CORN ON THE  COB IS PROHIBITED BECAUSE YOU HAVE TO ROLL IT BACKWARDS AND IT  GETS UP YOUR NOTSE ALL THE TIME. NUMBER TWP. WIDTH OF ORNATE HANDLEBARS SHALL NOT BE WIDER THAN  STATE REGULATED  HANDICAP DOOR WIDTH THE VERY USE OF HALLUCINOGENIC DRUGS, GARLIC OR CATFISH BAIT AS  ADHESIVE OR STIFFENING AGENTS ARE DISALLOWED, NUMBER FOUR,  RENTING OF SPACE TO LET COLLECTORS OF REAL ESTATE AGENTS OR  MASCARA TESTING SHALL BE PROHIBITED.  NUMBER FIVE EXCESSIVE FONDLING OF FACIAL HAIR IS DISCOURAGED TO  REDUCE VANITY PREENING DISEASE AND THEN DANDRIFT DISSEMINATION.  NUMBER SIX A SELF INFLICTED WOUND FROM PUTTING ON HER T SHIRT OR  BITING THE END OF YOUR NOSE   OR BLINDNESS AND ABRASIONS FROM FLY AWAY LIP HAIR ARE NOT  COVERED BY COMPANY INSURANCE, NOR IS FACIAL NERVE PARALYSIS  FROM BITING THE OVERHANGING HAIR WHILE DINING. REMEMBER ALWAYS  WEAR YOUR MUSTACHE RESPONSIBLY   CREATED AS A LOADED WEAPON BECAUSE EVEN ON THE LIPS OF AN  EXPERIENCED PRACTITIONER IT CAN GO OFF ACCIDENTALLY   THIS IS BAXTER BLACK FROM OUT THERE  THANKS, BAXTER.IF YOU WANT TO WATCH MORE OF BAXTER'S  HUMOROUS POETRY, VISIT BAXTER BLACK DOT COM.
TEASE
PLEASE, STAY WITH US.. IT WAS DRIVE YOUR TRACTOR  TO SCHOOL DAY THIS WEEK FOR MANY, AND WE HAVE  SOEM PHOTOS TO SHARE. 
TRACTOR TALES
TRACTOR TALES BROUGHT TO YOU BY THE MOST  TRUSTED NAME IN FARM EQUIPMENT, MACHINERY  PETE!. WELCOME BACK TO TRACTOR TALES FOLKS!  STRAIGHT FROM THE HOOSIER STATE, WE'VE GOT A 1953 FARMALL SUPER C TO SHARE WITH YOU. OWNER JIM YOARS (Y-ORES) IS A FAN OF EVERYTHING RED, AND THIS CLASSIC C IS NO EXCEPTION.  THIS MODEL WAS IN PRODUCTION FOR ONLY THREE YEARS AND WOULD HAVE COST AROUND 17 HUNDRED DOLLARS BRAND NEW BEHIND ME IS A SUPER C IT'S AN IMPROVEMENT ON THE MODEL C.   THEY'VE ADDED A WATER PUMP AND A LARGER RADIATOR SO THEY HAD CHANGED THE GRILL AND ADD TO IT.  THEY RAISED THE SHEET METAL UP TO MAKE ROOM FOR IT IS ABOUT TWO INCHES. SO HE SAID ABOUT TWO INCHES HIGHER AND THEY CHANGED THE STIRRING WHEEL THE LARGER STIRRING WHEEL. TRACTORS AREN'T ALWAYS WHAT THEY ARE ADVERTISED TO BE.  I BOUGHT THIS ONE OVER THE EAST OF COLUMBUS OHIO AND A GENTLEMAN TOLD ME WHERE I GIVE ME A LIST OF EVERYTHING THAT HAD BEEN DONE TO IT. SO FOURTH AND WHEN I GOT HOME I DON'T KNOW WHAT LIST HE GAVE ME BUT IT WASN'T THAT WAY AND  SO I HAD TO REBUILD THE MOTOR AND IT'S THE FIRST ONE I BOUGHT THAT I HAD TO REBUILD A THANKS SO MUCH. 
TEASE
WE DON'T HAVE A CHURCH TO AIR THIS WEEK, SO  INSTEAD, WE HAVE SOME TRACTOR PICTURES TO  SHARE. MANY HIGH SCHOOL FFA CHAPTERS  PARTICIPATED IN FFA WEEK THIS PAST WEEK BY  HOSTING A DRIVE YOUR TRACTOR TO SCHOOL DAY. AND  SOME OF THOSE STUDENTS AND PARENTS WERE KIND  ENOUGH TO SHARE SOME OF THOSE PICTURES WITH  US. WE'RE FEATURING SOME OF THOSE AS WE HEAD  INTO OUR COMMERICAL BREAK.  
FROM THE FARM
MIKE JUST SOME WILD FEBRUARY WEATHER WITH  THESE VERY MILD TEMPERATURES I WAS ACTUALLY IN DES MOINES THIS  WEEK AND THEY SAW A RECORD BREAKING TEMPERATURES THERE. YOU  KNOW DID DID WE SEE RECORD BREAKING TEMPERATURES HERE IN SOUTH  BEND, AS WELL? OH YEAH WE DID. WE SENT ABOUT THREE RECORD HIGHS  AND ONE RECORD WARM LOW   WELL THIS MILD WEATHER IS CAUSING OUR VIEWERS.   TO DO SOME UNUSUAL THINGS, MIKE TRAVIS LEE MAN IS IN ROANOKE ILLINOIS. HE POSTED THIS PICTURE ON TWITTER. HE SAID. FIRST TIME  PLANTING IN FEBRUARY, HE'S PLANTING SOYBEANS. WHAT COULD GO  WRONGONG   NOW HE MAY JUST BE TESTING OUT THE EQUIPMENT BECAUSE WE DID  HEAR OF SOME OTHER FOLKS JUST TESTING OUT THEIR PLANTERS IN  EQUIPMENT TO PREPARE ONCE THE CALENDAR FINALLY SAYS GO. WHEN  WILL YOU BE HARVESTING THAT OH MY GOODNESS  AND VANDRIEST SAYS IT 'S CALVING SEASON. THEIR FIRSTBORNS WERE TWO  THOUSAND SEVENTEEN WERE TWINS. WOW. TELL US A MILD  TEMPERATURES IN DUISBURG WISCONSIN HAS MADE FOR AN ENJOYABLE  CALVING SEASON SO   FAR AND I THINK THAT WAS THE FIRST TWINS EVER, SO A PRETTY  MEMORABLE  CALVING SEASON. WELL, YOU'RE IN YOUR NINETY DAY  OUTLOOK, WE'VE SEEN THESE THESE MILD TEMPERATURE STICK AROUND FOR LONGER THAN WE THOUGHT, IS THIS A PATTERN THAT WE THAT WE STAY IN? NOT NECESSARILY. I THINK MOST AREAS THAT HAVE SEEN A VERY WARM  FEBRUARY GO BACK TO A COLDER THAN NORMAL MARCH, PROBABLY DON'T  WANT TO HEAR THAT, BUT THEN I THINK IT DOES WARM UP WAS WE HAD  THROUGH THE SEASON. SO WHAT WILL  BE CHECKING THAT OUT OK. BUT IN MARCH TEMPS ARE STEADY STARTING  TO HEAD  HIGHER. WELL, THE NORMAL 'S ARE HIGHER SO I'M NOT GOING TO GET AS  COLD AS YOU WOULD IN JANUARY OR FEBRUARY, BUT  COLDER THAN NORMAL  IS WHAT I'M THINKING FOR A LARGE CHUNK OF THE GROWING AREAS  ANYWAY  ALL RIGHT THANKS MIKE WHAT 'S IN THAT YOUR PICTURES YOUR VIDEOS WE  WOULD LOVE TO SEE THOSE YOU CAN DO THAT TO THE ADDRESS ON THE  SCREEN WHILE
CLOSE
FOR ALL OF US THAT U S FARM REPORT THANK YOU SO MUCH  FOR WATCHING   BE SURE TO TUNE IN NEXT WEEK WE'LL ACTUALLY BE FROM THE  COMMODITY CLASSIC IN SUNNY SAN ANTONIO TEXAS. I'M SORRY YOU'RE  STUCK HERE. THE REST OF US WILL BE IN SAN ANTONIO TEXAS. SO BE SURE  TO TUNE IN. SOMEBODY ELSE TO DO THE WEATHER, EXACTLY. HAVE A  GREAT WEEKEND. EVERYONE