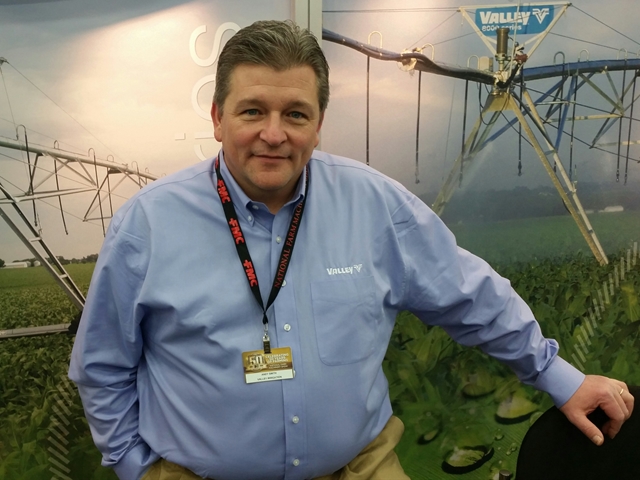 Today's farmers collect information by the gigabyte, often in the form of multiple streams of unstructured, unintegrated data. Which prompted Valley Irrigation to ask a simple question – wouldn't it be nice if all those applications worked together to make farm management easier?
Valley took a step in that direction, as the company announced its new Irrigation Exchange program at the 2015 National Farm Machinery Show. It's a new integral part of the Valley BaseStation3 irrigation management product, but Andy Smith, director of technology adoption, says Valley is also working to secure third-party partners to incorporate it in its own software solutions.
So far, 14 separate third-party agreements are in various stages. And Smith says he hopes that number will continue to grow.
"It may seem counter-intuitive, but it's an opportunity to have an open platform where people can improve on what we offer," he says. "Irrigation is a critical spoke, but we realize we're a spoke in a pretty complex wheel."
Irrigation Exchange allows farmers to share precision irrigation data with complementary management systems and helps them make informed water application decisions. Data that can be collected includes the amount of water applied, pivot system status, pivot location, fertigation/chemigation and more.
Once farmers collect that baseline data and integrate it with other agronomic data on their farm, they can identify and fix yield "weak links" on their farm.
"Maybe you missed out on an incremental yield gain in one of your fields," Smith says. "You can't manage what you don't measure."
BaseStation3 also gives users a chance for more real-time decision making, he adds. Users have control over their pivots via their tablet or mobile device, where they can perform multiple tasks that include starting and stopping pivots, and changing system parameters.
Oftentimes, those snap decisions prove profitable, Smith says.
"If you wake up at 11 p.m., for example, and it's raining cats and dogs, so you shut down a pivot – you might have just saved $1,000 in unnecessary watering and fuel costs," he says. "It can really add up."
The National Farm Machinery Show runs Feb. 11-14. Visit http://www.agweb.com/national-farm-machinery-show/ for continuing coverage on AgWeb, or follow along in real-time on Twitter by following hashtag #NFMS15.