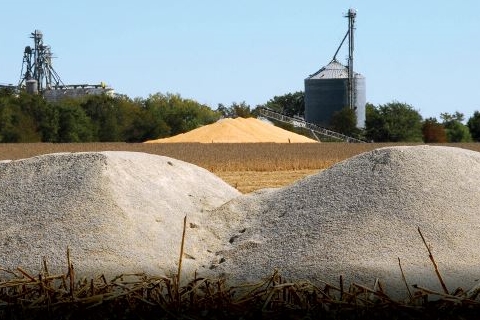 ValueAct Capital Management LLC, the activist hedge fund that amassed a 5.7 percent stake in Agrium Inc., sees the Canadian company's retail business as the "stable jewel" of its operations.
It's "your jewel business that protects your downside" amid volatile commodity prices, Chief Executive Officer Jeffrey Ubben said today at the Sohn Conference in San Francisco.
Ubben's track record suggests he will favor a gentler approach to adding value at Agrium than seen in last year's failed attempt by Barry Rosenstein's Jana Partners LLC, a New-York-based hedge fund, to force the agricultural company to spin off its farm retail division via a proxy fight. Jana's battle did improve Agrium by leading to a new CEO, Ubben said today.
"While activist investors can typically engage in public grandstanding and confrontational relationships, ValueAct has staked its reputation and success on working quietly with the management of their target companies," John Chu, a Toronto- based analyst at AltaCorp Capital, said Oct. 27 in a note to clients.
Agrium is cheaper than commodity peers CF Industries Holdings Inc., Mosaic Co. and Potash Corp. of Saskatchewan Inc., despite having a strong retail business the others lack, Ubben said.
Higher Dividend
The fund sees Agrium, the Canadian fertilizer and seeds producer, delivering "significant" growth in earnings before interest, taxes, depreciation and amortization over the next two years -- of 15 percent to 20 percent -- and expects the company to pay a dividend of between $5 to $6 as it shifts from capital spending to harvesting growth from earlier expansions. Agrium currently pays 75 cents a quarter, or $3 a year.
Doubling Agrium's dividend over the next two years is "feasible," Mark Gulley, a New York-based analyst at BGC Financial LP, said today by phone.
"A lot of the fertilizer stocks will be coming off big cap-ex cycles in 2015-2016," including Potash, Mosaic, CF Industries and Agrium, Gulley said. "Free cash flow will grow as the rate of spending eases."
Agrium is spending more than $700 million to expand its nitrogen fertilizer facility in Borger, Texas, and is almost finished expanding its potash mine in Vanscoy, Saskatchewan.
Aside from Agrium, ValueAct has invested a further $500 million in two other "higher value" agricultural companies, Ubben said, without identifying them.
Short Cycle
"Agricultural companies generally are down about 30 percent this year based on corn prices that have halved" Ubben said. "This is not really a global phenomenon like oil, this is more of a short-cycle annual fix, so I think there's some opportunity in ag generally."
ValueAct also sees a favorable outlook for nitrogen fertilizer businesses as North American producers scale back capacity expansions, Ubben said.
ValueAct, which manages about $14 billion, has helped change the direction of Microsoft Corp., Valeant Pharmaceuticals International Inc. and Sara Lee Corp., among others. The firm last year helped industrial-equipment maker Gardner Denver Inc. sell itself to KKR & Co. In 2012, it attained board seats with Adobe Systems Inc. and Motorola Solutions Inc.
Corn Rebound
ValueAct expects Agrium to benefit from an eventual rebound in corn, soybean and wheat prices that will increase the amount of cash the Canadian company has available for dividends and share buybacks.
That's because of Agrium's exposure to farmer spending through its network of more than 1,450 agricultural services centers around the world and expectations that its capital spending will drop as the company completes the expansion of its fertilizer production capacity.
Agrium also stands to benefit when fertilizer prices recover. The company ranks as one of the world's largest producers of agricultural nutrients made of potassium, nitrogen and phosphorus.
"Cash flow is certainly a big part of the Agrium story," Jeff Nelson, a St. Louis-based analyst at Edward Jones & Co., said today by telephone. "And it's got the stability of the retail division laid over the more volatile wholesale fertilizer business.
Prices for crop nutrients have fallen as the outlook for a record U.S. agricultural harvest adds to global gluts of corn, wheat and soybeans, depressing prices. The Bloomberg Agriculture Index of seven farm products, excluding livestock, has tumbled 24 percent since the end of April.