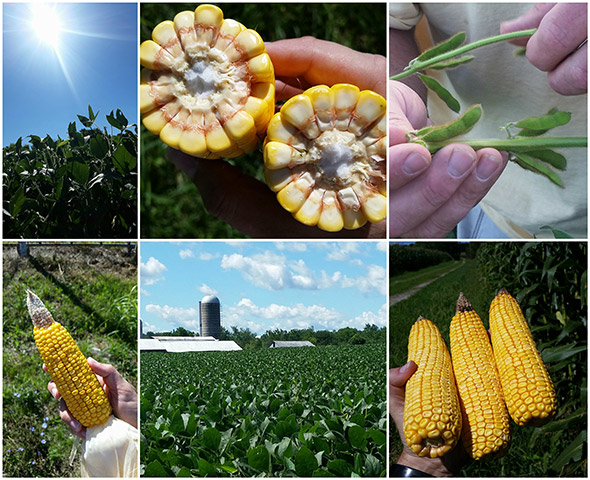 As novelist Doug Cooper jokes, variety may be the spice of life, but consistency pays the bills.
Farmers can relate – perhaps as much in Ohio as anywhere, where corn yields bounced around dramatically across the state in 2015. What are the odds 2016 has a repeat of highly variable yields? Some farmers are already placing their bets.
As the 2016 Pro Farmer Crop Tour rolled through Ohio, scouts saw the variety and variability they say can be commonplace in this part of the Corn Belt.
"Over the years, I've come to expect a good deal of variability in Ohio and northern Indiana," says Dick Overby, a Minnesota farmer who has served as a scout on the tour for more than a decade."
Meantime, fellow scout and Minnesota farmer Gary Wanous, emerges from a corn field in western Ohio, shaking his head. From the road, the crop is tall and looks healthy and green. Walk a few hundred feet into the field, however, and a different picture emerges – an uneven stand with a relatively low ear count, moderate northern corn leaf blight pressure and possibly a nutrient deficiency on top of that.
"This field looks great form the road, but when you walk into it, it's a whole different story," he says. "What might have been 200 bu. per acre could only be 160 bu. per acre." (Note: The sample at this location yielded even lower, at 144 bu. per acre, but individual Crop Tour samples are not meant to be representative of the entire field from which they are pulled.)
Last year, Ohio corn yields lagged behind the state's three year average, with 153.0 bu. per acre yields vs. a three year average of 167.37 bu. per acre. USDA is more optimistic in 2016 vs. 205, with an initial Aug. 1 estimate of 163 bu. per acre for the Buckeye State.
Crop Tour scouts aren't so sure. While districts 5 and 7 in the southern portion of Ohio saw corn yields that match up with USDA estimates, with 164.54 and 165.93 bu. per acre, respectively, the northern portion of the state didn't fare nearly as well. Scouts report 139.69, 129.70 and 149.62 in Ohio's other three reporting districts. The result is a statewide projection of 148.96 bu. per acre – a near carbon copy of Pro Farmer's 2015 Ohio yield prediction of 148.37 bu. per acre.
Pro Farmer's soybean yield  have also slipped in comparison to recent years. The Crop Tour measures yield potential by taking a comparative measure of pod counts within a 3ˈ x 3ˈ area. In Ohio, the average sample was 1,055.05, compared with 1,125.26 in 2015 and a three year average of 1,250.43.
The eastern leg of the Pro Farmer continued into portions of Indiana on Aug. 22. The 2016 tour wraps up on Aug. 25 and will provide statewide yield estimates for Illinois, Indiana, Iowa, Minnesota, Nebraska, Ohio and South Dakota. An additional composite Pro Farmer estimate of all areas scouted will be available Aug. 26.
For more information:
Be sure to follow AgWeb's coverage of Farm Journal Media's Pro Farmer Midwest Crop Tour. Watch reports from the field by following Farm Journal Media journalists along for the ride on Twitter: Alison Rice at @agweb_alison, Ben Potter at @potterben, Chip Flory at @ChipFlory, Brian Grete at @bgrete, and Betsy Jibben at @BetsyJibben. And check AgWeb each evening this week for the day's freshest summary on what they're seeing in the field.
Take your own field measurements and participate in Pro Farmer's Virtual Crop Tour.
Follow the Tour on Twitter with the hashtag #pftour16.