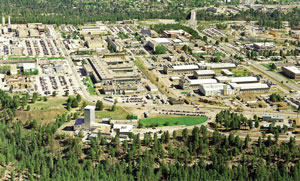 By Clinton Griffiths 
A plant health empire seeks to solve real issues for farmers 
The bus rumbled and swayed as it climbed the northern New Mexico mesa, downshifting its will against gravity. At the crest stretches the city of Los Alamos and the Los Alamos National Laboratory, famous for its role in developing the world's greatest weapon—the nuclear bomb. It's here, among the secrets of Homeland Security and the Department of Defense, that the newly minted Verdesian Life Sciences company is pinning its future.

CEO J.J. Grow—with a name suited for his work—spent years bouncing around the ag industry. From sales with United Agri Products to creating a generic pesticide company, Grow, 46, has led agricultural pursuits from the inside out.  

"When you work for a big company with 30,000 or 50,000 employees, people spend more time managing their careers rather than working for the customer," Grow says.

In June 2011, after six weeks of retirement following the sale of his pesticide label to Australian-based 
Nufarm, Grow began researching the idea of building a plant health empire.

"If you can solve real issues, you can grow your business," Grow says.

Private equity firm Payne & Partners offered seed money to start and grow the Verdesian plant health portfolio. 
As of October, Verdesian had purchased six companies in 23 months. That includes nitrogen management company SFP, the makers of Avail and NutriSphere-N stabilizers. 

"Nothing changes for farmers, but it does let people like Larry Sanders get back in the laboratory to do what he does best," Grow says. 

There are 90 other companies on Verdesian's pursuit list.  

In fulfilling its defense mission, researchers often stumble across ideas and scientific breakthroughs that could be game changers for other industries. This includes databases referencing plant and animal disease outbreaks worldwide, high volume plant disease screening and in-field soil analysis using laser technology—the same technology used on the Mars rover to analyze rocks. The Los Alamos National Laboratory has a robust licensing and intellectual property division that focuses on sharing new technology with interested partners.
One of the first technologies Verdesian licensed from Los Alamos is being marketed as Take Off. It's a compound that ramps up plant metabolism. Field trials show an increase in root growth, biomass and yield.  
Pat Unkefer, inventor of Take Off and a retired Ph.D. scientist at Los Alamos, has been working on the technology for three decades in between projects for the Department of Defense. Eventually, Biagro Western bought the metabolism booster—then the company was bought by Verdesian. 

Biagro Western, run by Nigel Grech—now Verdesian's vice president of science and technology—had a similar passion for finding new and unused technology. 
"Regardless of the technology, it has to integrate into what farmers are already doing," Grech says. "We can't ask an operator to make three more passes across his field. It has to fit in the same tank they're already using."

Be it Take Off, Avail, a nitrogen innovation coming in 2017 or a newly licensed product from Ohio State University that shuts down the production of aflatoxins and mycotoxin in small grains, Grow is hoping Verdesian's 270 patents can deliver solutions for farmers in all corners of agriculture.