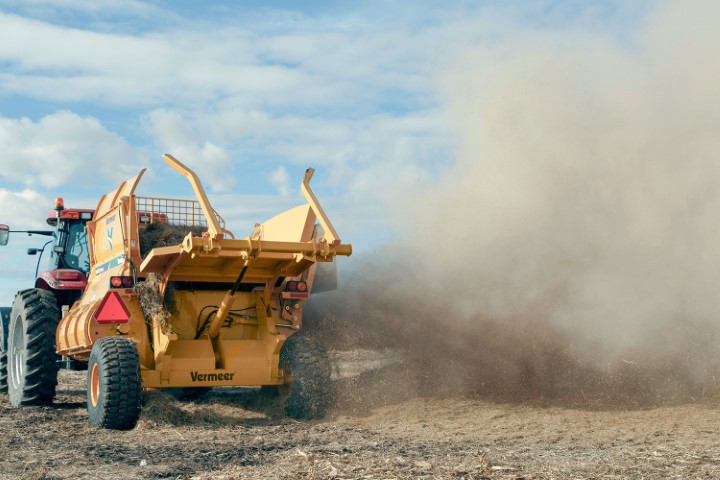 Determined to give operators more control over when and how they process feed, Vermeer has introduced the Final Cut FPX9000 bale processor, with limited quantities available in 2015. The new bale processor provides true fine cut capability and a rapid processing time, allowing operators to produce an optimal material size for feed mixing purposes, providing increased feed efficiency in cattle.
"The Final Cut FPX9000 bale processor is designed to give you more control over the cut length and allows you to produce a finer material, making it ideal for operations mixing hay with grains and other protein sources," said Phil Chrisman, Vermeer Product Manager. "Operators have told us that whereas their other bale processors, including our BPX9000, typically produce material that's more than 6" in length, the Final Cut FPX9000 consistently produces the majority of the crop to a length of 1-1/4" - 4". And, because the hay is much finer, the cattle sort through it less for greater feed efficiency."
Key product features include the heavy-duty slat and chain bale rotation system that consistently feeds bales into the primary rotor and limits the need to reverse rotation of the bale. The system design allows for easy maintenance without the need to remove the entire rotation bed and reduces the need to replace bushings and bearings.
A multi-stage cutting process ensures consistency in the coverage of the crop being processed. A primary rotor cuts the initial pieces of crop from the bale before delivering it to the high-speed rotor knives. The high-speed rotor chops the crop further before sending it back through the primary rotor and ejecting it from the machine. Durable flails on the primary rotor intermesh with the knives on the high-speed rotor, minimizes the chance of unprocessed crop being fed through the machine and reducing buildup of net and twine.
Two heavy-duty, direct drive gearboxes in the powertrain provide evenly distributed power transfer from the tractor's PTO to the rotors. This gives you a powerful right-hand discharge of material. The benefit of this design delivers greater durability and requires less maintenance. The Final Cut FPX9000 gives the operator the flexibility to process large square bales or big round bales when creating windrows or bunk feeding.

Source: Vermeer Corporation