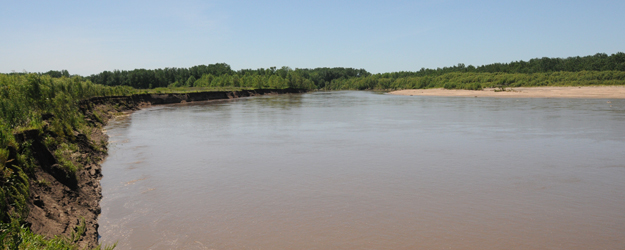 In March, the Environmental Protection Agency and the Army Corp of Engineers released a proposed expansion of their federal authority over "waters of the United States." The goal of the proposed rule is to clarify and target the Clean Water Act to the benefit of agriculture.
Yet ag groups remain skeptical. The proposed rule would give EPA jurisdiction over small ponds, ditches, rainwater flowing through low spots and isolated wet spots - the same as if they were a river or other navigable waterways.
According to Farm Bureau, this proposal will be a serious threat to farming and ranching, homebuilding, energy production and other land uses. Farm Bureau is encouraging farmers to, "Tell the EPA it's time to ditch the rule!"
Last week, two members of Missouri Farm Bureau, Kacey and Andy Clay, released this parody video about EPA's proposed rule:
Learn more about Farm Bureau's Ditch the Rule efforts.
Livestock Groups Wary About Water Rule
Cattlemen and dairymen also oppose EPA's proposed rule.
"This is a step too far, even by an agency and an administration notorious for over-regulation," said National Cattlemen's Beef Association president Bob McCan, Victoria, Texas, cattleman. "This proposal by EPA and the Corps would require cattlemen like me to obtain costly and burdensome permits to take care of everyday chores like moving cattle across a wet pasture or cleaning out a dugout. These permits will stifle economic growth and inhibit future prosperity without a corresponding environmental benefit."
The Western United Dairymen recently joined more than 100 ag groups opposing the proposed rule change.
"We reached out to members of the California delegation who are engaged in federal water quality issues and received the commitment of 13 members to back the bipartisan letter that was sent this week," said WUD President Tom Barcellos. The letter attracted a total of 231 signatures from both Republicans and Democrats, representing more than half of the House. "This is a very significant show of strength on what is a very critical issue for California dairy families and farmers throughout the country."

The EPA Administrator's View
In an op-ed letter posted to AgWeb on March 25, EPA Administrator Gina McCarthy said the proposed rule will support a strong farm economy.
"Over the last decade, the Clean Water Act has been bogged down by confusion," she said. "Some in the agricultural community might think that this rule will broaden the reach of EPA regulations—but that's simply not the case."
She said the proposed rule will not add to or expand the scope of waters historically protected under the Clean Water Act. Also, it will not regulate groundwater or tile drainage systems; and it will not increase regulation of ditches (whether they are irrigation or drainage).
"By working arm in arm with the U.S. Department of Agriculture, we made sure we're addressing farmers' concerns up front," she said. "The rule keeps intact existing Clean Water Act exemptions for agricultural activities that farmers count on. But it doesn't stop there—it does more for farmers by actually expanding those exemptions. Read more of her letter. 
For More Information
Related story: Lawmakers Push EPA for More Time on Water Rule
Read the EPA's Fact Sheet: How the Proposed Waters of the U.S. Rule Benefits Agriculture
Related story: E.P.A.'s Proposed Rules on Water Worry Farmers (New York Times)
---