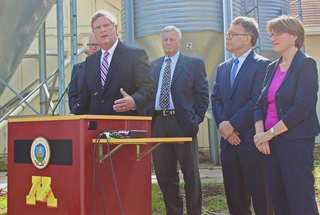 Landowners can begin updating yields and reallocate base acres September 29 with USDA's Farm Service Agency (FSA), which will be the first step in the new risk management programs created by the 2014 Farm Bill.
Technically, producers could begin signing up for Agricultural Risk Coverage (ARC) and Price Loss Coverage (PLC) programs on Sept. 29 as well, but few are expected to jump that quickly.
Even Secretary of Agriculture Tom Vilsack, who announced the ARC/PLC process and decision aids at a press conference Thursday, does not recommend farmers make a rapid-fire decision. "I think producers will take a little time," Vilsack said.
As farmers make their calculations, Vilsack thinks they will want to take advantage of the new decision aids developed by two land grant universities and funded by USDA. These online tools will be available soon, possibly as early as this week. Vilsack also suggests producers will want to seek input from others involved in their businesses: lenders, crop insurance agents, universities, extension and others. The decision is a highly complex one, and it's possible the best choice may differ by farmer, farm and crop. "There is not one answer for corn and soybeans," Vilsack noted.
There's a lot at stake: farmers will be locked into their decision about ARC or PLC for five years—and potentially longer, depending on the passage of the next farm bill, so it's important for producers to consider multiple scenarios, prices, and yields. "This is a one-time decision, not something that they can make a decision and then change it," said Vilsack. "They're stuck with it."
One additional reason to be methodical about making ARC/PLC decisions is that that the economics are influenced by price assumptions that producers make about their crops.
For example, calculations made about a month ago for Iowa corn producers found that for 2014, ARC was likely to generate payments while PLC would not. However, calculations that were made this week showed that both programs generated similar payments. For those reasons and others, Chad Hart, an agricultural economist at Iowa State University, cautions producers not to just make determinations for 2014, but for what they think will transpire over the next five years.
While the program officially starts Sept. 29, the USDA has not determined when ARC/PLC sign-up will end. "We don't have a definite end date," said Vilsack, who said the agency wants to see what unanticipated questions and problems arise as the program is rolled out.
However, the deadline will likely come in the first few months of 2015.
To help farmers make these decisions, Vilsack announced two USDA-funded tools, one developed by Texas A&M and the Food and Agricultural Policy Research Institute at the University of Missouri (FAPRI) and the other at the University of Illinois.
Both the Texas and Illinois sites are expected to be operational soon, and a number of other land grant universities will also be offering their own less detailed online decision tools. The FSA and land grant universities will also be holding webinars and in-person events. In Minnesota, where Vilsack made today's announcement, more than 60 different informational meetings around the state are planned.
The exception to the one-time selection decision is wheat. If winter wheat producers—who may have already signed up—change their minds based on new information, they will have until December 15 to switch between ARC and PLC, Vilsack says. But that decision will then be final.
While the decision on re-allocating base acres and updating yields rests with the owner of farmland or the landlord, the decision on choosing ARC versus PLC rests with the producer.
The exception is in cases where there is a crop share lease (but not for cash rent), where the landlord is also considered a producer.
Vilsack notes that producers are not required to update yields and re-allocated base acres and that if producers make no selection on ARC or PLC, they will automatically be assigned to the PLC program. Another change in the Farm Bill, the Risk Management Agency's (RMA's) Supplemental Coverage Option will only be available to producers who elect PLC.
For updated information on ARC and PLC as it develops, visit the FSA's website.