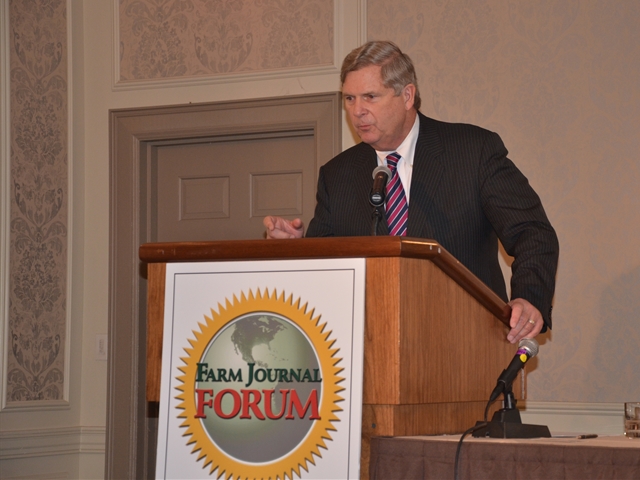 U.S. Agriculture Secretary Tom Vilsack said Wednesday that the USDA is running out of options on the country-of-origin labeling (COOL) dispute over beef.
"We either have to win the appeal or Congress has to change the law," Vilsack told host Mike Adams during a Jan. 7 interview on AgriTalk.
The tussle over labeling meat products has been going on since 2008, when Congress first established the COOL laws. Canada and Mexico have protested the labels, saying they represent unfair trade barriers to their products. American ranchers and meat packers say that the labeling requirements are expensive and hurt exports as trade partners retaliate against U.S. products. But consumers say they deserve to know where their food is coming from.
Listen to Vilsack's comments on AgriTalk:
"The Department of Agriculture is in a very difficult spot here," Vilsack said on AgriTalk. "The United States Congress has directed to us to create a labeling system that basically allows us to distinguish meat products that have been processed, produced, and raised in the United States from those that have not. The reality is that the WTO, which we belong to, has said that if you require the segregation of animals, it creates an unreasonable competitive disadvantage for Mexican and Canadian producers."
The U.S. appealed that decision last fall and is now awaiting an answer.
Vilsack also discussed the controversial plan for a second beef checkoff, which was dropped in December. "It was fairly obvious that the industry was not interested in having a second checkoff, and the only reason we proposed it was because I believe—and I think most of the industry believes—that we need additional resources for promotion and research in the beef industry," he said.
He said the resistance to the proposal left him "puzzled," given the potential windfall to the beef industry. "It seems as though there is a possibility of $80 million additional dollars into promotion and research at a time when it is sorely needed," Vilsack said.
But he said that the question of whether small or large producers would benefit more from the proposed checkoff proved to be difficult to resolve to the industry's satisfaction.  "The reality is, they both have opportunities here," said Vilsack, who said the money could be used to develop overseas markets, but also local and regional markets here in the U.S. for smaller-scale producers.
Vilsack also touched on Farm Bill implementation (he said 50 percent of dairy producers have signed up for the new dairy margin protection program) and his ongoing commitments to grow U.S. agricultural exports. According to the Secretary, every dollar spent on trade promotion translates into $35 in export business.
What do you think will happen on COOL? What should Congress do if the U.S. loses its appeal? Let us know on the AgWeb discussion boards.