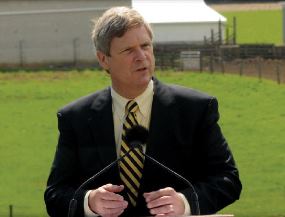 In an interview Friday in Des Moines with The Associated Press, U.S Secretary of Agriculture Tom Vilsack gave his views on topics ranging from low commodity prices this year to dysfunction in Washington and his future.
Vilsack spoke after touring Iowa Choice Harvest, a Marshalltown company that processes Iowa-grown food.
Crop Prices and Profitability
Q: With corn and soybean prices largely below the cost of production are you concerned about farm profitability?
Vilsack: Many farmers throughout the United States have forward contracts where they're going to get paid maybe $4 or $5 for a bushel of corn, maybe $13 or $14 for a bushel of soybeans so I think you have to be careful not to conclude that because prices have come down that there isn't going to be profitability in agriculture.
You also have to recognize as these prices have come down it has created opportunities for other producers, livestock producers in particular, who have been challenged over the course of the last many years with high feed costs now see their cost of doing business coming down. They're looking at record prices for beef and for pork and we're also seeing an expanded export market.
Also, that's precisely the reason we have a farm bill. It creates the safety net that if the prices come down below the price of doing business we have mechanisms in place to ensure that folks can still stay in business.
Farm Bill
Q: It has been increasingly difficult to get the last several farm bills passed through Congress, which is focused on budget cutting. Do you worry about the survival of farm bill programs?
Vilsack: When I look at the farm bill I don't refer to it as the farm bill. I refer to it as a food, farm and jobs bill because that's what it is. First and foremost the challenge is to the make sure that people have a better understanding of the breadth and the comprehensive nature of what this bill does and how it generally impacts every single American. It impacts every American in terms of making sure we continue to have accessible, affordable, available and safe food. It impacts Americans because it ties to job creation whether it's through the export of agricultural goods, whether it's through the bio-manufacturing, or bio-chemicals.
One out of every 12 jobs in this country is connected to agriculture one way or another. When people begin to understand the breadth of the legislation and the impact it has on people, I think hopefully over time our education effort will be more successful in making sure we don't have a repeat of what we've seen in the last couple of times.
Politics
Q: Now that you've experienced Washington politics first hand, what's your observation about the political environment and how that affects programs like the Farm Bill?
Vilsack: I think the shutdown was a very instructive experience for a lot of people in Washington, D.C., that there was little appetite and time for that nonsense, so I'm hopeful that doesn't repeat itself.
I'm convinced that what the American people are looking for are substantive problem solvers. They know what the problems are and they also know what the enormous opportunities are. They want to take full advantage of those opportunities and they know that they need a functioning government to be able to take full advantage. So as they begin to make decisions in this election and future elections, the question is going to be: Is this person a problem solver? Can I see this person actually being willing to give a little bit to get a little bit, to get something done?
Vilsack's Future
Q: What about your political future? Would you like to follow in the footsteps of fellow Iowan Henry Wallace, the 11th U.S. secretary of agriculture who went on to become vice president and then secretary of commerce?
Vilsack: I will tell you I would love to follow Henry Wallace and establish a company like Pioneer. How much money did he make? I have a huge picture in my office, a black and white picture, probably 6 feet by 4 feet. It's Henry Wallace talking to George Washington Carver. It's a great photograph. These are two guys who had Iowa connections but the great thing about them was they were innovative and they were creative and they were problem solvers.
I don't know what my future is, to be honest. I really don't. I enjoy serving. I've just been blessed having this job. It's a great job. I was blessed being governor. I loved being governor. I enjoyed not as much being a state senator. It was OK. I liked being a mayor. I've just been very fortunate and very lucky. Who knows what is next, if anything.