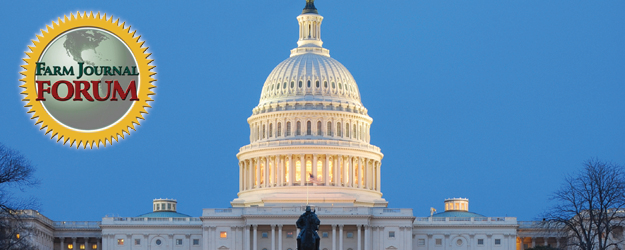 The Farm Journal Foundation today announced that Secretary of Agriculture Tom Vilsack will be the capstone keynote speaker at the 2012 Farm Journal Forum.
Vilsack is apt to discuss any number of farm policy issues, including USDA's implementation strategy for a five-year farm bill versus a shorter extension, the Obama administration's first-term record on food and farming policy, and priorities for the second term.
Vilsack, who was recently quoted as saying "the countryside needs a five-year farm bill, rural America needs a five-year farm bill," is expected to remain head of the U.S. Department of Agriculture for at least part of President Obama's second term.
The Forum, hosted in partnership with Informa Economics, will be held Dec. 5-6 at the Washington Marriott at Metro Center, 775 12th Street NW, Washington, D.C. The event, which centers on the topic "The Election's Impact on Modern Agriculture's Ability to Feed the World," begins with an evening reception on Wednesday and kicks off with a newsmaker breakfast on Thursday, followed by a full day of high-level speakers.
"Secretary Vilsack has maintained an ambitious travel schedule that has taken him to all corners of rural America over the last four years, so we are especially pleased that he can join us for the 14th Farm Journal Forum," said Charlene Finck, president of the Farm Journal Foundation. "This is a critical time for agriculture to hear what might be in store for our industry—and for the industry to share its priorities with Secretary Vilsack."
Vilsack's address at the event makes him the eighth Secretary of Agriculture to speak at the Farm Journal Forum. Secretaries who have spoken at the event in the past—some more than once—include Michael Johanns, Ann Veneman, Mike Espy, Daniel Glickman, Clayton Yeutter, John Block and Robert Bergland. "We're honored to have Secretary Vilsack carry on the tradition of having a strong presence for USDA's leadership at the Farm Journal Forum," Finck said.
Other confirmed Forum speakers include: Senate Agriculture Committee Chairwoman Debbie Stabenow (D-Mich.); House Agriculture Committee Chairman Frank Lucas (R-Okla.); Thomas Dorr, former Undersecretary of Agriculture for Rural Development; Marshall Matz, Principal Attorney at OFW Law; Roger Thurow, Senior Fellow for Global Agriculture and Food Policy at the Chicago Council on Global Affairs; Bruce Knight, President of Strategic Conservation Solutions; Arlene Mitchell, Deputy Director of Agricultural Development for the Bill and Melinda Gates Foundation; Kavita Prakash-Mani, Head of Food Security for Syngenta; Bob Thompson, Senior Fellow at the Chicago Council on Global Affairs; Randy Van Kooten, Iowa farmer; Robin Schepper, Senior Advisor of the Nutrition and Physical Activity Initiative at the Bipartisan Policy Center; Lisa Sutherland, President of LA Sutherland and Associates; Lindsey Palmer, Director of Nutrition and Community Outreach for the D.C. Central Kitchen; and Bruce Scherr and Jim Wiesemeyer of Informa Economics.
The Forum's premier sponsors are Farm Credit Services and SFP. Supporting sponsors of the event are BASF, Charleston|Orwig, CropLife America, Dow AgroSciences, DuPont, FMC, and Syngenta, in association with the Farmers Feeding the World initiative.
To learn more or to register for the Farm Journal Forum, visit www.FarmJournalForum.com. A special registration rate is available for government employees. The Forum will also be trending on Twitter: #FJForum12.
---