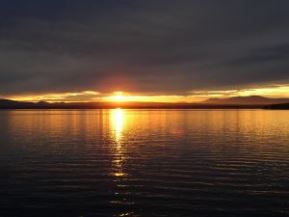 U.S. Agriculture Secretary Tom Vilsack announced in Vermont on Thursday that his agency will double the pace of spending on efforts to reduce farm runoff entering Lake Champlain.
Vilsack, Sen. Patrick Leahy and Rep. Peter Welch, both Vermont Democrats, announced that the USDA's Natural Resources Conservation Service will provide about $45 million to address a problem seen as a big contributor to the blue-green algae blooms that have clogged parts of the lake in recent years.
"This historic USDA investment will help improve water quality while assisting producers in establishing and expanding sound conservation practices," Vilsack said. He said the agency would provide $45 million for lake cleanup efforts in the next five years, following $46 million in investments during the past 10 years.
At the same time, state officials announced they would be sending in extra staff from the Vermont agencies of Agriculture and Natural Resources to educate farmers, and take enforcement action against violators, in northwestern Vermont's Franklin County, where some of the most severe runoff problems are said to originate.
The lake's Missisquoi Bay and St. Albans Bay, which form parts of Franklin County's western border, this summer have had what Environmental Conservation Commissioner David Mears called some of the worst algae blooms his department's scientists had ever seen.
Mears and state Agriculture Secretary Chuck Ross said it wasn't clear what was causing this summer's extraordinary algae blooms, but speculated that the state may be seeing what Mears called an "echo" from Tropical Storm Irene, which hit three years ago Thursday and whose intense rainfall briefly caused a huge spike in runoff into the lake.
"Things can get worse very badly and very quickly when you have that kind of storm," Ross said of Irene. But, he added that there were initial indicators that the amount of runoff flowing into rivers feeding the lake on a longer-term basis was lessening.
"We think we're starting to see some positive signals," Ross said.
The hope is that those signals will grow stronger, thanks in part to the increased federal funding announced Thursday.
Much of the money will go to educate farmers about the best practices to reduce runoff from their farms. It will be focused on three geographic areas on the Vermont side of the lake that forms much of the border between Vermont and neighboring New York state.
USDA officials offered copies of some of the educational materials they hope farmers will take to heart. Among the tips in one of the flyers:
— Disturb the soil as little as possible.
— Grow many different species of plants through rotations and a diverse mixture of cover crops.
— Plant cover crops around harvest to keep living roots growing in the soil for as much of the year as possible.
— Keep the soil surface covered with residue year-round.
Ralph McNall, who milks 200 Holsteins on his farm in Fairfax and is president of the St. Albans Cooperative Creamery Inc., said he was pleased with the stepped up efforts to help farmers correct their pollution problems.
"A lot of us know what the problems are but don't have the resources to take care of them," he said of dairy farmers in his area. Among the problems: Many farms lack enough land to spread manure adequately to dilute its impact on the environment.