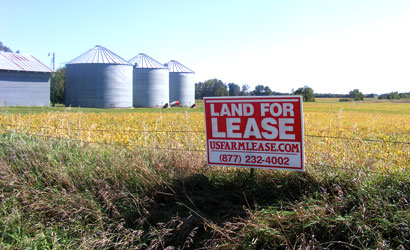 Free market enterprise is taking over farmland bidding wars. The market now has an online tool where landowners can post land they want to rent and let farm operators do the price negotiating.
U.S. Farm Lease, LC (www.usfarmlease.com), launched Oct. 10, 2008. Within 10 days, it had 10 field listings under auction and 70 registered operators looking at properties. Today, the listings can't keep up with demand—in September 2010, the site had nearly 700 registered operators.
U.S. Farm Lease was founded by Mark Gannon in Ames, Iowa, after seeing a need for a market-driven way to rent farmland.
"Landowners can post field information, previous harvest history, pictures and maps to the listing site," Gannon says. "Operators can post references, operation information, rental history—almost like their farm resumé."
Like farmer relationships, the site is about more than the highest bidder. "A number of our leases are multiple-year and have automatic adjustments based upon the cash rent surveys," Gannon says. "This helps build long-term relationships."
Operators and tenants register for free, but at the end of the auction, the winning tenant pays the transaction costs. At payment intervals, tenants forward lease payments to U.S. Farm Lease for processing. The cost of the package service is 3% of the gross lease value the first year, 2% each consecutive year of the lease.
"This type of service requires a lot of trust in a company," Gannon says. "We have the landowner's best interest in mind but also know the tenant needs to be treated fairly."
---
Top Producer, October 2010