Cash rent negotiations usually aren't fun or easy. But having these discussions with the current trade uncertainty as a backdrop makes them even more difficult.
The possibility of trade disruptions has painted a negative picture for the agricultural outlook, and recent price movements suggest lower returns in 2019 and continued downward pressure on cash rents, according to recent analysis from the University of Illinois and Ohio State University. (See the farmdoc daily piece, "Setting 2019 Cash Rents with Price Uncertainty due to Trade Disputes," written by Gary Schnitkey and Carl Zulauf).
As of early August, December 2019 corn prices were around $4 and November 2019 soybean prices were slightly above $9. By subtracting an average basis, Schnitkey used expected prices of $3.80 for corn and $9 for soybeans to project 2019 land returns for highly productive farmland in central Illinois.
For non-land costs, the economists predict $570 per acre for corn and $360 per acre for soybeans. "We are not expecting non-land costs to come down in 2019 because of increases in energy prices," Schnitkey says.
As a result, operator and land returns are projected at $228 per acre for corn and $225 per acre for soybeans, which are the returns left to split between the farmer and landowner. Those numbers are below average cash rent levels, Schnitkey says, as cash rents for high-productivity farmland in central Illinois average near $260 per acre.
A $260 rent would generate a -$32 return for corn ($228 operator and land returns – $260 cash rent) and a -$35 returns for soybeans.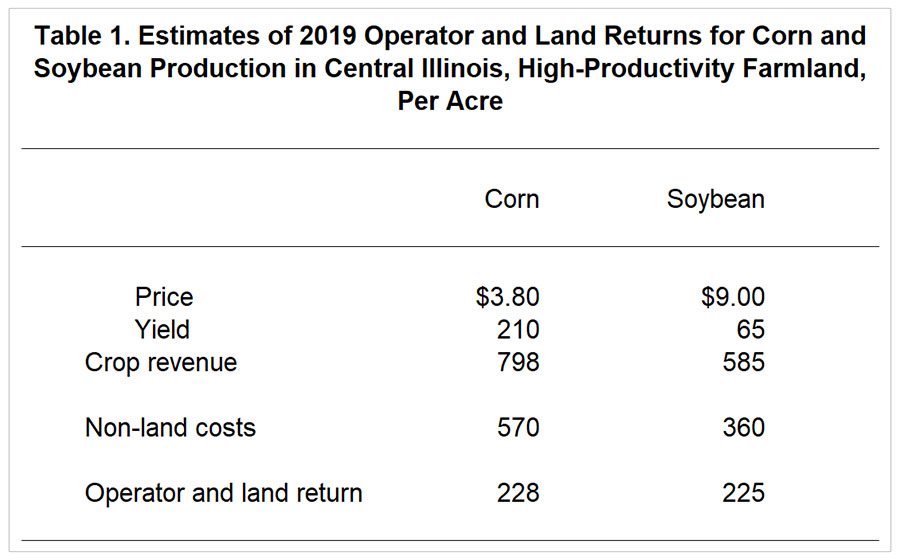 On average, the economists say, farmers have had negative returns from cash rented farmland since 2014. These losses have likely been sustained because farmers have some owned ground, which typically cash flows, and they and built up cash reserves prior to 2014.
"As a group, farmers appear to be pursuing a strategy of taking current losses on rented farmland in the hopes of higher returns in future years," the economists write. "In this environment, re-evaluating long-run income potential from farmland seems warranted. In particular, taking losses on 2019 production in the hopes of higher returns in the future has become a riskier and more questionable strategy for farmers."
Variables cash rents could be a smart option for the upcoming crop year, Schnitkey adds. Or you could see if you could postpone setting the cash rent, until some of the uncertainty around trade clears up.
Check out more farmland rent coverage from AgWeb:
Strategies To Nail Your Cash Rent Negotiations
Cash Rented Farmland: How Do You Know It's Time to Walk Away?
Three Ways To Wow Your Landlords