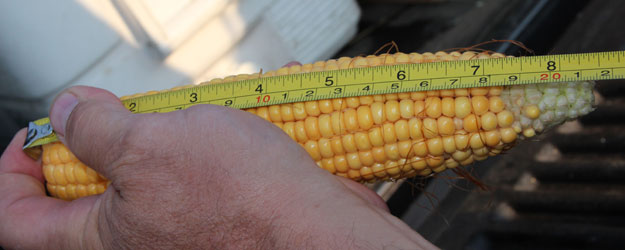 A diverse group of people sign up to be scouts on the Pro Farmer Midwest Crop Tour.
More than 120 volunteers gather samples and take measurements in about 2,000 fields across seven states during the Pro Farmer Midwest Crop Tour. About one-fourth of the scouts are Midwest growers and the rest come from all corners of the globe and agribusiness.
Scouts all have different reasons for coming on the Tour, but everyone has a keen interest in modern corn and soybean production. For some, the Tour is their first introduction to crop production.
This year marks Russ Warren's first trip on the Tour. He's a senior buyer for baking commodities with Wal-Mart. "I'm here because Wal-Mart's mission is to save customers money so they can live better," he says. "As a buyer for Wal-Mart, I need source the goods at the lowest price possible so I can pass those savings along to customers."
Warren says on day one of the tour, he learned all about row spacing, how to judge of the crop is good, when crops germinate and more. "The farmers are a tremendous resource of knowledge," he says.
 
For More Information
See full coverage of the 2014 Pro Farmer Midwest Crop Tour, hosted by Pro Farmer.
Follow the tour on Twitter with the hash tag #pftour14.
---