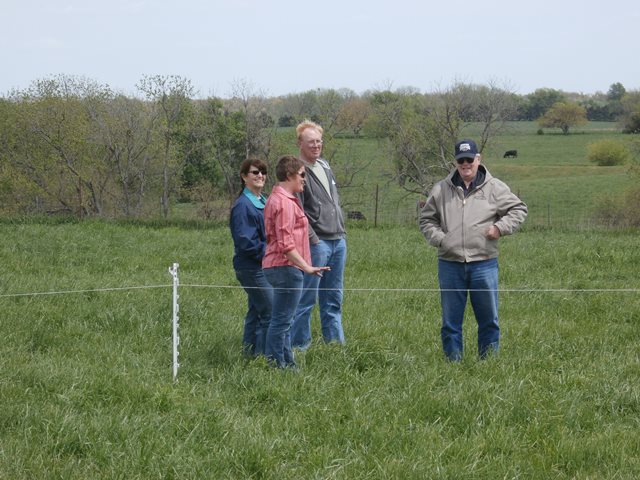 Students interested in science, technology, engineering and mathematics are in demand
There's a serious shortage across the country. Not enough young people are pursuing science, technology, engineering and mathematics, cumulatively known as STEM, degrees and careers. 

Since all of these disciplines are connected to farming and agriculture, this deficit is causing great concern. Currently 7 billion people comprise the global population, but by 2050, the United Nations expects that number to surpass 9 billion.

"Global food production will have to increase 70%," says Beth Ford, Land O'Lakes vice president, chief supply chain and operations officer. "By 2050, food production will have to increase to a point where it is greater than all human history combined—while resources diminish."

Producing more with less is obviously a challenge. But, Ford adds, it's an unprecedented opportunity. "Growth in agribusiness and food production is creating soaring demand for talent," she says. "Agriculture is a great growth industry, and feeding people is meaningful."
For young people with farm backgrounds, STEM careers offer huge opportunities. "Never has there been more opportunity in agriculture than there is today," says Rep. Rod Hamilton (R-Minn.), a pork producer and member of the human resource team at Christensen Family Farms. "It's not just about sows, cows and plows anymore. Agriculture provides good-paying jobs, builds wealth and offers competitive wages."

The jobs offered by ag companies now are more specialized and multifaceted than in the past due to the rapid growth in technology, logistics and research. Many companies are after employees with a combination of skills, says Cindy Langenberg, DuPont Pioneer senior human resources manager of talent acquisition. 

"The skill sets we need are getting more complex," Langenberg says. Skill combinations in high demand include science/business, science/legal/regulatory, science/marketing/product strategy, information technology (including programming)/biology and communication/science/regulatory. "Seriously, the sky is the limit for those individuals," Langenberg says. "They are in demand and will have multiple career avenues to choose from."
The job openings available in agriculture far exceed the talent pipeline. "We have such a need right now in agriculture," says Ashley Collins, education and marketing manager with AgCareers.com. "We are not graduating enough students to fill the number of openings we have."

The 2013 AgCareers.com Enrollment Employment Outlook showed around 18,000 students earned agriculture-related baccalaureate degrees in 2012. But, nearly 40,000 jobs were posted to their online job board. While not all of those jobs could be filled by a new graduate, a definite gap exists. 

As a result, the college students graduating with agricultural degrees are having no trouble finding jobs. For example, the overall placement rate for Iowa State's College of Agriculture and Life Sciences undergraduates has been 97% or higher for 16 consecutive years. Other colleges post similar placement success.

Due to the lack of ag graduates, companies are looking beyond employees with traditional farm backgrounds to fill their openings.  

Cate Sprout, staffing manager for CHS, says her company is recruiting non-traditional students and professionals looking for new career opportunities. "If you have those core competencies—ability to build relationships, integrity, leadership skills, ability to work under pressure—we can then train the basics of the job or commodity." 
---
Most-Desirable Employee Skills
The right technical skills and education will help secure you a job interview, says Ashley Collins, AgCareers.com education and marketing manager. "But your employability skills are what will determine if you get or keep the job," she says. So what are the best employee traits? Ann LaPorte, corporate recruiter for Ziegler CAT, says companies are looking for these characteristics in entry-level hires:
Professional communication. Companies are always thinking about how an employee's communication skills will be viewed by their customers or colleagues, especially since messages can get lost in translation via text or email.
Critical thinking skills. Students and young professionals don't always know what to do when plans deviate from the original instructions. Critical thinking and problem-solving skills are a must.
Realistic expectations. High-paying or managerial roles might not be available to recent graduates, and they might not enjoy some aspects of their roles. It is critical to work through those tasks with the right attitude. When possible, offer suggestions for improving a process or procedure to demonstrate your ability to problem solve.
---
A Quick-Hit Career Fair
The types of jobs that fall into a STEM (science, technology, engineering and mathematics) classification are numerous and varied, especially when you wrap in the related agricultural careers. Here's a snapshot of just a few high-demand career possibilities. 

Certified Appraisers

Evaluate and place monetary value on properties for estate planning, lending or a sale.

Degree(s) required: A bachelor's degree with an emphasis in agriculture business, economics and marketing is required. Other possible majors include agronomy, crop science and animal science. Certification is required.

Potential employers: Farm Credit Services, U.S. Forest Service, Farmers National Company, Farm Bureau

Salary range: $53,600 to $57,270

Hydrologists

Study the quantity, distribution, circulation and physical properties of groundwater and surface waters.

Degree(s) required: A bachelor's degree in earth science, geology, chemistry or environmental science/engineering is adequate for some entry-level jobs. Better jobs usually require at least a master's degree.

Potential employers: Private lab analysis firms, state environmental or natural resources agencies, U.S. Geological Survey

Salary range: $59,496 to $82,000

Product Development Food Scientists 

Improve methods for processing, canning, freezing, storing, packaging and/or distribution of food products.

Degree(s) required: A bachelor's degree from an accredited post-secondary institution in food science, nutrition or food engineering is needed. A master's or doctoral degree is beneficial.

Potential employers: Colleges and universities, food production companies, government inspection agencies

Salary range: $33,930 to $105,080

Livestock Buyers

Oversee and participate in the buying, selling and selection of livestock for companies and individuals.
Degree(s) required: An associate's degree or bachelor's degree in animal science or agriculture business is 
recommended.

Potential employers: Food production companies, large meat companies, self-employment

Salary range: $43,529 to $63,540
.................................... 
Register now for the 2016 Tomorrow's Top Producer business conference happening June 16-17 in Nashville!