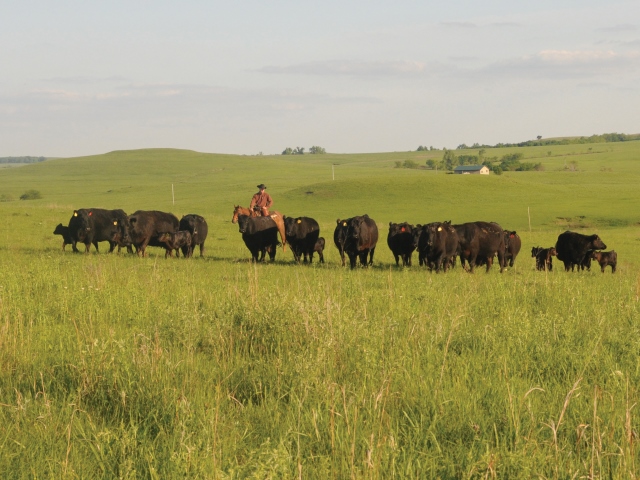 From the May 2016 issue of Drovers.
When McDonald's—the fast-food behemoth that serves 75 hamburgers every second—announced two years ago it would begin sourcing some of its beef from "sustainable" sources by 2016, a lot of cowboys became skeptical. More suspicions were raised in cattle country when it was learned McDonald's chose Canada for the company's pilot project to identify and certify sustainable suppliers.
The company that puts 2% of the world's beef in the hands of consumers recognized they had to mend some fences, so executives were dispatched to cowboy meetings to discuss their plans and motives.
"Sustainability is part of growing our business and your business," Bob Langert, McDonald's former vice-president of sustainability, told cattlemen in Manhattan, Kan., this past year. He said McDonald's sustainability initiative is driven by consumers, not activists. As the chief architect of McDonald's sustainability project, Langert helped develop plans to begin sourcing "verified
sustainable beef."
Langert's comments raised some eyebrows because suggesting beef production is not sustainable is viewed as an insult by many, especially cowboys from multi-generational ranches.
"I know we're sustainable, or I wouldn't be the fourth generation on this ranch," Cherie Copithorne-Barnes of CL Ranches Ltd. in Calgary, Alberta, Canada, told Drovers in 2015.
Rancher Debbie Lyons-Blythe, White City, Kan., asks, "What better proof of sustainability is there than when we can say we are a multi-
generational ranch?"
Both Copithorne-Barnes and Lyons-Blythe support the concept that beef production is sustainable and cattlemen must accept ideas consumers want to know more. "We need to be at the table to help shape the discussion," Lyons-Blythe says.
Such sentiments are acknowledged by the folks at McDonald's, and Langert told the audience in Kansas, "We didn't create sustainable beef on a whim. Beef is who we are." He says McDonald's sustainability initiative is an effort to make beef more "attractive and relevant" to modern consumers. "People want to eat food they feel good about."
McDonald's desire to stake out a sustainable position is rooted in allegations that trace back a decade. That's when the environmental activist group Greenpeace claimed McDonald's and other fast food giants were linked to Amazon rainforest destruction. They vowed to hold McDonald's accountable.
Armed with "satellite images, aerial surveillance, previously unreleased government documents and on-the-ground monitoring," Greenpeace claimed to trace soya "from criminal rainforest destruction to McDonald's." They issued a news release across Europe, followed by protesters dressed as 7'-tall chickens who invaded McDonald's restaurants and chained themselves to chairs. European media ate it up.
High-profile activist antics leave consumers with the impression beef is environmentally unfriendly, or unsustainable. Negative images of its core product left McDonald's with no choice but to seek ways to prove activist allegations are false—beef is a sustainable food source. Highly-charged activist claims also spurred the beef industry to form the Global Roundtable for Sustainable Beef (GRSB), an effort to define and promote sustainability in the beef industry worldwide. Closer to home, American beef industry leaders developed their own initiative to counter activist charges with hard data.
"Sustainability is a word that is often hijacked," says Kim Stackhouse-Lawson, executive director of global sustainability for the National Cattlemen's Beef Association (NCBA). "It doesn't mean totally organic. It's about doing more with less and making continuous improvement. Beef is arguably one of the most sustainable industries."
The foundation for such an argument was laid in the checkoff-funded Beef Industry Life Cycle Assessment, the first food system to benchmark its current status in a holistic manner that encompasses all three aspects of sustainability. The life cycle assessment, Stackhouse-Lawson says, helps producers recognize "how management changes over time have improved the sustainability of beef and utilize that knowledge to produce more sustainable beef in the future."
The research included an evaluation of thousands of data points to quantify the industry's progress since 2005. By documenting that progress, the beef industry can for the first time provide science-based answers to questions about its sustainability. Stackhouse-Lawson also sees the industry's sustainability initiative as an opportunity for cattlemen.
"Producers want to do what is best for the environment, best for the cattle and economically sustainable," she says. "Ultimately, improvements in efficiency are the main driver of change in sustainability. Adoption of more sustainable production practices also makes good business sense."
Beef's sustainability advancements have come through innovations such as higher crop yields, better irrigation, innovations in the packing sector, improvements in technology and better animal performance.
Stackhouse-Lawson says the project was extensive. "We examined millions of individual data points and then created models to simulate specific aspects of beef production practices so that this data and these results are truly representative of beef production in the U.S."
The findings of beef's life cycle assessment revealed gains in all three components of sustainability—people, planet and profit. A 7% improvement was documented in both beef's social and environmental sustainability, with a 6% gain in economic impact.
The assessment reviewed aspects of the beef life cycle at every phase of pre- and post-harvest production. The single-largest improvement in a category between 2005 and 2011 came in occupational illnesses and accidents, which declined 32%, primarily due to fewer occupational accidents and illnesses in the packing sector.
Hard data is still needed to answer critics and address the fact "sustainability of U.S. farming and ranching" is an issue 83% of U.S. consumers say they are very concerned about. In a survey conducted this past June by the U.S. Farmers and Ranchers Alliance, one in four respondents (26%) said whether food is grown, raised or produced "sustainably" is the most important thought or consideration in their food purchases.
American's desire for sustainable food production is why Langert says McDonald's sustainability initiative is driven by consumers not activists, and why the company is moving forward with their Canadian pilot project. This past month McDonald's senior manager of sustainability, Jeffrey Fitzpatrick-Stillwell, outlined progress the company has made in its pilot project for cattlemen at a conference in Olds, Alberta, Canada.
The Canadian Cattlemen's Association, Alberta Beef Producers, Alberta Cattle Feeders and other industry experts worked with McDonald's to develop a system to verify that the beef they buy is raised in a humane and environmentally sustainable manner, yet remains profitable for producers. The results were shared with the Canadian Roundtable for Sustainable Beef. On June 1 a celebration of certification and workshop on the system will be held in Calgary.
Fitzpatrick-Stillwell told the Mountain View Gazette, Olds, Alberta, the verification process remains a work in progress. By the end of April, McDonald's hoped to have identified 180 Canadian producers who are raising cattle in a "sustainable" manner.
"We're at the very beginning stages of this," Fitzpatrick-Stillwell said. Some cattlemen, he admitted, "may decide it's not for them." That won't deter the project because consumers "are starting to make value judgments about what people on the farm do, and that's starting to drive things up through the supply chain and starting to impact what we're selling and how we're selling to people."