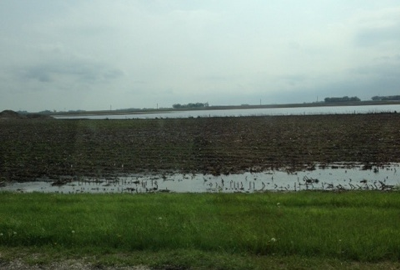 A slow-moving cold front will cross the eastern half of the U.S. during the mid- to late-week period, according to USDA's agricultural weather highlights. Additional rainfall totals should reach 1 to 4 inches in most locations along and east of a line from Lower Michigan to eastern Texas. Some of the heaviest rain, locally 4 inches or more, can be expected in the northern Mid-Atlantic States.
Meanwhile, mostly dry weather will accompany a Western warming trend, although a few late-week showers may develop across the northern and central Rockies and adjacent High Plains.

The NWS 6- to 10-day outlook for May 18-22 calls for near- to above-normal temperatures nationwide, except for cooler-than-normal conditions along the Gulf Coast, in the southern Atlantic States, and from the northern Intermountain West to the northern High Plains.
Watch AgDay's weather forecast for May 13:
"The weather outlook seems to favor planting in the western Midwest for the next week following the recent round of precipitation," says Kevin McNew, president of Grain Hedge and Geograin. "The eastern Midwest is forecast to receive more moisture over the next three days, but following that, a 4-5 day period of dryness should open a window of opportunity for eastern producer."
The recent warm and dry weather was favorable for planting progress. As of May 11, USDA estimates 59% of the corn crop is planted. "This was a 30% improvement from the previous week and puts this year's planting pace 1% ahead of the five-year average," McNew says. "Iowa saw an astonishing 47% of the crop (6.6 million acres) planted last week alone. This report should ease most market concerns about getting the 2014 corn crop planted in a timely manner."
For soybeans, planting pace increased by 15% to 20% complete, this is one percentage point behind the five-year average. "Northern states are still lagging in terms of pace," McNew says. "From talking with farmers across Minnesota and North Dakota cold weather and rain have both hampered planting efforts this week."

Regional Weather Updates
In the West, freeze warnings are in effect early today in parts of the Four Corners States, as well as the eastern end of Idaho's Snake River Plain. In stark contrast, record-setting warmth continues to gradually spread inland from the Pacific Coast, boosting irrigation requirements in California's agricultural areas.
On the Plains, freezes were noted early today in parts of eastern Colorado and western sections of Kansas and Nebraska. The cold weather poses a threat of winter wheat, especially the portion of the crop that has reached the heading stage of development. By May 11, wheat had not yet begun to head in Nebraska, but 14% had headed in Colorado and 46% had headed in Kansas. Elsewhere, heavy rain has ended across the southeastern Plains, while unfavorably cool weather lingers on the northern Plains.
In the Corn Belt, a band of rain showers—in the vicinity of a cold front—stretches southwestward from Michigan. The front separates warmth in the eastern Corn Belt from unusually cool conditions farther west. Corn and soybean planting activities continue at a rapid pace in the eastern Corn Belt.
In the South, showers are affecting areas from the Mississippi Delta westward. Under warm, dry conditions, fieldwork—including cotton, peanut, and soybean planting—is advancing quickly in the Southeast.
---
Related story: Antarctic Glacier Melting Appears 'Unstoppable,' NASA Study Says
Check your forecast: View your weather conditions down to the field-level with AgWeb's Pinpoint Weather
---
Read and watch more Top Producer Power Hour news and videos.