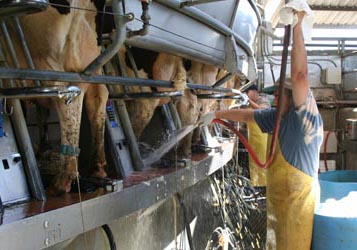 With lower prices already expected, no surprises from USDA.
USDA lowered its 2015 U.S. milk production forecast for the second consecutive month, pointing again to expectations for more moderate growth in milk per cow.
Even so, next year's milk output will reach a record 212.2 billion pounds, USDA said in today's World Agricultural Supply and Demand Estimates (WASDE). 
That's down 100 million pounds from November's estimate. The report left the milk production forecast for 2014 unchanged from last month at 206.2 billion pounds.
USDA lowered its projection for 2015 Class III prices to $16.95 per cwt., a drop of $5.40 per cwt. from this year's average. It pegged next year's All-Milk price at $18.85 per cwt., down $5.25 from 2014's level.
"The report shows what we all anticipated: lower exports, high milk production and lower average prices," said Robin Schmahl, a dairy market analyst with AgDairy Market LLC.
The 2014 butter price is expected to rise from last month's estimate to $2.125 per lb., reflecting current price movements. USDA, however, left the price forecast for 2015 butter at $1.72 per pound.
With large supplies expected, cheese prices are forecast to fall to about $1.67 per pound next year, while the nonfat dry milk price is expected to decline to the $1.72 per pound level. That's a drop of some 40 cents for both commodities from this year's average.
USDA left whey prices unchanged from last month at 57 cents.
Read the full report here.