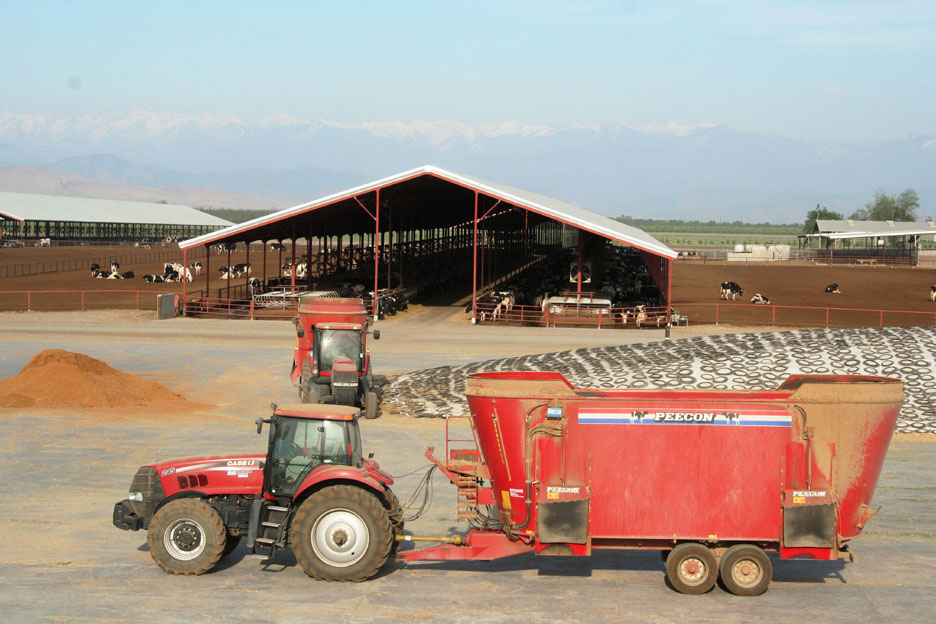 Although cow numbers and per-cow output may moderate next year, here's what will pressure Class III prices down by $5 per cwt.
Although USDA eased off a bit in its projections for U.S. milk production in 2015, America's dairies will still yield record output next year, according to today's World Agricultural Supply and Demand Estimates report.
The lowered 2015 production forecast comes "as the expansion in cow numbers and growth in milk per cow are expected to be more moderate," USDA noted.
2015 production is expected to reach 212.3 billion pounds of milk, 6 billion pounds above this year's output. That's down about 500 million pounds from October's WASDE estimate but well above the 201.1 billion pounds of milk produced in the U.S. in 2013.
Perhaps most significant in today's report is USDA's forecast that Class III prices will drop by some $5 per cwt. next year. While that doesn't come as a surprise to many – current futures prices, after all, put the 2015 average at $17.00 -- the decline represents a sharp reality check.
"USDA's price forecast is still a 22% decrease from 2014," says Bob Devenport, a commodity consultant with the risk management firm of Stewart-Peterson. "It's the largest-ever, year-over-year decrease in the Class III average price."
USDA's Class III price for 2014 is projected higher at $22.50-$22.60 per cwt. on stronger cheese prices, but weaker cheese prices in 2015 will pressure the Class III price to $17.15-$18.05 per cwt. next year, the report predicted.
The downward slide is rooted in expectations for record milk production, lower exports and ample supplies of dairy products next year.
Today's WASDE report lowered export forecasts for 2014 and 2015 as U.S. dairy products, especially on a skim solids basis, remain less competitive in world markets. This year's export level is expected to reach 12.3 billion pounds, while 2015's exports will decline by 10% to 11 billion pounds.
While current price movements led USDA to raise its estimates for 2014 cheese and nonfat dry milk (NDM) prices, it lowered 2015 price forecasts on expectations that domestic supplies will be relatively large. Today's report pegged next year's cheese price at $1.690-$1.780 per lb., down sharply from 2014's expected $2.170-$2.180 per lb. The report also dropped butter price forecasts for both 2014 and 2015 on prices to date and weaker expected exports. Similar to cheese projections, butter is forecast to drop to $1.660-$1.780 per lb. next year, compared to the $2.120-$2.150 expected for 2014.
USDA projected a lower 2014 Class IV price, ranging from $17.45-$18.45 per cwt. , as lower butter prices more than offset a higher NDM price. For 2015, weaker butter and NDM prices will drive the Class IV price to $17.05-$$18.05 per cwt.
The All-Milk price is expected to reach $24.15 to $24.25 per cwt. for 2014. But USDA expects that price to drop to $18.85 to $19.75 per cwt. next year.
Market watchers like Devenport aren't over-reacting to the latest price projections for next year. "There's a long way to go before 2015 is all said and done," Devenport says. ""We're going to see a lot of volatility between now and then."
Other WASDE Forecasts
USDA also projected these crop forecasts today:
Crop Report: Corn production up 3% over 2013
USDA's National Agricultural Statistics Service (NASS) also released its November Crop Production report today, projecting that U.S. corn production will reach 14.4 billion bushels this year, up 3 percent from 2013.
Soybean production is forecast at 3.96 billion bushels this year, up 18 percent from 2013, NASS said. Both crops are on target for record-high yields and production. Based on conditions as of Nov. 1, yields for corn are expected to average 173.4 bushels per acre, down 0.8 bushel from the October forecast, but 14.6 bushels above the 2013 average. As for soybeans, yields are expected to average a record high 47.5 bushels per acre, up 0.4 bushel from October and up 3.5 bushels from last year. 
Moreover, all cotton production is forecast at 16.4 million 480-pound bales, up less than 1 percent from October and up 27 percent from last year. The U.S. all-orange production forecast for the 2014-2015 season is 6.96 million tons, unchanged from October, but up 3 percent from last year.