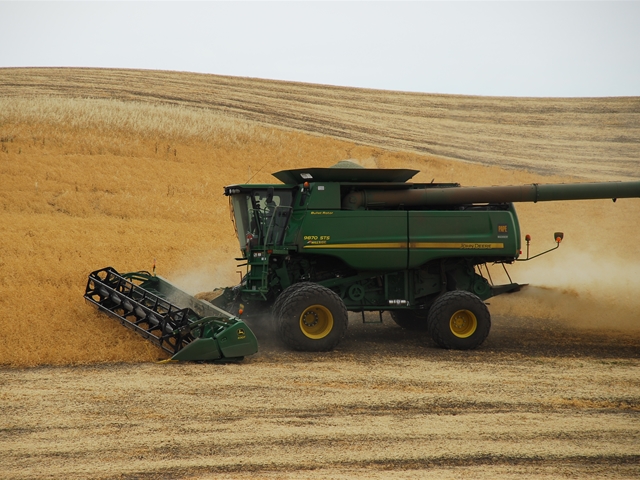 WHEAT:  Projected U.S. wheat supplies for 2014/15 are raised 10 million bushels this month with higher projected imports.  Increased production and higher imports from Canada are expected to add to U.S. wheat supplies.  The entire import increase is for Durum.  Domestic use projections and wheat exports are unchanged.  However, a 15-million-bushel reduction for Hard Red Winter exports is offset by 5-million-bushel increases for Hard Red Spring, White, and Durum.  Ending stocks for all wheat are projected 10 million bushels higher with the supply increase.  The projected season-average farm price range is raised 10 cents per bushel at the midpoint to $5.80 to $6.20 per bushel on prices reported to date and recently higher cash and futures prices.
Global wheat supplies for 2014/15 are raised 1.9 million tons with increased production offsetting lower beginning stocks.  World wheat production remains record high and is raised 2.3 million tons led by a 1.8-million-ton increase for Canada.  Kazakhstan is raised 0.5 million tons.  Both production increases are from updated government statistics.  Partly offsetting is a 0.4-million-ton reduction for global beginning stocks with Indonesia consumption raised for 2012/13 and 2013/14. 
Global wheat trade for 2014/15 is raised with exports up 3.1 million tons on larger supplies and stronger demand in several importing countries.  Exports are raised 1.0 million tons for EU, and 0.5 million tons each for Canada, Iran, and Kazakhstan.  The EU increase stems from competitive prices and a fast sales pace to date.  The Canada and Kazakhstan increases reflect larger crops.  Iran exports are raised on larger flour exports to nearby countries.  Russia exports are lowered 0.5 million tons on increased competition, particularly from EU.  Iran imports are raised 1.0 million tons on a fast pace of shipments from EU.  Egypt imports are raised 0.5 million tons on increasing purchases from the private sector.  Smaller increases are made for Bangladesh, Jordan, Colombia, Ethiopia, and Uzbekistan. 
Global wheat consumption for 2014/15 is down slightly.  The biggest change is a 1.5-million-ton decrease in EU wheat feeding on larger coarse grain supplies and higher wheat exports.  Canada wheat feeding is raised 0.5 million tons on the larger crop.  Global ending stocks are projected 2.0 million tons higher mostly on increases for Canada, EU, and Russia.