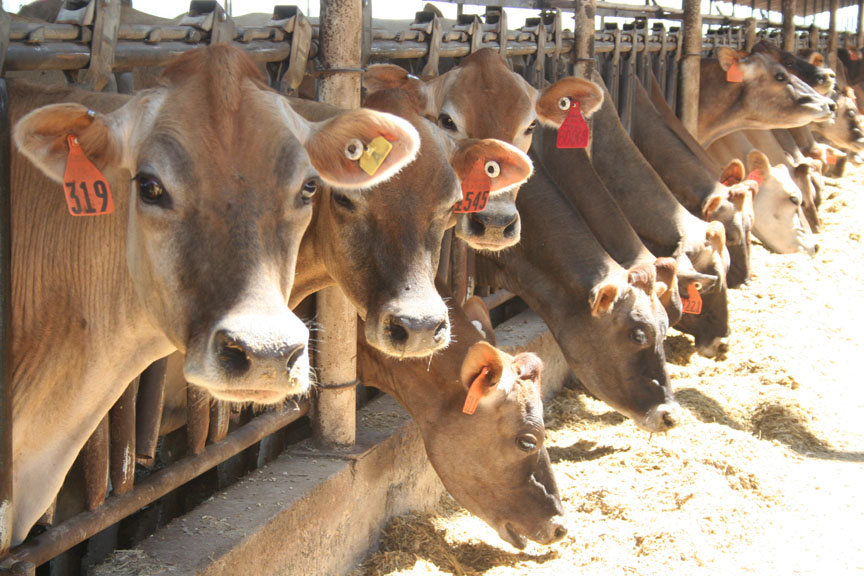 "That's the biggest production increase I've ever seen," says one market analyst.
The land will indeed flow with milk – if not honey -- next year.
U.S. dairies are expected to produce a record level of milk in 2015 as relatively lower-priced feed boosts per-cow output, USDA said today in its monthly World Agricultural Supply and Demand Estimates (WASDE).
USDA's projected 212.8 billion pounds of milk produced next year marks an increase of 6.7 billion pounds over 2014's estimated output.
"That's the biggest production increase I've ever seen," says AgDairy Market's Robin Schmahl, a dairy market expert with records going back to 1992.
USDA also increased its 2015 milk production estimate from September's WASDE report by 300 million pounds.
While feed prices have fallen on expectations of a record corn crop, the push behind the soaring milk supply comes from the high milk prices that have driven expansion and herd additions, Schmahl says.
Exports are also projected to slow, the WASDE report showed. That comes as no surprise to the industry, as U.S. dairy prices have climbed to uncompetitive levels on the world market. USDA foresees U.S. dairy exports declining to 11.5 billion pounds, a drop of nearly 1 million pounds from its 2014 expectations.
Dairy imports into the U.S. are forecast higher as a result of high American prices.
USDA raised estimates for butter, cheese, and whey prices for 2014 from last month as domestic demand continues to support prices. Prices of these products are unchanged for 2015. However, USDA reduced the nonfat dry milk (NDM) price forecasts for both 2014 and 2015 as U.S. prices are expected to decline to increase the competitiveness of NDM exports. The Class IV price drop between USDA's 2014 and 2015 average estimates totals a substantial $4.55 per cwt.
The hefty milk supply will translate into lower butter prices, Schmahl agrees. "Butter is trading now at $2.80 per pound, but November futures are at $2.20," he says. "That's a 60-cent drop. That's substantial."
Once the peak holiday season passes, "butter could back up rapidly in the domestic market," adds Schmahl.
By mid-2015, Schmahl foresees Class III prices declining to below $16 per cwt.
Today's WASDE report expects 2014 Class III prices to average $22.45 per cwt., compared to its 2015 forecast of $17.70. The 2014 All-Milk price will average $24.15 per cwt., while next year's All-Milk price will dip to an average of $19.40 per cwt.
Elsewhere in the WASDE report, USDA raised 2014-14 corn production to a record 14.475 billion bushels. The report also pegged soybean production at a record 3.93 billion bushels.