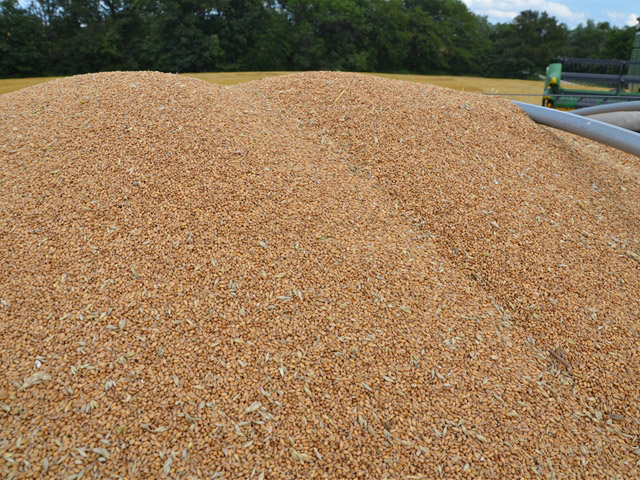 WHEAT: Feed and residual use for 2014/15 is lowered 30 million bushels reflecting disappearance for June-November as indicated by the December 1 stocks released in the Grain Stocks report.  Seed use is lowered on the winter wheat planted area reported today in the Winter Wheat Seedings report.  U.S. wheat supplies for 2014/15 are up slightly on increased beginning stocks.  Projected ending stocks are raised 33 million bushels.  The 2014/15 season-average farm price is projected 10 cents higher on both ends to $5.90 to $6.30. 
Global wheat supplies for 2014/15 are raised 1.7 million tons with both increased production and beginning stocks.  World wheat production remains record high and is raised 1.2 million tons led by a 1.1-million-ton increase for Ethiopia on improved weather conditions.  EU is raised 0.1 million tons on updated government statistics.  Global beginning stocks are up 0.5-million-tons almost exclusively on 2013/14 production revisions for EU. 
Global wheat trade for 2014/15 is raised with exports up 1.2 million tons on larger supplies and stronger demand in several importing countries.  Exports are raised 1.0 million tons for EU and 0.7 million tons for Ukraine.  The EU increase stems from a fast shipment pace to date and expanded opportunities once Russia's export duties take effect.  The Ukraine increase also stems from expanded opportunities resulting from Russian export duties.  Exports are raised 0.5 million tons each for Canada and Iran, and 0.2 million tons each for India and Kazakhstan; these changes are all on a fast shipment pace to date.  Partly offsetting is a 2-million-ton export decrease for Russia on announced export duties that will take effect February 1.  EU and Iran imports are each raised 0.5 million tons.  Uzbekistan and United Arab Emirates are raised 0.2 and 0.1 million tons, respectively.  Partly offsetting are a 0.5-million-ton reduction for Ethiopia imports and a 0.2-million-reduction for China.  The Ethiopia reduction reflects a larger crop; all other import changes are on pace to date. 
Global wheat consumption for 2014/15 is up slightly mostly on increased feed use for Iran, Ethiopia, and Uzbekistan.  A 0.2-million-ton increase for Ethiopia food use is offset by a 0.2-million-ton reduction for EU.  Increased supplies are mostly offset by increased use with global ending stocks raised 1.1 million tons.