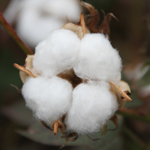 COTTON: The 2012/13 U.S. cotton estimates include larger exports and lower ending stocks relative to last month. Production and domestic mill use are unchanged. Exports are raised 250,000 bales based on strong sales and shipments in recent weeks. Ending stocks are now forecast at 4.2 million bales, equal to 26 percent of total use. The forecast range for the average price received by producers of 70 to 73 cents per pound is raised 1cent on the lower end.
This month's 2012/13 world cotton estimates show higher production, consumption, and trade, with ending stocks reduced marginally. World production is raised about 900,000 bales from last month, including a 1.0-million-bale increase in the China crop, based on recent statistical reports for the eastern provinces and on classification data for Xinjiang. Production also is raised for Uzbekistan, Mexico, and Turkmenistan, but is reduced for Pakistan and Brazil. Consumption is raised for China, India, and Bangladesh. World trade is raised 1.5 million bales, due mainly to higher imports by China, Pakistan, and Bangladesh. Exports are raised for India, the United States, Australia, Turkmenistan, and Uzbekistan, but are lowered for Pakistan. Global ending stocks are now forecast at 81.7 million bales.
..................................
Coverage, Analysis of the March 8 USDA Reports
See all of the data, coverage and analysis of the WASDE and Crop Production reports.
---