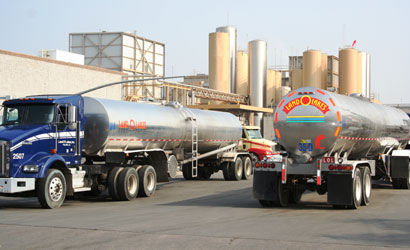 What's driving USDA's bearish projections for 2015?
Record milk production, expensively priced dairy products and slowing exports will darken the outlook for U.S. dairy producers in the coming months, a forecast based on USDA's World Agricultural Supply and Demand Estimates (WASDE) released today.
"Revenues won't be what they were this year, that's for sure," said Matt Mattke, commodity consultant for Stewart-Peterson, a commodity price management firm based in West Bend, Wis.
Although USDA raised milk price forecasts for 2014, it projected a sharp decline for next year. Class III prices look strong for 2014 at an average of $22.25 per cwt., but are expected to drop to $17.70 next year.
The WASDE report foresees Class IV prices in the $22.45 range this year but predicts they'll fall to $19.00 in 2015. The 2014 All-Milk price is projected at $23.90, one of the highest levels ever. That level is likely to decrease by $4 per cwt. to the $19.90 range in 2015.
One negative factor is the record milk production ahead. USDA pegged 2014 U.S. milk output at 206.3 billion pounds, up slightly from its August estimate on growth in output per cow. The WASDE 2015 milk production estimate remained at 212.5 billion pounds from last month's outlook. Both years' production forecasts are record highs.
Also darkening the outlook are the high cheese and butter prices that are constricting demand for U.S. dairy products abroad. "We're pricing ourselves significantly out of the world market," said Mattke.
The higher dairy prices, combined with the 6% rally in the U.S. dollar over the last several months, mean "we're not competitive at all," Mattke added. "We're going to be importing a lot more products in the coming months than we usually do."
USDA increased its 2014 price projections for cheese by 8.5 cents to the $2.14 per-pound range. It expects those prices to fall in 2015 to the $1.70 range. Butter prices were raised from last month's WASDE report to the $2.17-$2.21 per-pound range during 2014, but are projected to slip to $1.67-$1.80 next year.
At the same time, feed prices should continue to soften as USDA forecasts record corn and soybean production. USDA increased its estimate for both corn and soybean production by 3%. Higher expected yields will push corn production to 14.4 billion bushels. If realized, both corn yields and production would be a U.S. record.
USDA bumped corn yields by 4.3 bu. in today's report. The last time the September WASDE report saw that big a jump in corn yields was in 2005, Mattke said.
Driven by growing demand, "corn could find a low at any time," he said. Yesterday's December corn contract reached $3.39 per bu., but Mattke doesn't anticipate prices for the yellow-eared crop falling much lower.
"Soybean meal is a different story," he said.
The price of soybean meal hit $500 per ton twice in the last two years, with the most recent spike back in June. With the bear trend just a few months old for the meal market, Mattke expects soybean meal, now priced at $326 per ton, to fall as low as $260 in the coming months.